New island forms after Pakistan quake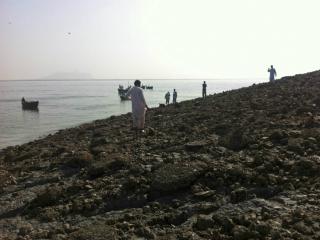 New island formed after Pakistan quake. Bewildered people walk on an island that suddenly rose from the sea following an earthquake off Pakistan's Gwadar coastline in the Arabian Sea September 25, 2013. The earthquake was so powerful that it caused the seabed to rise and create a small, mountain-like island about 600 m offshore. Reuters
A new island has emerged offshore of Gwadar in Pakistan, following a strong magnitude-7.7 earthquake that hit the country last September 24.
Discovery News quoted district police officer DIG Gwadar Moazzam Jah as saying the island is about 20 to 40 feet (6 to 12 meters) high and 100 feet (30 meters) wide.
"Scientists are still far from consensus, but many think that Pakistan's newest piece of land may be a mud volcano,"
it said
.
On the other hand, geologists are now debating if the mound is a landslide or a fault scarp, or even a hoax.
But geologist and Pakistan quake hazard expert Bob Yeats said he is waiting for his colleagues in Pakistan before rendering an opinion.
For now, the emeritus professor at Oregon State University said the two most likely prospects are a landslide or a mud volcano.
"(The island) is a long way from where they reported the earthquake. We're looking at two different things," said Yeats.
Mud volcano
Discovery News said a mud volcano is a "likely possibility" since Gwadar's coastline has several of them onshore and at sea.
It noted one mud volcano emerged 30 to 60 meters deep on Nov. 26, 2010.
Also, it said the magnitude-8.1 Makran temblor in 1945 triggered the formation of mud volcanoes offshore of Gwadar.
Transient feature
Meanwhile, National Geographic quoted said Bill Barnhart, a research geophysicist with the U.S. Geological Survey, as saying the mound is a transient feature.
"It will probably be gone within a couple of months. It's just a big pile of mud that was on the seafloor that got pushed up,"
he said
.
Barnhart told National Geographic the island appears to be made mainly out of mud from the seafloor, although photos show rocks as well.
He also noted a similar mud island appeared off Pakistan after an earthquake there in 2011. — TJD, GMA News