UAAP
:

League formally awards Terrence Romeo MVP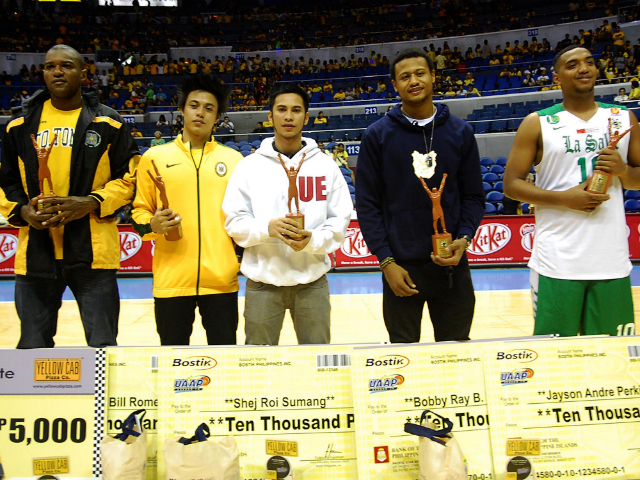 L-R) Karim Abdul of UST, MVP Terrence Romeo of FEU, Roi Sumang of UE, Bobby Ray Parks of NU, and Jason Perkins of DLSU make up the Seniors Division Mythical Five of UAAP Season 76.
KC Cruz
The UAAP formally awarded Far Eastern University Tamaraw Terrence Romeo with the MVP trophy on Saturday at the Smart Araneta Coliseum, prior to the start of game two of the Finals series between the University of Santo Tomas Growling Tigers and the De La Salle University Green Archers.
Romeo amassed 75.29 statistical points after compiling 311 points (1st), 88 rebounds, 55 assists (3rd) and 22 steals (1st), among other numbers.
The former Rookie of the Year was also the only UAAP player to score at least 300 points this season.
Also in the Mythical Five were former two-time MVP Bobby Ray Parks (73.86 SP) of the NU Bulldogs, center Karim Abdul (70.93 SP) of the UST Growling Tigers, UE Red Warriors point guard Roi Sumang (64.00 SP), and forward Jason Perkins (58.50) of DLSU.
UE center Charles Mammie could have been league MVP, but multiple suspensions affected his eligibility for the award. Another big man, Emmanuel Mbe of NU, was unable to be part of the Mythical Five, due to the UAAP rule allowing only one foreign player to be part of the line-up, with that spot getting filled by Abdul.
In other major awards, UP Fighting Maroon Kyles Lao (21.64 SP), a product of Xavier School, won the Rookie of the Year prize.
- AMD, GMA NewsWomen's division
Rookie of the Year - Love Joy Sto. Domingo (UE)
Mythical Five - Lore Rivera (UST) / Afril Bernardino (NU) / Aracelie Abaca (DLSU) / Camille Sambile (FEU) / Danica Jose (ADMU)
MVP - Camille Sambile (FEU)
Juniors division
Rookie of the Year - Aaron Reyes (UST)
Mythical Five - Hubert Cani (NU) / Thirdy Ravena (ADMU) / Mark Dyke (NU) / John Paul Caulian (NU) / Renier Quinga (ADU)
MVP - Thirdy Ravena (ADMU)
Seniors division
Suzuki Fast Break Player of the Season - Bobby Ray Parks (NU)
Yellow Cab Big Man of the Season - Karim Abdul (UST)
RCBC Savings Bank Game-Changing Player of the Season - Jeron Teng (DLSU)
Jollibee Champ of the Season - Terrence Romeo (FEU)
Appeton Most Improved Player of the Season - Arnold Van Opstal (DLSU)
PSBank Maaasahan Player of the Year - Terrence Romeo (FEU)
Rookie of the Year - Kyles Lao (UP)
Mythical Five - Terrence Romeo (FEU) / Roi Sumang (UE) / Jason Perkins (DLSU) / Bobby Ray Parks (NU) / Karim Abdul (UST)
MVP - Terrence Romeo (FEU)