In his last months as Commissioner, David Stern has the NBA still thinking global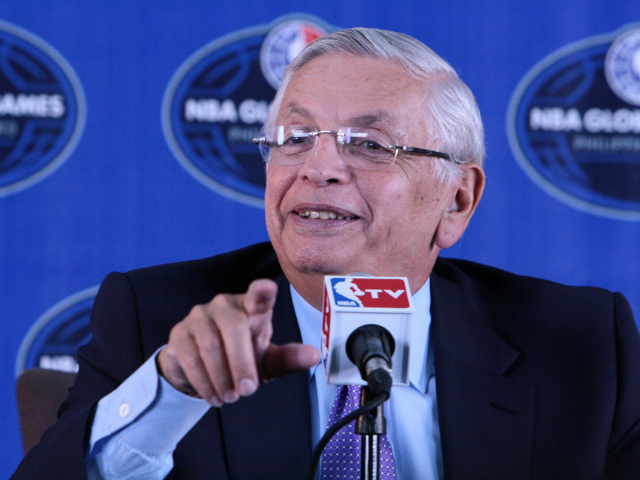 NBA Commissioner David Stern talks to local media in the Philippines. Roehl Niño Bautista, GMA News
In his last months as Commissioner, David Stern has NBA constantly thinking global
Calling the Philippines "a very important part of our Southeast Asia strategy," NBA Commissioner David Stern described the country as "a pole in our Southeast Asian tent," due to the "knowledgeable and robust fan base," Thursday at the MOA Arena, in a press conference prior to the preseason game between the Indiana Pacers and the Houston Rockets.
However, Stern also cautioned local fans not to expect a regular season game in the Philippines any time soon, saying, "I wouldn't be that hopeful.
Is the NBA thinking of expansion?
While NBA Commissioner David Stern conceded that it was "conceivable at the margins that we might someday be as many as 32 [teams]," Stern added that "for now, [30] is exactly the right number."

With markets like Seattle and Las Vegas looking to host NBA franchises, Stern said tongue-in-cheek that "I think we have some owners who think the right number is 28." He did add that he's never been in favor of deducting teams or contraction, something that has not occurred under his tenure as Commissioner. Still, while he didn't touch on a franchise moving to a new location, Stern was content to say, "I'm very sanguine about 30 teams."
"Regular season games [abroad] are hard. They're much more expensive to mount. I think that friendlies [preseason games] work fine for us."
But while a regular season game is still far off, Stern did say that an NBA division in Europe was a possibility. He also said that an NBA-branded league in Asia was "something that we're studying more carefully than you might think."
He also said, "I'm sure there are Filipino athletes that are competent [enough] to play in the NBA. It's about how committed they are to taking the next step," citing all the extra offseason work most NBA players subject themselves to in order to keep in shape.
With regards to a Filipino investing in an NBA team, Stern said that while there was nothing formal yet, "I'm always selling. We're always looking for investors in the NBA."
Stern, who has been commissioner for 30 years, and is set to step down next year and hand over the reins to deputy commissioner Adam Silver, said that he learned on the job, and that his main strategy was to "be opportunistic when opportunities arrive," citing their tie-up with FIBA that formed the 1992 Dream Team as one example.
"Southeast Asia is very much an opportunity that's on the front-burner for us," he added.
In his quest to expand the NBA's reach abroad, Stern felt that the current incarnation of the league's Global Games, which includes this, the first NBA preseason game of the Philippines, was a step in the right direction. "Now that we've designated these as the Global Games, there seems to be a kind of momentum that has developed in a possible way that our fans around the world appreciate the effort we're making."
Still, he didn't see basketball overtaking football anytime soon in popularity around the world. No, I think that football has a grip on the world that should be both admired and respected. But it's okay to be number two," he said to laughter.
- GMA News