Timothy Bradley retains WBO title with split decision win over Juan Manuel Marquez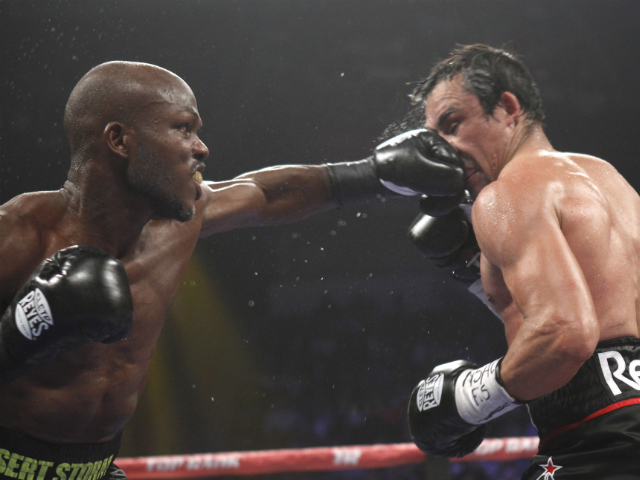 Undefeated WBO welterweight champion Timothy Bradley Jr. (L) of the U.S. punches Juan Manuel Marquez of Mexico during their title fight at the Thomas & Mack Center in Las Vegas.
Steve Marcus / Reuters
Timothy Bradley employed the perfect game plan against Juan Manuel Marquez to defend his WBO welterweight title via split decision Saturday night (Sunday, PHL time) at the Thomas and Mack Center in Las Vegas Nevada.
After a close fight in the opening rounds, Bradley started to build a lead as he kept moving away from Marquez. In the few times the two exchanged heavy punches up close, Bradley even got the better of the exchanges.
The judges scored it 115-113 Marquez, 115-113 Bradley, and 116-112 Bradley.
"I controlled the action all night. He was missing a lot of shots. He was throwing a big right hand. I don't know if he respected my power," said Bradley after the fight. "I had to fight smart. He's very technical. He's a very strong fighter. I'm just gonna keep winning."
The fight was even after the first six rounds of the fight as Marquez was connecting with his lead right, while Bradley was hitting him with quick combinations. Bradley hurt Marquez with a clubbing right hand in round 10 as the two finally engaged in an inside battle. In the championship rounds, Bradley kept on moving and with nothing to counter, Marquez found it hard to land anything. Bradley got close to flooring Marquez in the final round with a powerful right, but the Mexican managed to stay on his feet.
"We came to win and we did," said the defeated Marquez after the fight. "But the judges saw something else."
"I came to win. I felt that I did win. The judges took it away from me. I did my job," Marquez added in the post-fight press conference. "I've been robbed six times in my career," he lamented.
Bradley dictated the tempo of the fight in the last six rounds. The pro-Marquez crowd was heavily booing the American for not engaging, but he stuck to his game plan, which brought him to victory.
The defending champion held a slim lead in punches landed in the fight. Bradley landed 116 head punches compared to 108 for Marquez. Bradley also out-landed Marquez in body punches 52-45.
Manny Pacquiao, in an interview with GMA News' Mav Gonzales also thought that Bradley deserved the victory. "Congratulations kay Bradley. Tingin ko naman siya talaga mananalo, nakalaban ko sila pareho," Pacquiao said. "Mas mabilis si Bradley konti kay Marquez."
In the post-fight press conference, Top Rank Promotions boss Bob Arum said if Brandon Rios beats Pacquiao in their fight next month, he will get a shot at Bradley. But the ageless promoter was unsure what Top Rank's next move will be if Pacquiao defeats Rios.
In the supporting main event, Mexico's Orlando Salido defeated Puerto Rico's Orlando Cruz via knockout in the seventh round. Salido was the aggressor for most of the fight while Cruz was content on moving back and throwing jabs.
In the seventh round, Salido hurt Cruz with a left uppercut to the body. Cruz was trapped on the ropes, allowing Salido to land a big right hand. Salido then caught Cruz with a left uppercut on his way down. Referee Kenny Bayless counted Cruz out.
Salido, the new WBO featherweight champion, now holds a record of 40 wins, 12 losses, and two draws with 28 knockouts. Cruz on the other hand drops down to 20 wins against three losses and a draw.
"My career is like a rollercoaster. I'm back at the top," said Salido whose last fight ended in a loss to Mikey Garcia. "Cruz is strong, punches hard and he moves around the ring really well. I had to fight with intelligence," added the winner.
"I went into the corner and he hit me with a good shot," said Cruz after the fight. "I thought the fight was close up until then. It was going back and forth." The scores disagreed with Cruz as two judges had it 59-55 while the third judge scored it 58-56.
Earlier in the night, Vasyl Lomachenko, a former two-time Olympic gold medalist scored a resounding fourth round knockout win over veteran Jose Ramirez.
Photo: @LomachenkoVasyl walks away after planting Ramirez with a body shot. #BradleyMarquez pic.twitter.com/vGbHbtckxw

— Top Rank Boxing (@trboxing) October 13, 2013
"I'm happy with my performance. I gave a good effort," said Lomachenko. "My opponent was very strong. I tried to keep my distance throughout the fight."
Although he was promised a title fight if he performed well on his debut, Lomachenko admitted that he may not be ready yet. "I have a great deal of respect for [Guillermo] Rigondeaux, but I need a few more fights."
After investing in body punches throughout the fight, Lomachenko finally ended the fight with a body punch that floored Ramirez down for the count. In the post-fight press conference, Arum confirmed that Lomachenko will get his title fight although it won't be against Rigondeaux. Instead Lomachenko will be challenging Salido for his WBO featherweight title.
Filipino pug Jun Doliguez also won in the undercard as he scored a sixth round stoppage win over Giovanni Caro. Doliguez landed a huge straight left that floored Caro in the dying seconds of the sixth round to keep his undefeated record which now stands at 17-0-1, with 13 knockouts.
- AMD, GMA News