V-League
:

Jovelyn Gonzaga named Season 10 Open Conference MVP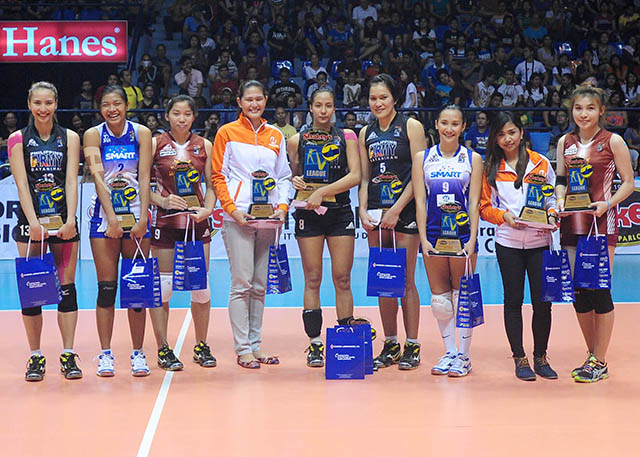 This conference's crop of V-League awardees.
KC Cruz
Philippine Army Lady Tropper Jovelyn Gonzaga, who earlier in the afternoon led her side to a
three-set win against the Air Force
in their best-of-three series for third place at the FilOil Flying V Arena, was named Shakey's V-League Season 10 Open Conference MVP, Tuesday, prior to the first game of the tournament Finals.
The Cagayan Valley Rising Suns, who entered the Finals with a clean slate, saw Kannikha Thipachot named Best Scorer, and Phomla Soraya heralded as Best Setter.
Their opponents in the best-of-three Finals, the Smart-Maynilad Net Spikers, also received a few awards, with Alyssa Valdez getting the BioFit Tea Fittest Player of the Conference Award, and Melissa Gohing snagging the Best Digger Award.
Rounding out the recipients of prizes were Maureen Ouano of Meralco (Best Blocker) and teammate Jen Reys (Best Receiver).
- AMD, GMA News
The awards:
SOS Clear Skin In and Out of the Court Awardee - Rachel Ann Daquis (Army)
BioFit Tea Fittest Player of the Conference Awardee - Alyssa Valdez (Smart)
Best Scorer - Kannikha Thipachot (Cagayan Valley)
Best Attacker - Jovelyn Gonzaga (Army)
Best Blocker - Maureen Penetrante Ouano (Meralco)
Best Server - Mary Jean Balse (Army)
Best Digger - Melissa Gohing (Smart)
Best Setter - Phomla Soraya (Cagayan Valley)
Best Receiver - Jen Reyes (Meralco)
MVP - Jovelyn Gonzaga (Army)