More damage seen from aftershocks as scientists hunt new fault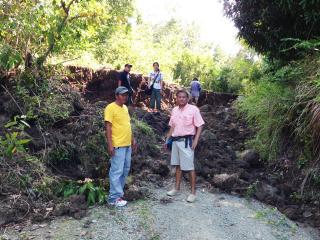 Newfound fault makes Bohol road impassable. A remote road in Inabanga, Bohol becomes impassable after the Oct 15 earthquake thrust a portion of the road upwards by as much as 10 feet. The earthquake was triggered by a previously unknown fault stretching several kilometers through northwest Bohol. In the foreground are Anonang Bgy. Captain Felix Caray (in yellow shirt) and GMA News' Howie Severino. GMA News
Although the worst is likely over, Bohol is still suffering from aftershocks in the wake of the magnitude-7.2 earthquake last October 15. New cracks and other damage are being reported as the earth continues to shift, with many residents still living in fear for their safety.
In the town of Inabanga, some 20 km north of the epicenter, vertical
displacement of as much as 10 feet (over 3 meters) was reported in some
areas there.

"Pumunta kami sa isang liblib na lugar doon (at) nakita namin mga 10 feet high ang tinaas ng lupa," GMA News' Howie Severino reported on News To Go Monday.
"Hanggang ngayon natutulog ang mga residente sa labas dahil sobra silang
natatakot na baka lumawak ang mga cracks sa kanilang barangay," he added.

Hunt for new fault

According to Phivolcs, the October 15 quake may have been from a
previously undiscovered fault under Bohol island. The only known major earthquake generator in the area is the East Bohol Fault, which is dozens of kilometers south of the epicenter.
Severino said that, according to experts, the new fault may be as much as 100 kilometers long.
"(According to experts, the possible new fault) starts out somewhere in Inabanga and bisects Sagbayan and other towns," Severino said.
"[Our data suggests that] the source of the earthquake was probably a
different fault system that transects Bohol island. Medyo off siya (new
fault line) sa trace ng East Bohol fault," Phivolcs Seismic division officer in charge Ishmael Narag said in
a previous interview
.
Narag explained that Bohol's underlying limestone structure may have kept the fault hidden until now.
"Medyo mahirap makita 'yung features ng active faults sa Bohol kasi 'yung province ay predominantly [composed of] limestone. Ang limestone kasi, madaling ma-weather. So nawawala agad 'yung anumang superficial features that could have suggested the placement of a new fault," he explained.
Phivolcs experts are working to confirm the existence of the new fault and to map its location under the island.
Meanwhile, Phivolcs said that aftershocks "may continue for weeks to months, but diminishing in number and strength as time passes."
The agency also assured the public that the worst is likely over: "a higher magnitude earthquake related to this event is no longer expected to occur,"
they said
.
— TJ DImacali/RSJ, GMA News