Wartime tunnel under Fort Bonifacio to be developed into museum, tourist site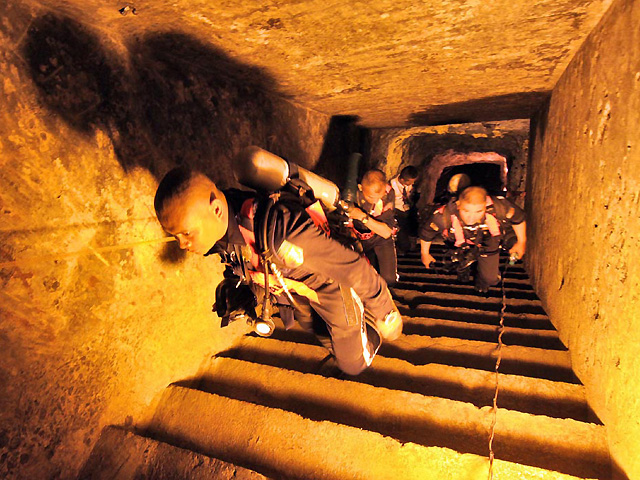 BCDA security personnel carrying oxygen tanks emerge from the tunnel under Fort Bonifacio in this September 2012 photo.
Danny Pata
A 75-year-old wartime tunnel under Bonifacio Global City will soon get a makeover and a new lease on life as a historical museum and tourist attraction.
The Bases Conversion and Development Authority (BCDA) last month signed a memorandum of agreement with the Tourism Infrastructure and Enterprise Zone Authority (TIEZA), the National Historical Commission of the Philippines (NHCP) and the National Museum to develop the tunnel, the BCDA said in a statement Wednesday.
"Our objective is to preserve the Bonifacio War Tunnel as a historical structure and to develop it into a tourism site that would complement Fort Bonifacio's rich historical heritage," the statement quoted BCDA president and CEO Arnel Paciano D. Casanova as saying.
Built mostly by Baguio natives, the tunnel was first dug in 1936 in what was then Fort William McKinley on orders of Gen. Douglas MacArthur, who was President Manuel Quezon's military adviser at the time. About a mile and a half long and 13 feet wide, the tunnel was meant to be MacArthur's headquarters and a military supply stockroom, though the general ultimately did not get to use it.
The tunnel was later expanded and used as a bomb shelter by the Japanese occupying forces.
When the Philippines gained independence from the US after the war, Fort McKinley was transferred to the Philippine government, renamed Fort Andres Bonifacio, and made the Army's headquarters.
In the 1970s, then-Army chief Maj. Gen. Fortunato Abat ordered that a portion of the tunnel, by that time badly neglected, be fortified with cement against the risk of collapse.
In the 1990s, development began on what has become Bonifacio Global City, overseen by the BCDA. According to the BCDA, only 730 meters—or half a mile—of the original tunnel "remain unaffected by the development of Fort Bonifacio as of 2013."
In September last year, the agency stated that
it was looking into the tunnel's sustainability with a view to turning it into a heritage site.
According to Casanova, the development will be in two phases. The first will begin with a feasibility study for the rehabilitation, marketing, and operation of the tunnel. The second will be the actual rehabilitation and development of the tunnel into a museum.
TIEZA, an agency of the Department of Tourism, will provide P4 million to fund both phases. For its part, the NHCP will issue a certification that the tunnel is an important cultural property. It will also "process the possible declaration of the tunnel as a national historical site," said the BCDA.
Both the NHCP and the National Museum will also provide technical assistance for both phases, the BCDA statement said.
— BM/VC, GMA News