Singapore Red Cross pledges P3.5M in aid to Visayas quake victims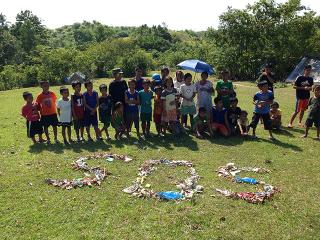 Quake-stricken village cries for help. In the days after the Oct 15 earthquake, residents of remote Barangay Anonang in Inabanga, Bohol tried to alert passing choppers that they needed help too. They have since been reached by relief supplies. H Severino
The Singapore Red Cross joined the ranks of countries and organizations that have pledged aid to the Philippines as damage to Central Visayas dealt by a magnitude 7.2 earthquake breached the P1-billion mark early Wednesday.
The SRC donated S$100,000 (roughly P3.5 million) worth of relief supplies for quake victims in Bohol and Cebu.
These include food, basic hygiene and medical supplies, according to a news release from the Singaporean Embassy in Manila.
Additionally, the SRC deployed a team of volunteers on October 18 who helped in the relief operations in affected areas.
In Tagbilaran City, SRC volunteers assisted surgeons conducting surgical procedures. A second SRC team will be deployed to help the Philippine Red Cross in its medical mission in Bohol.
Other pledges
Other countries that donated or pledged aid include the United States, Taiwan, Germany and Malaysia.
On Monday, Germany pledged P13.7 million through Johanniter Unfalhilfe, a German humanitarian organization.
Over the weekend, Malaysia donated RM100,000 (about P1,357,514.60) for children affected by the earthquake.
Earlier, the US Embassy in Manila said the US Agency for International Development (USAID) allocated $50,000 (roughly P2.150 million) for non-food relief items.
Meanwhile, the Taipei Economic and Cultural Office said Taiwan will donate $100,000 (P4.3 million) for Visayas relief efforts.
P1-B damage and almost 200 dead
The magnitude 7.2 earthquake which jolted Central Visayas, specifically the provinces of Bohol and Cebu, on October 15
has claimed at least 195 lives as of Wednesday morning
.
Over 2,500 aftershocks have been recorded, 64 of which were felt.
The National Disaster Risk Reduction and Management Council said damage to property caused by the quake was at P1,097,292,000.
This includes P898.171 million in Bohol, P197.401 million in Cebu, P1.45 million in Siquijor, and P270,000 in Negros Oriental.
The quake affected 597,598 families or 2,991,143 people in 1,319 villages in 54 towns and six cities in six provinces, the NDRRMC said.
— Drei Medina/BM, GMA News