Tacloban airport re-opens three days after being declared 'ruined'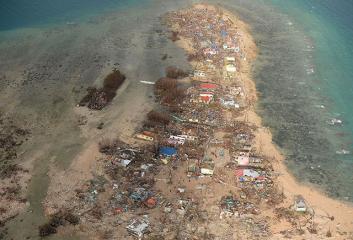 Islets off Guiuan suffered brunt of 'Yolanda'. An aerial photo taken on Monday shows the houses on Victory Island off the town of Guiuan, Eastern Samar which were destroyed by super typhoon Yolanda on November 8. Rescue workers struggled to bring aid to famished and destitute survivors on November 11 after Yolanda barreled throuh Central Philippines killing an estimated 10,000 people, in what is feared to be the country's worst natural disaster. AFP/Ted Aljibe
Three days after Super Typhoon Yolanda walloped the Visayas, Tacloban's airport has reopened, but only for turboprop airplanes. Philippine Airlines on Monday resumed flights to the devastated city.
Tacloban's Daniel Z. Romualdez Airport had been
described as "completely ruined"
right after the storm, but repair personnel restored its basic services in surprising speed so it could begin crucial operations during the city's worst emergency since World War II.
Relief goods were airlifted to the calamity-stricken region after the Civil Aviation Authority of the Philippines (CAAP) lifted the closure order it issued on airports in the Visayas over the weekend, the flag carrier said, except for Tacloban's airport which was limited to accommodating turboprops.
Among the first commercial passengers would be anxious relatives of missing people, relief personnel and media from all over the world who are swarming into the disaster zone.
In a separate memorandum Monday, CAAP Deputy Director General Capt. John C. Andrews said, "flights that will transport relief goods, medical personnel, relief operations personnel, security personnel and recovery equipment, etc. for the recovery operations in several areas in the Philippines due to the destruction by super typhoon Yolanda will be waived from the usual CAAP fees and charges.
Except for Tacloban
Cebu Pacific has chosen not to fly yet to Tacloban, but has resumed flights to Kalibo and Busuanga, both in areas struck by the storm.
"By tomorrow (Tuesday) everything will be back to normal operations except for Tacloban," Candice Iyog, Cebu Pacific vice president for Marketing and Distribution, said in a telephone interview.
Iyog said Cebu Pacific "does not yet have commercial flights for Tacloban."
The carrier, however, will mount "humanitarian flights" in the Daniel Z. Romualdez Airport to service stranded passengers, she noted.
In an advisory, the airline said it cancelled the following November 11 flights:
Manila-Roxas-Manila - Flight No. RXS 5J373/374
Cebu-Tacloban-Cebu - Flight no.s 5J428/429 and 5J426/427
Manila-Tacloban-Manila - 5J651/652, 5J659/660, 5J653/654, and 5J657/658
Passengers may rebook their flights within 30 days free of charge, Cebu Pacific said.
The airline is also working with government to resume the operations in Tacloban, where the local Daniel Z. Romualdez airport was damaged by the storm.
The flight limitations in place at Daniel Z. Romualdez Airport compelled PAL to use Cebu for its Manila-Tacloban service, the airline noted in an e-mailed statement.
The company said the Bombardier Dash 8 turboprop aircraft will be used for the Tacloban-Cebu stretch of the flight while the restriction is in place, via the Mactan-Cebu International Airport. PAL assigned budget carrier PAL Express (PALex) to service the Cebu-Tacloban route.
The PALex commercial flights include:
2P5973, which leaves Cebu at 7:40 a.m. and arrives in Tacloban at 8:20 a.m. Return flight 2P5974 leaves Tacloban at 8:50 a.m. and arrives in Cebu 40 minutes later.
PALex flight 2P5975 departs Cebu at 10 a.m. with return flight 2P5975 departing Tacloban at 11:10 a.m.
Flight 2P5977 leaves Cebu at 12:20 p.m. with flight 2P5978 returning at 2:30 p.m. The last flight for the day, 2P5979 leaves Cebu at 3:40 p.m., with the return flight 2P5980 leaving Tacloban at 4:50pm.
With Kalibo and Busuanga airports reopened, the budget ariline is reinstating the following flights between Manila and Kalibo:
Also reinstated are the Manila-Kalibo-Pudong-Kalibo flights:
The airline also resumed its Manila-Kalibo-Hangzhou-Kalibo-Manila service:
PALex said its also reopened its Manila-Busuanga route with the following flights:
Safety mechanisms

The resumption of commercial flights to Tacloban is only "partial" since only turboprop planes and not commercial jets were allowed to land, said a PAL official who asked not to be named in line airline policy naming president COO Ramon Ang as the only spokesperson for the flag carrier. Commercial jets were only allowed to carry relief goods to Tacloban, the official noted.

They resumed operations after government put in place the necessary safety mechanisms. "CAAP has put in place preparations to ensure that the arrival and departure of these aircrafts that are non-commercial jets – but turboprop aircraft – can enter and exit safely," she said.
"The reason we provided these avenues ... is because there are a lot of passengers who want to fly into Tacloban and visit their loved ones and families, as well as people who want to fly back to Manila but they have no way of to do that because they have no way to utilize their existing tickets," the official added. – VS/HS, GMA News