'Hungry' Pacquiao shrugs off retirement talk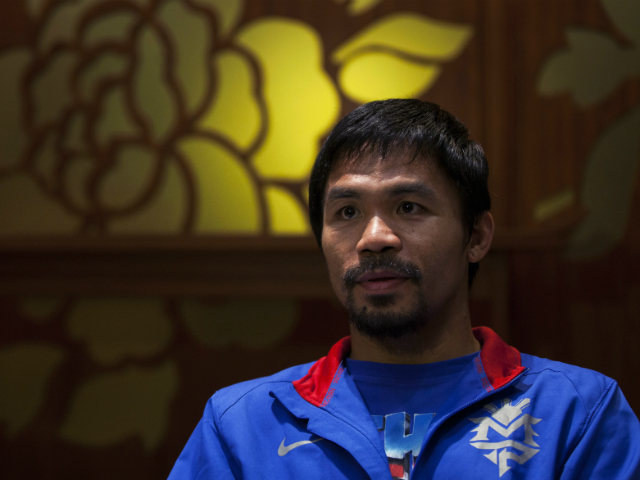 Manny Pacquiao.
Tyrone Siu / Reuters
Boxer and politician Manny Pacquiao arrived in Macau late on Monday to prepare for his fight against U.S. boxer Brandon Rios in a 12-round welterweight clash on November 24.
It will be Pacquiao's first fight since he was knocked out by Juan Manuel Marquez last December, a defeat that prompted many to suggest the 34-year-old should retire after he was left unconscious, face down on the canvas by his Mexican rival.
However, Pacquiao, winner of world titles at eight different weight divisions, has ignored the calls to quit and after the lengthy break, will fight Rios at the Cotai Arena in The Venetian Macao-Resort and Hotel.
"I'm hungry for this fight. My feeling right now is like when I started boxing. When I started fighting. So that's how I feel right now," said Pacquiao after walking the red carpet with his coach Freddie Roach.
The fight comes in the aftermath of typhoon Haiyan, which devastated parts of the Philippines, where Pacquiao is a congressman representing the province of Sarangani.
"Especially because I haven't fought for one year. And now I'm fighting back in the ring and my countrymen have been hit by a typhoon. It gives me more inspiration to do everything I can do to win the fight and to give them," said Pacquiao.
The boxer dismissed any effects from his last two losses and said he was feeling comfortable and confident ahead of the Macau showdown.
Pacquiao put his last two defeats down as part of boxing and denied being under any pressure to re-establish himself as the world's best pound-for-pound boxer.
"I did my best in training and my training is good and I'm ready for the fight. So it's in God's hands my, the victory on Sunday," he said.
But regardless of the outcome, the 34-year-old Filipino said he was not ready to retire just yet.
"I think I have accomplished. What I have done I am satisfied. What I want to do is maintain until I retire, I still keep winning," he said.
It will be a first bout outside the United States since 2006 for Pacquiao but he denied suggestions that his decision to fight in the Chinese gambling enclave of Macau was giving him a massive tax saving.
"It's the same. It doesn't matter, I want to fight again in Las Vegas. Either way, it depends on my promoter," said Pacquiao.
- Reuters
--
TAGGED IN
boxing mannypacquiao

#gomanny Tweets