PHL gets $287-M loan package from Japan during PNoy trip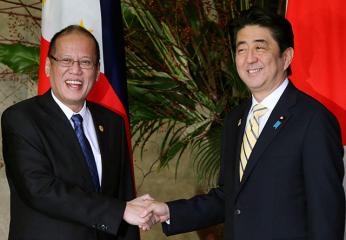 PNoy, Abe meet at Japan-ASEAN summit . President Benigno Aquino III is welcomed by Japanese PM Shinzo Abe at the start of their working lunch at Abe's official residence in Tokyo on Friday, December 13. Japan is boosting bilateral currency swaps with some Southeast Asian nations ahead of its weekend summit meeting with ASEAN leaders. The deals that come at a time when Abe hopes the Japan-ASEAN Commemorative Summit , which excludes China or South Korea, will promote closer ties with Southeast Asia. Reuters/Koji Sasahara/Pool
President Benigno Aquino III and Japanese Prime Minister Shinzo Abe on Friday witnessed the Exchange of Notes on at least $287 million worth of loans for the Philippines signed in Tokyo.
At a press conference in Manila, deputy presidential spokesperson Abigail Valte said Aquino attended a bilateral meeting hosted by Abe at the Prime Minister's Official Residence in Japan, where the two heads of state saw the signing of the Exchange of Notes on three items:
Post Disaster Stand-by Loan worth ¥ 10 billion ($ 100 Million)
Multi-Role Response Vessels for the Philippine Coast Guard worth ¥18.732 billion ($ 187 Million)
Revised route schedule on the Philippines-Japan Air Services Agreement.
Also possibly discussed during the meeting were "regional issues" and other topics related to "cooperation for disaster management and reconstruction," Valte said.

Aquino arrived in Japan on Thursday to attend the ASEAN-Japan Commemorative Summit.
Before the bilateral meeting, Valte said Aquino attended a courtesy call of Chancellor Toshiaki Koso S.J. and President Tadashi Takizawa of Sophia University.

The university, a Jesuit global learning institution, conferred on Aquino an honorary doctorate law degree for his "significant achievements in the promotion of good governance and peace in the Philippines, which have contributed to the remarkable economic development of the country in recent years."

Aquino is a product of the Ateneo de Manila University, another Jesuit institution.
"People always ask: How did you manage to do this?
"Time and again, I have answered: 'Definitely, not by myself. I am merely the instrument of our people's will.'
"In fact, the whole reason I am here is the people made a collective commitment – one in which I am playing my role, but will hopefully continue even after I step down from office," the President said.
Valte said the President likewise met with the Japan Business Confederation, where he highlighted opportunities for Japanese businessmen in the Philippines. – VS, GMA News