Ex-My Little Pony 'Fighting is Magic' crowdfunding campaign to be launched
The hearts of "My Little Pony: Friendship is Magic" fans were crushed when Hasbro refused to grant indie developer Mane6 permission to develop a fighting game based on the popular animated show.
Mane6, however,
has just revealed on their blog
that the game is far from dead, and that they plan to start a crowdfunding campaign, via IndieGoGo or Kickstarter early in 2014, to raise money for its development.
"As you guys know, our team for the past project, and so far for this one, has consisted of volunteers donating their time to the project for no economical compensation whatsoever, fueled only by passion and hype," said the blog post. "While this last part is still true, we've hit (a couple months back, actually), a point where we can not continue dedicating the full extent of our free time to development, due to other pressing obligations, namely the developers main payjobs and school."
If the crowdfunding campaign succeeds, the core development team will be able to work full time on the project,
according to Polygon
and
Shoryuken
.
In addition, it will "also allow the team to pay for some required upgrades, to license software libraries to improve the game, like GGPO, which would allow for a better online-multiplayer experience, and to compensate the people associated with the project outside of Mane 6 for their time and work," added the blog.
Fighting is Magic: death, resurrection, and Lauren Faust
The unlicensed, fan-made "Fighting is Magic" already had actual working gameplay. In videos all over YouTube, "My Little Pony" characters such as Twilight Sparkle and Applejack can be seen brawling with each other.
Last January 2013, "Fighting is Magic" was revealed to be a finalist to be included in one of the biggest fighting game tournaments in the United States, EVO 2013. Not long after this announcement, however, Hasbro stepped in and effectively put a stop to the game's development.
"Back in February 2013, our first project, 'Fighting is Magic,' got shut down due to legal circumstances," stated Mane6's blog. In short, Hasbro was not happy with Mane6 using the "My Little Pony" universe or its characters, and continues to refuse the struggling developer the rights to the franchise. Perhaps Hasbro was not comfortable with the idea of child-friendly "My Little Pony" favorites such as Rainbow Dash and Pinkie Pie beating each other to a grimy pulp.
Possibly encouraged by the "Elements of Harmony," Lauren Faust, the creator of "My Little Pony: Friendship is Magic" herself, offered her services to Mane6. To bypass Hasbro's licensing issues, she helped redesign the game from the ground up without sacrificing My Little Pony's unique charm and flavor.
"In March (2013), we announced a new member joining the Mane 6 Devteam for our second project, a 2D fighting game that'd keep the basic foundations of what was 'Fighting is Magic,' improve on the details, and feature an all-new, all-original new cast and universe, as designed by our newest Core Dev character designer, Lauren Faust, and the rest of Mane6," the blog stated.
"So what does this all mean?"
the blog further stated
. "It means that with Lauren's help, we are going to finish this game, but it will no longer be based on the MLP franchise. It will be all new characters in a new setting, while keeping the moves, mechanics, and style of the game we wanted to make from the start. This means a lot of work for us, and a bunch of new challenges, but we're excited about the possibilities that come along with them."
Little has been revealed of the new characters. From a teaser showing some creature silhouettes, it does appear the roster will include at least one deer and perhaps a llama or an alpaca.

Some game concept art. Shoryuken.com
More recent concept art shows a character that appears to be a green and pink cow—perhaps Applejack's replacement?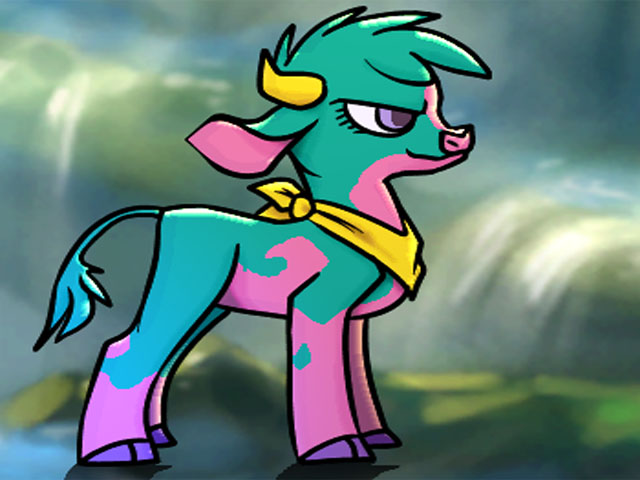 Some of the game's teaser concept art shows a green-and-pink cow. Shoryuken.com
"Fighting is Magic" is in fact only the new game's working title, meaning it may still change in time. The game will be borrowing the fighting game engine LabZero developed and used in Skullgirls. Mane6 acquired the engine thanks to a successful round of crowdfunding. —
VC, GMA News