'Rurouni Kenshin's reverse-edged sword' discovered in old cellar
In the popular anime and manga that bear his name, legendary former assassin Himura Kenshin—also known as Samurai X to Pinoy fans—wields a fictional reverse-bladed sword called "sakabato". This specialized katana has its cutting edge on the inward curve and its blunt side on the outward curve, allowing its user to dispatch his foes without killing them.
Now, reports are surfacing from
Asahi News
and
Kotaku
that a real-life version of this legendary weapon actually exists: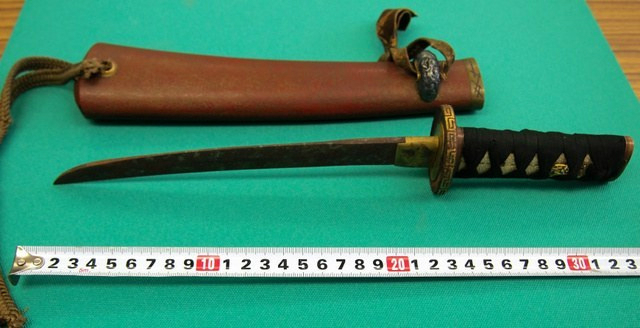 Photo credit: Asahi.com via Kotaku.com
Kogatana: the real reverse-edged sword
Just last October, an unusual weapon was discovered in family storage cellar in Shiroi City of the Chiba Prefecture. The cellar is old, dating from as long ago as the Edo Period, which was between 1603 and 1868. The weapon, of course, is most probably just as old.
It turned out that the aged weapon was in fact a real reverse-edged blade. Dubbed the "kogatana" (??), which means "short katana", the sword is 11 inches long. 8.6 of those inches make up the blade, which, while covered with dragon engravings, is sadly also coated with rust.
According to online sword retailer
Jidai Swords
, the kogatana is very different from traditional Japanese blades. The most common feature of Japanese swords is the sharpened outside edge of their blades. In contrast, the kogatana's blade is dull on the outside, and sharp on the inside – exactly like Himura Kenshin's sakabato.

'Head cutter' dagger
Apparently there was a dagger (tanto),
named "kubikiri" or "head cutter"
, which also featured a reverse edge. Unlike the kogatana, however, it did not have a point and was not meant for offensive use.
There are actually many sakabato's for sale in novelty shops today. These swords, however, are created for collectors.

Until the discovery of the kogatana, Japanese history supposedly has no known record of reverse-edged swords being used by royalty, samurai or otherwise. This is what makes the kogatana such an important find.
The kogatana has now been donated to the prefecture's archive of culturally-relevant items.

Battosai the Slasher
To atone for his bloody past as an assassin, Himura Kenshin wandered the Japanese countryside, freely offering his aid and protection to those who needed it.
Himura Kenshin is highly-regarded as one of the most important and beloved characters in anime and manga. Because of his immense popularity, his weapon, as celebrated as the man himself, has attained mythical status among fans and non-fans alike.
With the sakabato, Himura Kenshin was able to defeat his enemies while preserving their lives, allowing him to stay true to his vow to never kill again. — TJD, GMA News