GPH, MILF panels sign final annex to Bangsamoro Framework Agreement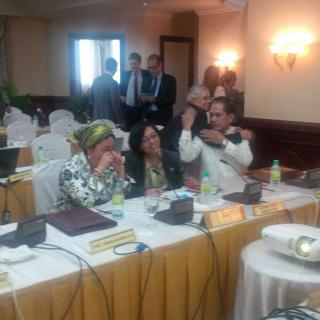 An emotional moment for the GPH peace panel. Members of the government peace panel after reaching an agreement with counterparts in the Moro Islamic Liberation Front on the last annex of the Framework Agreement on the Bangsamoro in Kuala Lumou, Saturday, Jan. 25. Sec. Edwin Lacierda
(Updated 5:42 p.m.) Panels from the Philippine government and the Moro Islamic Liberation Front formally signed the last annex to the Framework Agreement on the Bangsamoro on Saturday, the fourth day of talks in Kuala Lumpur, Malaysia.

"This paves the way for the signing of the Comprehensive Agreement on the Bangsamoro (CAB). This is indeed a long-awaited moment that is a gift to our people at the start of a new year of renewed hope and commitment," Secretary Teresita Quintos-Deles, presidential peace adviser, said in a press statement.

Presidential spokesperson Edwin Lacierda, who is in Kuala Lumpur with the government panel, made the announcement over his Twitter account Saturday afternoon.
Ladies and gentlemen, we have an Agreement!

— Edwin Lacierda (@dawende) January 25, 2014
The panels are in Malaysia for the 43rd round of exploratory talks meant to forge
a final peace agreement
between the government and the MILF.
The annex on normalization, which deals with decommissioning the armed wing of the MILF and outlines steps to disarm private armies in the proposed Bangsamoro area, is the last of four annexes to the framework agreement.
They also signed an addendum on the Bangsamoro waters, which delineates the jurisdiction of the envisioned Bangsamoro government over the waters in its territories.
The panels signed the annex on power sharing on Dec.8, 2013, which defines the powers that the Bangamoro Ministerial Government will exercise and the powers that the national government will retain.
The Bangsamoro Transition Commission will use the annexes—as well as the annexes on transitional modalities, and on revenue generation and wealth sharing—as guides for the Bangsamoro Basic Law, which will have to go through the legislative mill and then voted on in a plebiscite.
"In moving forward, our legislators will take on the crucial role of enacting the Bangsamoro Basic Law, which the Bangsamoro Transition Commission is now drafting," Deles said.
Meanwhile, Alistair McDonald, chairman of the Third Party Monitoring Team that has been checking implementation of agreements between the parties, congratulated both panels, adding the TPMT "(welcomes) the path which this sets towards sustainable peace in Mindanao."
MacDonald added "There is still much hard work ahead and there will certainly be many challenges to be faced in implementing the framework agreement and its annexes. But the commitment of both parties is clear, and the path to peace is well sign-posted."
— JDS, GMA News