The Vhong Navarro case: Timeline of events
It had been mainly a battle of words, with wildly differing accusations – until now.
Now, there's video.
The National Bureau of Investigation has released CCTV footage showing some of what transpired in a condominium building in Bonifacio Global City on Jan. 22 between actor Vhong Navarro and Deniece Cornejo, Cedric Lee, and six others.
Cornejo and Lee claim that Lee and his companions walked in on Navarro trying to rape Cornejo.
Navarro, on the other hand, denies the rape accusation, saying that he had been set up.
What is confirmed is that the group showed up at the Southern Police District station later that night to file an entry in the police blotter, and that Navarro had been beaten up.
Although the CCTV footage only captured the events in the lobby and the elevator,
it seems to bolster Navarro's claims, the NBI said.
Shortly after Navarro's arrival, Cornejo is seen calmly leaving the building, apparently unscathed.
Navarro, who is still hospitalized after the beating, has filed several complaints against Cornejo and the rest, while Cornejo has filed a rape case against the actor. The timeline below is based on the CCTV video.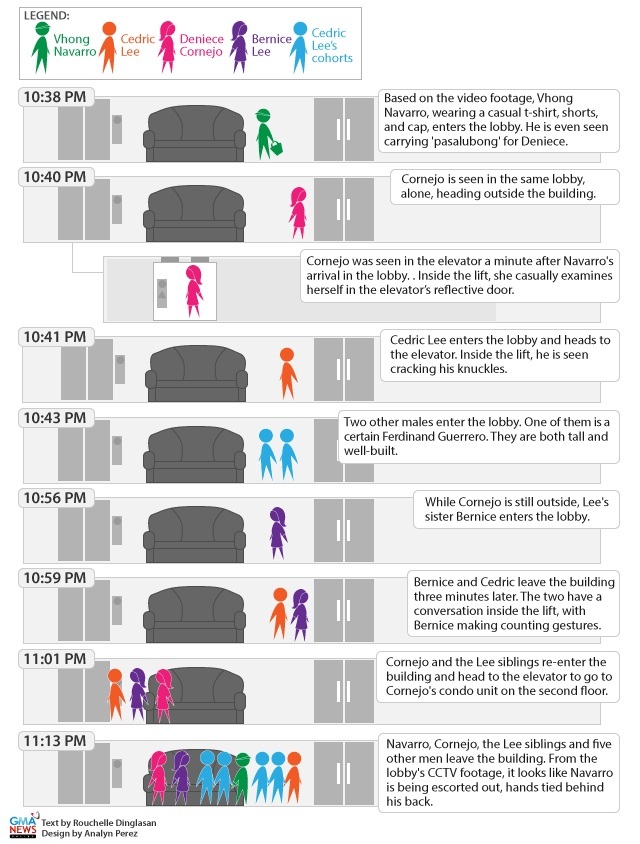 — Rouchelle R. Dinglasan/BM, GMA News