Finishing 19th, 17-year-old Martinez declared 'shining star of the future'
(Updated Feb. 16, 12:22 p.m.)
Among the youngest competitors competing against the best in the world, Filipino Olympian Michael Martinez ended his run in the 2014 Sochi Winter Olympics by finishing 19th, with a final score of 184.25 points, Friday at the Iceberg Skating Palace.
His youth, exuberance and underdog status as the first Southeast Asian Olympic figure skater made him nearly as much a subject of media attention in Sochi as the eventual gold medalist, Japan's Yuzuru Hanyu.
"Definitely a shining star of the future," declared Johnny Weir, a former US Olympian and one of the TV commentators, as Filipinos around the world were glued to Martinez's final performance, which to an unseasoned eye appeared flawless, and without the falls that marred some of the other skaters who followed him.
"This kid could be a future Olympic champ," Weir marveled to his fellow commentators, who included former Olympic gold medalists Tara Lipinski and Scott Hamilton.
[Related: Hanyu survives stumble, becomes first Asian to win men's figure skating gold]
The Men's Figure Skating gold medal was won by Japan's Hanyu (290.09), silver went to Canada's Patrick Chan (275.62) and the bronze was won by Kazakhstan's Denis Ten (255.10).
Martinez got a 62.58 in Elements and 57.86 in Components before being deducted one point for a fall to total 119.44.
The 17-year-old had qualified with a Short Program score of 64.81 early Friday morning (PHL time).
The Muntinlupa native, who is also the first Southeast Asian skater in the competition, was third to perform at the Iceberg Skating Palace, out of the 24 who made the cut from the 30 skaters the previous evening.
He was initially ranked first, but gradually slipped down as more skaters performed.
By the time the first set of 12 skaters were done, Martinez was at seventh place below Florent Amodio of France (198.64) and above Ukranian skater Yakhov Godorozha (182.19).
Much more than his skating, Martinez's personal story made him one of the darlings of the Olympics. Throughout the competition, Olympic commentators referred repeatedly to the long odds facing a boy from a tropical country making it this far, with little of the usual support that his competitors received.
"One of the most compelling stories of this Olympics is this young man," the former Olympic champion Tara Pipinski told her TV audience.
Weir remarked during Martrinez's performance that he has "fabulous rare flexibility for a man – only man to do that – definitely a shining star for the future... A 17-year-old in his first Olympics, it's got to be mind-boggling and daunting but he has great technique... he just really needs polish and I think he'll be right up there
."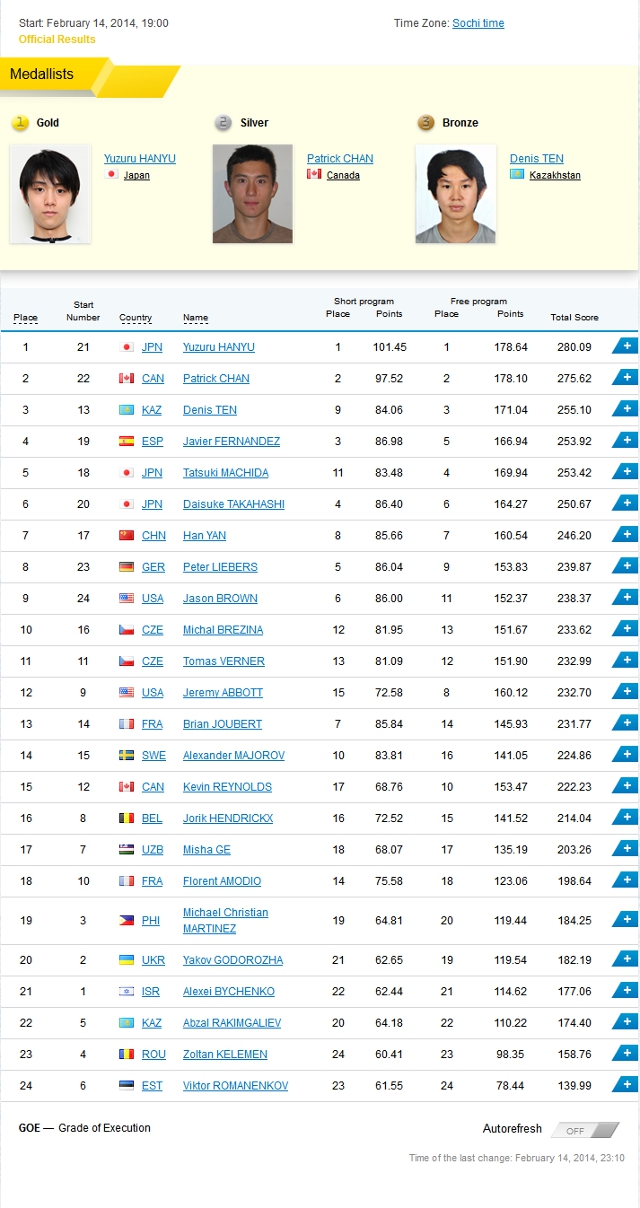 Training has transformed Martinez from a recreational skater into a charismatic athlete lauded for his flexibility by audience and critics alike.
He began training at eight years old, after seeing skaters glide across the ice at a skating rink in a shopping mall in Metro Manila.
"At first, me and my mum went to a shopping mall and I saw the skaters doing jumps and spins and I asked her if I can try it... she told me that I should try. Then, when I first went to the ice, I started to love the sport already. For three years we were in the Philippines, [I joined] recreational competitions in Asia [and] in the US," he told Reuters in an interview.
A coach saw his potential as an athlete in one of the competitions he joined and suggested he train abroad to improve his technique.
Martinez formally began his training in the United States in 2010
, working with renowned coaches such as figure skating champion John Nicks and Olympic medalist Ilia Kulik, his mother told CNN.
The road to the Olympics was a rough one for Martinez. His parents had to shell out personal funds for his training in his early years since sponsorships and grants were hard to come by. In addition, the young athlete had to take care of his health, especially since he is asthmatic.
Now in Sochi as the youngest competitor in the male figure skating event, Martinez said all the hardships he endured was worth it for a shot at an Olympic medal.
"[Skating] takes a lot of time, effort and money and your physical energy. It took a lot of injuries for me to come here because we had to do all the hard jumps and do a lot of choreography," said the 17-year-old.
In free skating or the long program, each contestant is given four minutes and 30 seconds to complete their routine.
Although Martinez is not taking home a medal from his first foray in the Olympics, "the fact that he's here is an achievement in itself," Mikee Cojuangco-Jaworski, Philippine representative to the International Olympic Committee said in a TV interview.
Jaworski said in an interview over TV5 said Martinez qualifying for the Free Skate event was already a feat considering his age and the fact that he comes from a tropical country. "He's here because he deserves to be here," she said.
Great job @MichaelOlympian !! You've made history and will continue to do so!! http://t.co/vKfuDs0MHN

— Mikee C. Jaworski (@mikeecj) February 14, 2014
With or without a medal, Martinez said: "It feels like I'm already a champion [because I'm] skating here [Winter Olympics 2014] with them and competing here with them… I'm skating with the veterans and the top world skaters and it feels really different."
As early as now, the Filipino athlete is setting his sights on the 2018 Winter Olympics in South Korea. Martinez knows he will need to train harder and more frequently than he used to if he wants to get another shot at competing in the Olympics.
Being aware of how much training for another four years will cost his family, Martinez also hopes his new-found fame will lead to more supporters financing his training.
"If I get more financial support, then I can continue to the next Winter Olympic Games, so I'm aiming for the next Olympic Games," he said.
— with Xianne Arcangel /AMD/JDS/RAF/DVM/LBG, GMA News