Bloggers launch 'black protest' against SC ruling on cybercrime law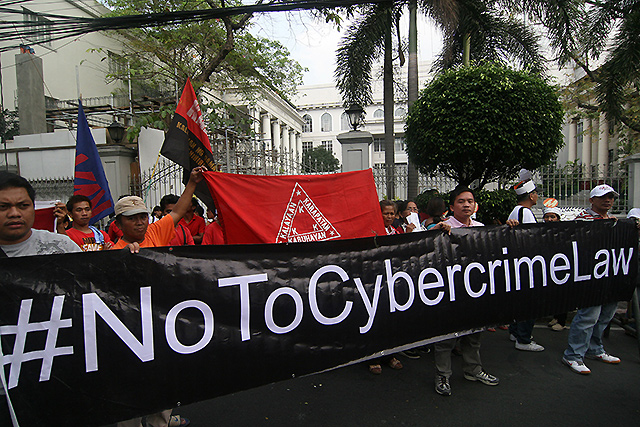 Activists rally outside the Supreme Court on Tuesday, February 18, following the tribunal's decision to declare several contested provisions in the controversial Cybercrime Prevention Act of 2012 unconstitutional. The SC, however, ruled as legal the provision on online libel, which is also being questioned by those against the implementation of the law.
Danny Pata
Non-government organization Bloggers and Netizens for Democracy (BAND) on Tuesday launched a "black protest" to express opposition on the Supreme Court (SC) ruling upholding the constitutionality of the online libel provision of the Cybercrime Prevention Act of 2012.
"Nagbibigay ito ng takot para sa mga karaniwang tao. Kung dati-rati malaya at buong tapang tayong makapagpahay online ng ating pananaw tungkol sa nagaganap sa paligid, lalo na sa pagbatikos dun sa mga eskandalo sa gobyerno, ngayon pwede na tayong takutin ng mga masasama, pwede na tayong takutin ng gobyerno na 'lagot kayo pwede namin kayong i-libel'," said BAND member Tony Cruz in an interview aired in GMA News' "24 Oras".
BAND, represented by Cruz, is one of the 15 petitioners against Cybercrime Prevention Act of 2012. As the high court announced its ruling on Tuesday, BAND members changed their profile pictures in social networking sites to completely blacked-out photos.
The group said this was to "mourn" the death of freedom of speech and freedom of the press.
The group said they are now preparing to appeal the SC ruling since Cybercrime Prevention Act provides heavier penalties for online libel than the kind in other media platforms. —
VC, GMA News