Smartphones to dominate PHL market as prices drop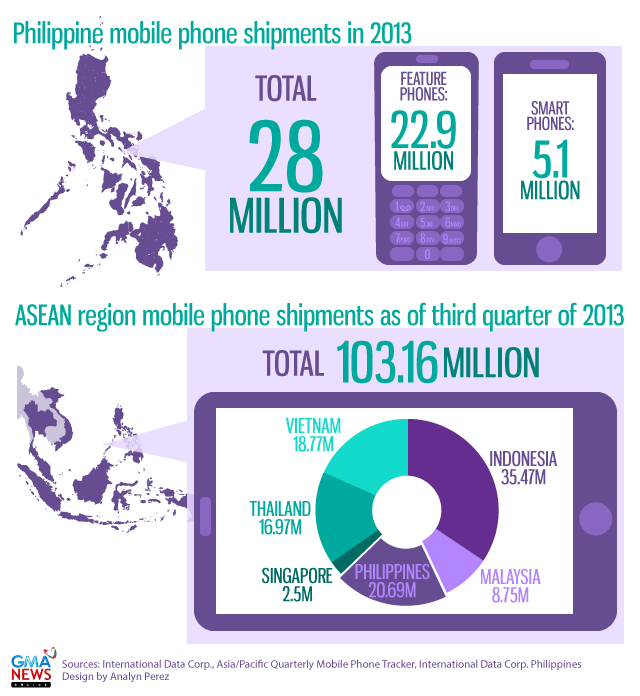 Most Filipinos still use feature phones, or the basic call and text phones, but not for long, according to analysts, saying the change is already happening.
In two to three years, smartphones is seen to dominate the Philippine mobile market due to the rise of low-priced local brands as a younger generation of consumers requiring 24/7 connectivity upgrade their gadgets.
A Nielsen study released in last month showed the Philippines at 15 percent has the lowest smartphone penetration in Asia Pacific, compared with 87 percent in Hong Kong and Singapore, 80 percent in Malaysia, 75 percent in Australia, 71 percent in China, 49 percent in Thailand, 23 percent in Indonesia and 18 percent in India.
Price remains a top concern why Filipinos still use feature phones, Ryan Lai, International Data Corp. Asia Pacific market analyst for mobile phone and tablet research, told GMA News Online.
"It's about pricing that's why Philippines is still a feature phones market. There were a lot of feature phones that can perform what smartphones can do," he said.
Yugatech founder and editor-in-chief Abe Olandres shared the same observation. "It's all about economics... Maraming tao can afford feature phones," he said.
Many feature phones are priced as low as P500 apiece, an attractive and very affordable option for the ordinary Juan who has a need to communicate for whatever reason.

SIM penetration
In a separate interview, IDC Philippines research manager Jubert Alberto said some Filipinos only require feature phones for daily use, particularly in the countryside.
"There is still a large portion of the market that requires only basic communication tools to which a feature phone will suffice," he said.
Analysts from IDC also noted the Philippines has a very high SIM penetration.
"Reality is... Philippines has a lot of users with double or triple SIMs," IDC Asia Pacific's Lai said.
Most Filipinos, who already own smartphones, keep a feature phone as a back-up unit, IDC Philippines' Alberto said. "It is quite a common occurrence for consumers to still own a feature phone even when they already have a low-end smartphone," he said.
While feature phones still dominate the Philippine market, Lai noted the Philippines isn't far behind in terms of smartphone usage in the Association of Southeast Asian Nations (ASEAN) region where most people still use the basic call and text phone.
"The Philippines is not lagging behind, it actually has a big room for growth. In two to three years, the Philippines, Indonesia and Vietnam will see a turnaround in smartphone [use]," Lai said.

Shipments data

Mobile phone shipments to the Philippines reached 28 million in 2013, up 51 percent from 18.5 million in 2012, IDC Philippines data showed.
Of the total shipments last year, roughly 22.9 million units or 82 percent were feature phones and 5.1 million or 18 percent were smartphones.
However, smartphone shipments actually jumped by 75 percent year-on-year in the Philippines, compared to flat growth in Malaysia, 4 percent in Thailand, 1 percent in Vietnam, 12 percent in Indonesia and 14 percent in Singapore, IDC Asia/Pacific data showed.
"The trend is the same in ASEAN region but the Philippines is the fastest growing mobile market in the region and smartphone growth is going faster than overall, which in this case grew by 75 percent in 2013," Lai said.
As such, feature phone shipments are expected to decline as low-priced smartphones offered by telecommunications companies sprout in the market, Alberto said.
Globe Telecom Inc. has stopped offering feature phones in its postpaid line up.
Since the fourth quarter of 2012, Globe's postpaid plans are bundled with smartphones, said head of Postpaid Customer Experience and Lifecycle Management Debbie Obias.
"Our device portfolio is composed of smartphones running on various operating systems (OS), offered even at our low-end postpaid plans," she said.
"We believe there is still a market for feature phones especially among the low and mass markets, but with the proliferation of affordably-priced smartphones packed with more features, we are beefing up our portfolio with devices that give users a different mobile experience," she added.
In the case of Smart Communications Inc., the company has yet to reply to queries by GMA News Online.

Chinese brands
IDC data tagged the rise of Chinese brands – Lenovo, Coolpad, Huawei and ZTE – and a rising segment of homegrown brands in Asia Pacific as the growth drivers of smartphone shipments.
In the Philippines, local brands Cherry Mobile, MyPhone, Star Mobile, Torque, Cloudfone and O+, are aggressively breaching the market from the high-end foreign brands by bringing the price down to $30 for a smartphone unit from $100.
"Compared to peer countries, the Philippines mobile phone market is very sophisticated. You have very competitive local phone brands – MyPhone, Cherry Mobile, O+ – which all start to have strong local presence and market share," Lai said.
Among ASEAN peers, Thailand has one strong local brand – i-Mobile – while smartphone use is being pushed by telcos in Vietnam.
Philippine brands are offering smartphones tailored to the need of Filipinos to be connected and always in the know, especially the younger generation, Alberto said.

"The Philippines is quite unique among neighboring countries due to the strength of local brands which offer phones well-suited to the local needs or requirements, like dual SIM, good camera... with TV and radio," he said.
"Main accelerator is what we call 'changing of the guards,' demand from the younger segment of the population aged 35 years old and below is continuously growing and this segment is spending heavily on mobile units due to various requirements that range from communication, information, entertainment," he added.
In fact, the local brands have overtaken the international brands and continued to keep the pressure on for the high-end segment to lower prices, Globe's Obias said.
"Volume-wise, the low-priced segment has overtaken the high-priced brands in 2013, but value-wise, the iPhones and Samsung high-end models and others are still ahead," she said.
"It also compels manufacturers to have more value-added features that will benefit users as well as add value to our services as a telco," she added.

Dropping price points
For 2014, Filipinos will continue to upgrade from basic feature phones to smartphones, IDC's Alberto said.
"This is driven by the dropping price points from smartphones; creative service offerings and bundling schemes from telco operators; popularity of mobile apps whether social networking sites or games; increase in Wi-Fi spots across the country," he said.
"In 2014, we see that there will be more dynamic trends in mobile usage, which will be further helped by introduction of more Pinoy-centric apps and the continuous popularity of social media as part of everyday life," he added. – VS, GMA News