Art review: Ai Weiwei's 'Baby Formula': A case for consuming art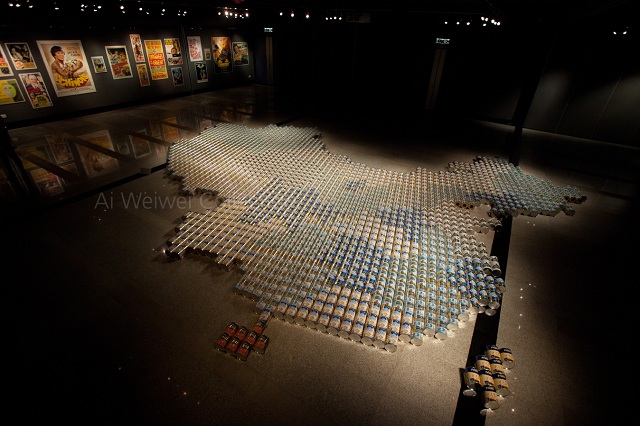 Ai Weiwei used 1,815 tin cans to create a map of China. Ai also made (below) C-prints on 120 x 300-cm aluminum panels, with image and text designs made out of visuals on the baby formula cans and the artist's blog writings. Photos courtesy of Ayala Museum
Artist, dissident, internet sensation—Ai Weiwei is, quite possibly, the most recognized name in contemporary Chinese art. He's also one of the most prolific and widely exhibited across the globe, despite being prohibited from leaving China since 2011. "Baby Formula," now on a limited run at the Ayala Museum, marks the first time the artist-provocateur presents his work in the Philippines, and only the second time that this particular exhibit is staged.
The show's title draws attention to the issue of milk safety and ensuing scarcity of supply in China, where in 2008 melanine-laced infant formula caused the deaths of six children and illness in some 300,000 more. Recurring concerns regarding quality control of milk produced in mainland China have inflated the value of non-mainland produced milk, prompting Chinese tourists to go milk shopping in Hong Kong, leading to a Customs limit of two cans of milk per person for outbound travellers to China in 2013.
Demonstrating Ai's customary, outsized nose-thumbing of authority, the titular piece consists of 1,815 cans of the seven most popular milk brands in Hong Kong, formed into a map of China that takes up most of the exhibit gallery's floor space. Surrounding walls are filled with posters of reconstituted milk labels superimposed with statements (translated in English) lifted from Ai's personal social media accounts.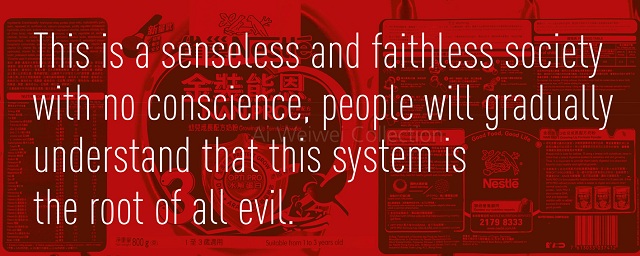 This is not the first time that Ai has employed the found object-as-map trope; in "Map of China" (2008), he uses salvaged materials from Qing-era temples, which can be read as a commentary on the crafting of present-day China, and the role (or lack thereof) of history in securing its future. Ai also revisits his fondness for the conceptual art practice of ascribing a different meaning and value to objects; "Baby Formula" elevates milk cans into art pieces, as opposed to "Painted Vases" (2006), in which he transforms the function of Neolithic-era pottery from historical artifact to contemporary artwork by covering them in colorful industrial paint. While Baby Formula is not as lyrical as these previous works, its subject matter is particularly close to the artist's heart, Ai being a father of a young boy.
At once excessive and subversive—much like the artist himself—"Baby Formula" teases out the relationship between consumption, state regulation, and dehumanization. In an interview with Straits Times, Ai notes that Hong Kong's two-can quota is limited to matters of personal consumption (or transactions in the aid of, such as trade importation), but once declared as components of an art installation, the milk cans are cleared for shipment overseas. (Fun fact: the Ayala Museum was delayed for similar, yet opposing reasons: local Customs did not immediately clear the shipment, regardless of purpose, because the milk's expiry date rendered it unfit for human consumption).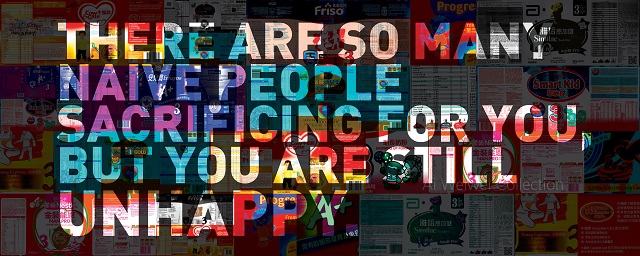 That there is an impetus for foodstuff to be trafficked across borders in a contraband manner is already cause for concern, but when strict regulations can be eased for less pressing matters—it seems fair to invoke Maslow's hierarchy of needs this scenario—it seems indicative of a disregard for basic human rights. Or, as Ai states in one of the exhibit posters, "This is a senseless and faithless society with no conscience, people will gladly understand that this system is the root of all evil."

Another interesting fact shared by Nunu Hung, curator of Galerie Michael Janssen in Singapore, which previously hosted the show: components of "Baby Formula" were, in part, supplied by some pharmaceutical companies whose milk brands were featured in the installation; this, despite concerns of possible supply shortage in Hong Kong. One is left to draw conclusions whether Ai's solicitation of milk cans was merely to facilitate completion of the work, or yet another attempt to expose the primacy consumption and commodification in contemporary Chinese society. Or perhaps it is a matter of generating publicity and exploiting its gains to remain in the public eye, which for Ai Weiwei could very well be reason enough. — BM, GMA News

Ai Weiwei's "Baby Formula" ends its run at the Ayala Museum on March 16.