Pacquiao: Jinkee could give birth during Bradley fight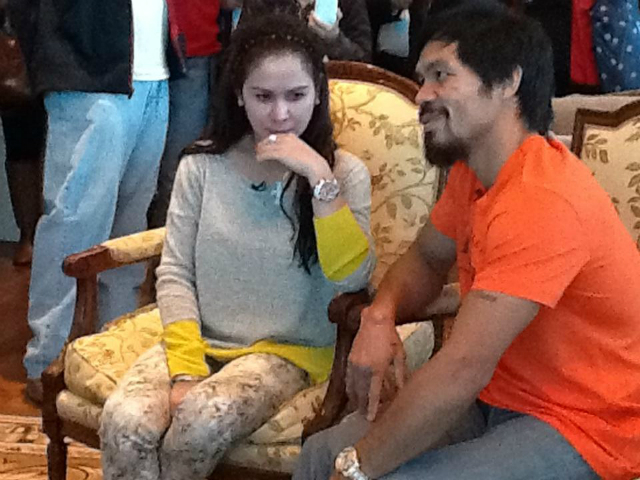 LOS ANGELES - Manny Pacquiao isn't discounting the possibility of wife Jinkee giving birth to their fifth child before or even during his April 12 (April 13, PHL time) fight against reigning World Boxing Organization (WBO) welterweight champion Tim Bradley.
"Yes, it's possible," said Pacquiao during his appearance on the late-night talk show Jimmy Kimmel Live on ABC, Wednesday night (Thursday, PHL time). "But I'm expecting it to be in the last week of this month."
Asked by Kimmel if he'll postpone the Bradley fight if Jinkee suddenly gives birth, Pacquiao let out a sheepish smile and casually said 'no.'
The newest addition to the growing Pacquiao family is going to be a baby boy, who the 35-year-old father said they will name 'Israel.'
"Are you Jewish?" Kimmel quickly reacted, drawing laughter from his audience, to which Pacquiao responded, "Well, Jimmy is also a nice name for a kid."
Pacquiao wasn't asked why he chose the name Israel, although he and his family have already twice visited the Holy Land, since the Filipino boxing pride became a devoted Christian.
The Pacquiao couple already has four children in Michael, Emmanuel, Princess, and Queen Elizabeth.
The Bradley fight marks the second time Jinkee is heavy with child while Pacquiao is in the middle of preparations for a very important fight. The Sarangani Province vice-governor was also pregnant with daughter Queen Elizabeth when the eight-time world champion fought boxing great Oscar De La Hoya in 2008.
- Gerry Ramos, SPIN
TAGGED IN
mannypacquiao jinkeepacquiao

#gomanny Tweets