PBA
:

David shines as strong third quarter propels Gilas past All-Star selection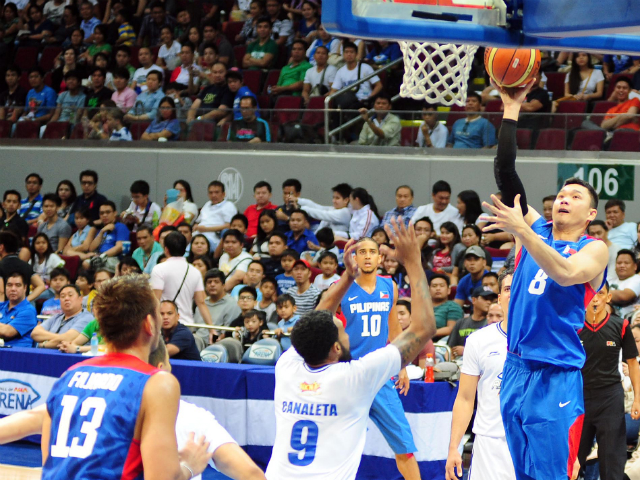 Gary David scored 15 points, including a key triple late in the game to snap the PBA All-Stars' fourth quarter run.
KC Cruz
A strong third quarter propelled Gilas Pilipinas to a 101-93 victory against the PBA All-Stars selection, Sunday at the MOA Arena in Pasay City, in the concluding event of the 2014 PBA All-Star Weekend.
Gary David was declared MVP with 15 points including two triples. Jeff Chan led all scorers with 17 markers on 7-of-13 shooting. June Mar Fajardo added 13 points, five boards and four assists, while Jayson Castro scored 12, to go with five boards and two dimes.
[POLL: Who should have won the PBA All-Star Game dance-off?]
The two teams started out slow, as Chris Ellis battled Jeff Chan to keep the PBA All-Stars close, 12-11. A Greg Slaughter drive gave the All-Stars a taste of the lead, but June Mar Fajardo's entry kept Gilas ahead.
Jayson Castro canned a pull-up from the top of the key to keep Gilas up, 18-16, before Marcio Lassiter scored five on his own. The national team ended the period stronger, though, as Larry Fonacier and Jayson Castro teamed up with Fajardo for a 9-2 run to stay ahead, 28-23.
Gary David had easy baskets inside in the second, but Sonny Thoss, Calvin Abueva and James Yap found their spots to cut their deficit, 34-31. Gabe Norwood then found his rhythm, scoring five straight, with a triple coming off a three-man game between himself and Rain or Shine teammates Beau Belga and Paul Lee.
A Japeth Aguilar slam and a Jeff Chan drive established the first double-digit lead at the 3:39 mark, before Slaughter and Arwind Santos tried to come up with a spark for the PBA selection. Interior offense from Fajardo and Aguilar, coupled with a Castro banker, looked to give Gilas a double-digit lead at the half, but a late triple from Chris Ellis trimmed the lead heading into the break, 49-42.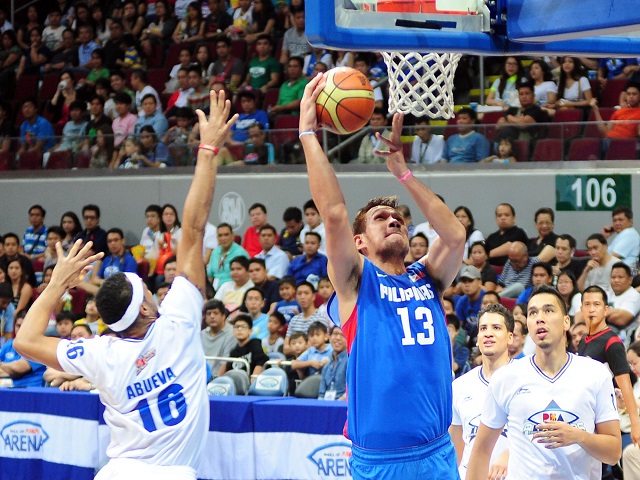 June Mar Fajardo played a solid game in relief of Marcus Douthit.
KC Cruz
Gilas exploded in the third, as Marcus Douthit scored six straight points to start the half. After a Barroca trey, it was all Gilas, as Castro and Chan hit back to back triples, 61-46. The All-Stars offered a meek reply, to the tune of a James Yap one-hander, as Chan and Castro connected anew, bumping up the lead to 18, 67-49.
The All-Stars only managed to get multiple splits from the line, as Ranidel de Ocampo hit another three for Gilas, 71-53. Slaughter and Lassiter were able to cut the lead to 12, before KG Canaleta hit a three. Paul Lee quickly took it back, though, while a De Ocampo drive re-established an 18-point spread in the final minute. A Joe Devance put-back and a pair of Paul Lee charities ended the period with Gilas still ahead, 82-64.
A Thoss basket, followed by five straight from PJ Simon had the PBA selection humming in the fourth, 83-71. Gilas got it back with baskets from Fajardo and Aguilar, before Thoss and Lassiter cut the lead to 11 at the 8:44 mark.
Coach Chot Reyes' squad had an answer to every comeback attempt, though, as Gabe Norwood scored two off a breakaway slam. Another slam by Aguilar and a Gary David trey brought the lead back to 18 anew, 95-77, with 6:56 remaining, as Santos strung together five more. A PJ Simon fastbreak finish had Gilas pushing the timeout button, and David responded with a shotclock-beating trey.
A smaller lineup with Arwind Santos playing center against Douthit, along with Canaleta, Abueva, Lassiter and Barroca, looked to finish the game for the PBA All-Stars. Santos connected on a follow-up to cut the lead to 10 with a little over two minutes remaining in the game, but Castro split from the line with 1:28 to go. A fancy drive by Abueva couldn't find the bottom of the net, as Gilas wasted away the time in the final minute. A late corner three attempt by Santos caught nothing but air, before Barrcoca ended the game with his version.
Lassiter top-scored for the All-Stars with 12, while Greg Slaughter put together a double-double of 11 points and 10 boards. PJ Simon and Arwind Santos scattered nine apiece.
Gilas shot 49 percent from the field, versus the All-Stars' 43 percent clip. The national side also got more assists, 26 to 16.
- AMD, GMA News
The scores:
Gilas Pilipinas 101 - Chan 17, David 15, Fajardo 13, Castro 12, Douthit 10, De Ocampo 7, Norwood 7, Aguilar 7, Lee 5, Dillinger 4, Fonacier 3, Pingris 1, Alapag 0, Tenorio 0, Belga 0
PBA All-Stars 93 - Lassiter 12, Slaughter 11, Santos 9, Simon 9, Yap 8, Barroca 8, Thoss 8, Ellis 7, Baracael 6, Devance 6, Abueva 6, Canaleta 3
Quarter scoring:
28-23, 49-42, 82-64, 101-93