Lubao, Pampanga holds hot air balloon festival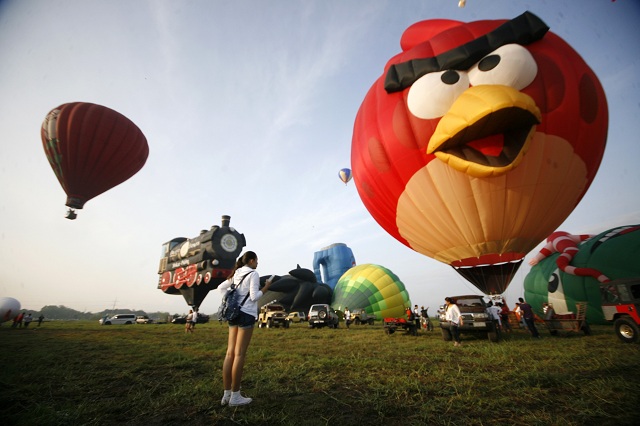 (Updated 2:02 p.m., April 10, 2014)
Pampanga's hot air balloon festival is usually celebrated in February in Angeles City. But this year, the hot air balloons are taking flight in Brgy. Prado Siongco in Lubao.
The event, organized by Pilipinas International Balloon Festival, Inc. (PIBF) in cooperation with the Arts, Culture and Tourism Office of Pampanga (ACTO) and with support from Provincial Government of Pampanga, will be held from April 10 to 13.
With the theme "It's More than Just Hot Air," the festival is expected to attract more than 100,000 visitors. Aside from the hot air balloons, there will be street dances, car shows, wakeboarding demonstrations, a cooking competition participated in by hotels and culinary schools, live band performances, radio-controlled aircraft demonstrations, kite-flying, balloon night glows, a fireworks display and awarding ceremonies on Governor's Night.
"Even if it is now more than 30 kilometers away from its original location, I am seeing that more people will populate the area since the festival ground is fairly passable and accessible for both private and public vehicles. It's just along the Gapan-Olongapo Road going to Dinalupihan," said Department of Tourism Regional Director Ronnie Tiotuico.
The event, which will also feature products from local concessionaires, will coincide with the opening of a golf course and a cable car park in the town—activities that local authorities hope will bring tourism and business to Lubao and other parts of Pampanga.
"Lubao is a town which is pretty symbolic on its own as it is one of the first major towns even before the arrival of the Spanish colonizers," said town mayor Mylyn Pineda.
"You can still see a lot of remnants of the past like the old San Agustin Parish Church, declared a National Treasure by the National Museum in 2014; and the black Crucifix of the Apu Sto. Cristo de Lubao in the Holy Cross Parish Church in Sta.Cruz, believed to be a gift of Martin De Goiti to Rajah Macabulos," he said.
"Diosdado Macapagal was from here, Rogelio De La Rosa and Rudy Fernandez were from here, and even the Emmy Award winner, 'The Simpsons' animator Jess Española is a proud native of our hometown. Holding the Hot Air Balloon Festival here is not just about the event...it is more of presenting to the people what our town is all about," Pineda added.
According to DOT Region III, some 30 hot-air balloon teams from the US, Europe and Southeast Asia have been invited to participate in the four-day event.
PIHABF statement
Meanwhile, the Philippine International Hot Air Balloon Fiesta (PIHBF), which organized the previous hot air balloon events at Clark, has stated that it is not taking part in this event.
According to a statement on its website, PIHBF decided not to hold an event this year to allow its organizing committee "more time to secure a suitable venue for the fiesta and investing more time in planning, securing sponsorships and implementing enhancements."
The statement added: "We will not be part of the April 2014 event, nor did we, nor will we participate in its planning, organization, or staging. We disclaim any association with its management."
The PIHBF has scheduled its event for February 2015.
— BM/YA, GMA News
Getting there:

From Clark, go on the SCTex and take the Dinalupihan Exit. Make a left onto Jose Abad Santos Ave. (formerly Olongapo-Gapan Rd.) to Lubao. The venue is right beside the Lubao-Dinalupihan boundary arch on your left.

From Manila, go on the NLex and take the San Fernando Toll Booth Exit and onto Jose Abad Santos Ave. Drive past the towns of Bacolor and Guagua to reach the town of Lubao. Past the Sta. Cruz Bridge, turn right onto Lubao Bypass Road (to avoid heavy traffic at the Sta. Cruz Market) en route to Lubao-Dinalupihan welcome arch where the venue is located on your right.

Tickets are P200 per head while the parking fee is P50 for cars and P100 for buses. Contact Ricky Pablo (0917-512-9143) or Cherry Serrano (0917-437-5240) of the Lubao Municipal Tourism Office for more information.