DeMar DeRozan to visit Manila for NBA 3X Philippines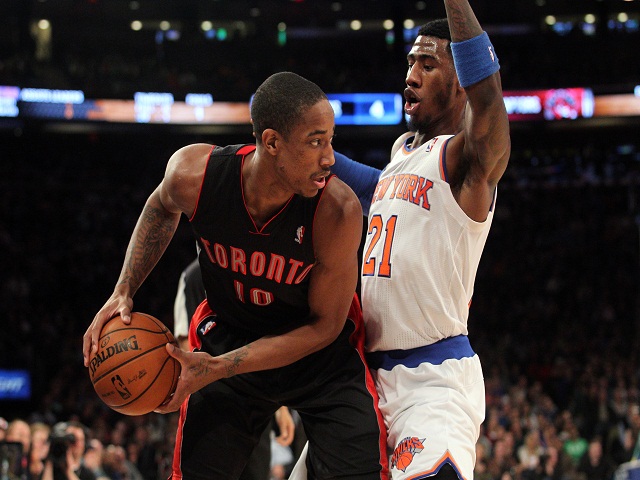 Toronto Raptor DeMar DeRozan (10) maintains possession against New York Knick Iman Shumpert (21).
Brad Penner / Reuters
Toronto Raptors swingman DeMar DeRozan is set to visit Manila in July, as the special guest for this year's edition of NBA 3X Philippines, the league announced Monday via press release.
The program, now in its fourth year, "combines exciting 3x3 on-court competition with free authentic NBA entertainment and experiences for fans of all ages," such as a slam dunk contest, hoops clinics, three-point contests, skills challenges, autograph sessions, plus performances by an NBA dance team and an NBA mascot.
DeRozan though is the highlight, and will help run clinics and interact with Filipino fans.
"I'm excited for my first visit to the Philippines to experience the country's unique culture and to be a part of NBA 3X," said DeRozan in the release. "Filipinos are world-renowned for their passion for the NBA and I can't wait for this exciting showcase of their basketball skills."
Last year, New Orleans Pelican Eric Gordon and Houston Rocket James Harden were on hand for the festivities.
DeRozan was a key part of the Raptors' resurgence during their 2013-14 campaign, which saw them snap a postseason appearance dry spell, dating back to the 2008-09 season. He normed 22.7 points on 42.9 percent field goal shooting, along with 4.3 rebounds, 4.4 assists and 1.1 steals.
Come the postseason, his numbers ticked slightly downwards to 23.9 points on 38.5 percent shooting, with 4.1 rebounds, 3.6 assists and 1.1 steals.
NBA 3X Philippines 2014 is set to run from July 4 to 6 at the SM MOA Music Hall.
- AMD, GMA News