Filtered By: Cbb
Community Bulletin Board
Columbia Recyclable Regatta kicks off 'Blue is the New Green' campaign
On May 13, the Columbia Recyclable Regatta made waves at Waterfront Boardwalk, Subic Bay Freeport Zone, as teams competed with boats that they built utilizing recycled materials.
With the first leg held at the Lighthouse Resort, Subic, the participants paddled a 200-meter course with their watercrafts, 80 percent of which had to be made from recycled materials – a challenge that Columbia Sportswear posed to interested individuals to incorporate a green initiative into design and creativity. As a way to embrace a more environmentally conscious way of life in the country, the Blue is the New Green campaign was created not just to be informative, but fun and energetic as well.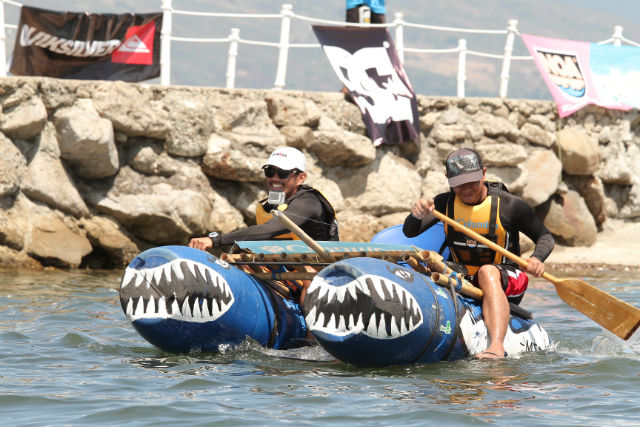 The MSD Team paddles its way to the top three.
In line with Columbia's movement to promote a fun lifestyle outdoors and caring for the environment, the Columbia Recyclable Regatta was the perfect event to introduce the brand's latest campaign. The Columbia Recyclable Regatta is just the first of the brand's planned events to raise eco-awareness in individuals, with a calendar of activities such as biking, clean-up climbs, tree planting and recycling talks in schools set by Columbia.
The Columbia Recyclable Regatta had two racing categories: all men's and mixed. The champion took home a cash prize of 15,000 pesos and 8,000 pesos of gift certificates from Columbia. For second place, the prize was set at 10,000 pesos and 4,000 pesos of gift certificates. The third place winner won 5,000 pesos in cash and 4,000 pesos in gift certificates.
The grand prize winner in the men's category was the Lighthouse Marina Team (Ojay Fuentes and Jarvy Malina). Following shortly after was the pair of Travel Life and Onesport Magazine's Timothy Tanos and Jeffrey Dela Cruz. Rounding up the top three are MSD Team's Raoul Floresca and Chester Manjares.
In the mixed category, the winners were: Leizel Gilbero and Jaja Acega of the Lighthouse Marina - Kickers Team for first place, Sine Gaspay and Joanne Vidalyo of Olukai - ROX Team for second place, and Razel Estrella and Nicole Batac of Philippine Star, Total Fitness and Active Boating and Watersports Team for third place.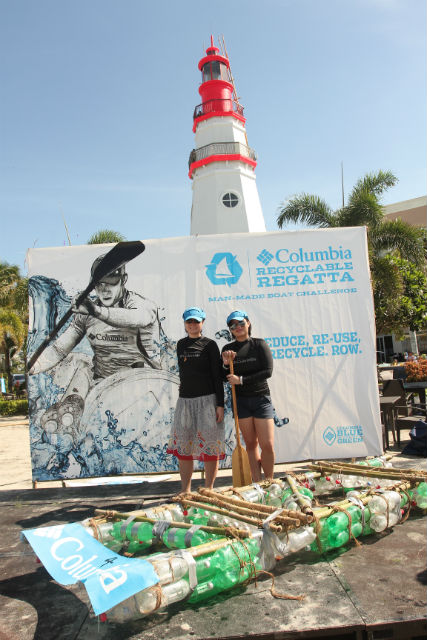 Teams competed with boats they built with recycled materials like plastic bottles.
Tiffany Batungbacal, Brand Manager of Columbia, was very pleased with the turn-out of the event. "I am very happy with the overwhelming response we received from organizations, companies, and other brands who also believe in our goals. This made the event so much more meaningful. We look forward to more people participating in our other efforts like in our night rides, tree planting and clean up climbs. After all, we should not only have fun in the outdoors but we should also learn how to be responsible custodians of the outdoors."
Part of the first Columbia Recyclable Regatta program was a talk on recycling, led by Bert Guevarra President of Earthday Network Philippines. In addition to the guest speaker, celebrities Kiko Rustia and Luanne Dy were also seen at the Columbia Recyclable Regatta, enjoying the man-made boat races.
Columbia Sportswear also introduced their latest line-up of "water shoes" which can be used for both land and water activities.
Those who missed the regatta can look forward to another Columbia Sportswear event this November, with the Columbia Recyclable Regatta Trail Run, as part of Columbia's Eco Trail Series.
The Columbia Recyclable Regatta was made possible with the efforts of SBMA, Lighthouse, Shangri-la Mactan Cebu, Gatorade, Canon, Noa, BDO, Olukai, Kickers, Quiksilver, Roxy, and High5. The event's media partners are as follows: Cruising, Manila Bulletin, Sport's Digest, Turista, Sun Star, Cebu Daily News, and Dispatch.
The second leg of Columbia Recyclable Regatta will be held on the 19th in Shangri-la Mactan, Cebu City. Registration fee is P2,500 inclusive of two rash guards.
Columbia Sportswear is exclusively distributed by the Primer Group of Companies, for more about the Columbia Sportswear please visit the
website
or visit us on Facebook Columbiasportswear Ph.
Press release and photos from Columbia Sportswear