Filtered By: Cbb
Community Bulletin Board
Mushrooms go pink in Manila for Breast Cancer Awareness Month
This October, the Ministry of Mushrooms, Inc. will launch Mushrooms Go Pink, a collaborative breast cancer awareness campaign in line with Breast Cancer Awareness Month. This will run through the whole month of October and continue until the end of the year with the goal of giving the public more options in attaining a more holistic lifestyle. Ministry of Mushroom, Inc. believes that wellness can be achieved by stimulating the senses through nourishing food, art and alternative forms of healing.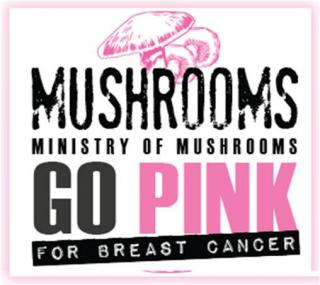 Close to 500,000 die from breast cancer every year and it is today's leading killer of women ages 35-54 around the world. It is especially important to note that in the Philippines some current estimates show that 1 in 13 Filipinas will develop breast cancer in her lifetime. According to studies done by the Philippine General Hospital and the Cancer Institute of the Philippines "at present, there is low cancer prevention consciousness [in the Philippines]," and sadly, this lack of cancer knowledge has perpetuated the nation's relatively low survival rates. If this persists, experts conclude 1 in 1,800 Filipinos will develop cancer each year.
Why Mushrooms? As the main focus of many ongoing scientific studies today, there is strong empirical evidence that some properties found in mushrooms can possibly lead to breast cancer prevention and elimination. This is not to say that one should bypass his or her regular check-ups and medical advice. "It is strongly suggested that mushrooms be added to one's daily diet" says Ministry of Mushrooms President and CEO, Marco Lobregat "Oyster mushrooms for example, have both antioxidant and anti-tumor properties. It has been discovered that extracts from this mushroom interfere with the cancer cell cycle and cancer cells from spreading." Lobregat stresses that although a mushroom-incorporated diet can be extremely beneficial but should be balanced out with other healing practices and routines.
In line with this Ministry of Mushrooms has joined forces with over 20 well-lauded restaurants and food specialists around Metro Manila and the surrounding which will be creating and serving dishes made with locally grown oyster mushrooms to serve as edible representations of the campaign. Proceeds from the specified dishes ordered will go to raise funds for the benefit of the ICanServe Foundation.
Mushrooms Go Pink also pushes to raise awareness using different platforms and collaborative events such as:
Soul Spa Healing Energy Awareness Talks
October 11, 2012 at co.lab Manila, 3/F Unit 301 #3 Brixton Street Kapitolyo, Pasig City
Soul Spa Philippines together with Ministry of Mushrooms brings together a series of talks based on alternative forms of healing for the benefit of those who have been impacted by cancer whether directly or indirectly by focusing on the relationship on how one's emotional state can affect one's physical well-being one can dramatically alter one's health or the health of a loved one instantly.
Edgy Veggy + Kitchen Revolution Benefit Dinner, Cooking Demo, and Lecture
October 16, 2012 at Edgy Veggy, G/F #3 Brixton Street Kapitolyo, Pasig City
Marie Gonzalez is a vegan chef and mastermind behind Kitchen Revolution – an Alabang-based food company that specializes in holistic, vegetarian cooking classes, workshops, and consultancy. She is taking the local culinary world by storm with her refreshing and creative spin on food that just so happens to be plant-based and healthful.
Denise Celdran founded Edgy Veggy in 2006, a vegetarian commissary, cafe and delivery service dedicated to bringing healthy, whole vegetarian food to as much people as possible in order to uplift, transform and inspire them to be the best that they can be. An agriculturist by profession and she has a natural farm in Nasugbu, Batangas where most of the lettuce, herbs and some of the regular table vegetables come from.
Discover and taste how a whole food, plant-based diet can fight cancer and support cancer treatment. Proceeds go to the
I Can Serve Foundation
.
BOTOTOY LOVES BOOBIES Art Fundraiser
October 17, 2012 at Ronac Art Center, Ortigas Ave, North Greenhills
BOTOTOY is an iconic wooden toy designed by Arnold Austria of Jagnus Design Studio in collaboration with Secret Fresh and Detalle. Notable local artists from various fields are designing their own Bototoys with the inspiration of mushrooms and breast cancer. Proceeds from "BOTOTOY LOVES BOOBIES" art exhibit shall be donated to Mushrooms Go Pink for the benefit of ICanServe.
Yoga For Breast Cancer Recovery
October 18, 2012 at co.lab Manila, 3/F Unit 301 #3 Brixton Street Kapitolyo, Pasig City
For people recovering from cancer, practicing yoga helps restore range of motion, relieve anxiety tension and pain, bring calm and well-being into one's life.
Rebecca de Villa has been practicing yoga since 2004 and teaching since 2007. Her first student was a dear friend who was diagnosed with breast cancer and asked her to help by guiding her with a yoga practice geared to people with cancer.
She and her friend will be sharing their experience and the talk will end with some breath and movement exercises.
Zodio supports Breast Cancer Awareness Month
Zodio is a free app for Apple and Android that makes it easy to find establishments near you to your specific preferences. It is a location-based tool to share your experiences and to check-in for real-time deals. It's Southeast Asia's fun and social consumer reporting and perks app.
Zodio hooked up with Ministry of Mushrooms for an interactive, real-time, fun and social community dining experience that gives back.
At all participating food establishments, Zodio will give P1 for every person who checks-in, P1 for every photo uploaded, and P1 for every review given. Since the Zodio app is integrated into Facebook and Twitter, it helps to spread awareness of the movement and the participating establishments at every check-in and location-based upload. Your friends can see which establishments you support for breast cancer awareness.
"We could do great things if we all shared our talents in harmony with each other," says Lobregat.
For the Mushrooms Go Pink collaborators, awareness is key, and information is a giant step towards prevention. It is a shared belief that Cancer prevention is really about being fully aware about early detection, living a healthier lifestyle, and the importance of nutrition. Mushrooms - arguably today's most revolutionary super-food with the greatest potential to alter cancer studies, and possibly treatments.
Ministry of Mushrooms go pink at Sugarleaf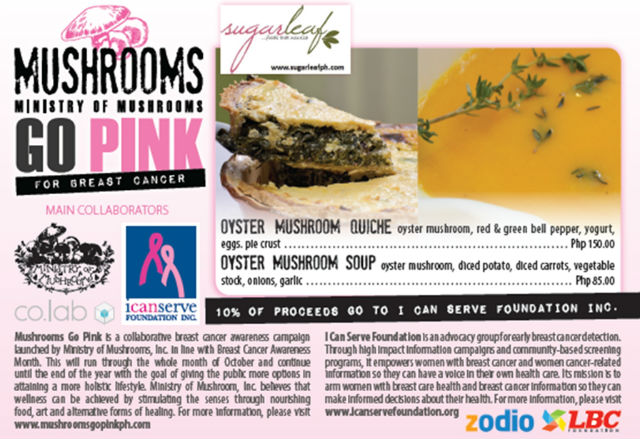 When did mushrooms at Sugarleaf become a socially relevant? When it's savoring a delectable healthyummy dish made with Ministry of Mushrooms supporting the battle against breast cancer this October!
Head of marketing and business development Angelo N. Songco shares: "We are honored to be part of the Ministry's collaborative movement. Our organic and natural food is already nourishing in itself and it's fantastic that it now also helps spread awareness about mushrooms and cancer.
"Try our pink creations and help this noteworthy endeavour: Oyster mushroom soup –creamy, rich, vegan bursting with the natural goodness of the Ministry's oyster mushrooms and organic vegetables, served with toasted wheat bread slices. Oyster mushroom quiche–a hearty and filling home-made quiche, served hot or chilled, perfect with a fresh green salad, pasta, wrap, sandwich and dessert."
Sugarleaf in Makati is located at the G/ and 2/F of the MEDICard Lifestyle Center, 51 Paseo de Roxas corner Sen. Gil Puyat Avenue, Urdaneta Village Makati City. Tel 8127323. Greenhills branch is located at G/F Health Cube Building, 226 Wilson Street, West Greenhills, San Juan, Metro Manila. Tel 6616639 or mobile 09178374257. Like us on Facebook Sugarleaf Foods That Nourish and follow us on Twitter @sugarleafph.
To learn more about the Mushrooms Go Pink campaign, visit the Ministry of Mushrooms, Inc.
website
or email ministryofmushrooms@gmail.com.
Press release and photos from Sugarleaf