Filtered By: Cbb
Community Bulletin Board
GMA-7 and GMA News TV win big in Gandingan 2013
Leading TV station GMA-7 and the country's number one news channel GMA News TV once again proved excellence in the delivery of high-caliber news and public affairs programs with numerous awards in the Gandingan 2013: The 7th UPLB Isko't Iska's Broadcast Choice Awards held Saturday, January 26, at the University of The Philippines in Los Baños.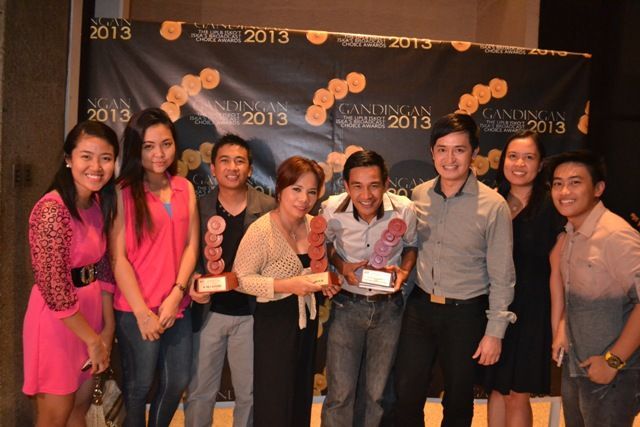 I-Juander's Mary Rose Castro (Segment producer) Megan Jennika Luna (Researcher) Stephen Patricio (Executive Producer) Susan Enriquez (Host) Cesar Apolinario (Host) Lloyd Navera (Program Manager) Wilma Sesaldo (Production Administrator) and Mark Anthony Norella (Segment Producer)
GMA News TV was recognized as the Most Highly-Commended TV Station while the channel's flagship and news authority State of the Nation with Jessica Soho won as Best News Program with news anchor and GMA VP for News Programs Jessica Soho cited as Best News Anchor.
Just last year, Soho – who is widely regarded as the country's most awarded broadcast journalist – was elevated to the Gandingan Hall of Fame after winning the Best Magazine Program Host award for the fifth consecutive year for her top-rating weekend news magazine program Kapuso Mo, Jessica Soho.
GMA-7's Wish Ko Lang, Philippine television's pioneering wish-granting program, was awarded as Best Public Service Program for the second year in a row while program host and GMA News pillar Vicky Morales was given the Best Public Service Program Host award.
Senior News Producer and TOYM 2012 awardee Jiggy Manicad was named as Best Field Reporter for the Network's flagship primetime newscast 24 Oras.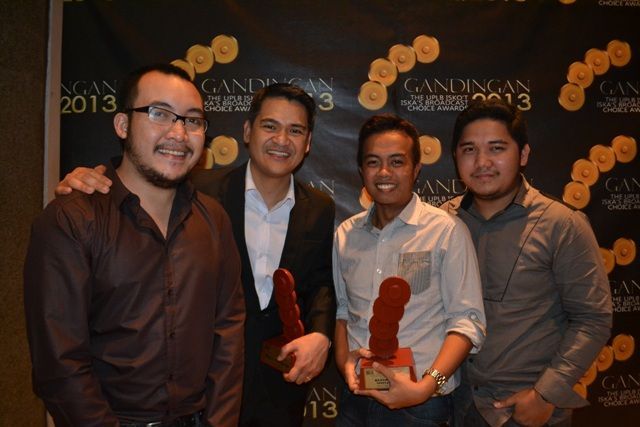 Reporter's Notebook's Joseph Conrad Rubio (Segment Producer) Jiggy Manicad (Host) Eleazar Del Rosario (Segment Producer) and Ian Simbulan (Executive Producer)
Internationally-acclaimed public affairs program I-Witness won the Best Documentary Program award for its 'Tulay' episode, a documentary by broadcast journalist Jay Taruc.
It is for the same category that the program was earlier included in the Gandingan Hall of Fame together with I-Witness host and GMA VP for Multimedia Journalism Howie Severino (Best Documentarist).
Winning this year's Best Documentarist award was I-Witness host Kara David.
For the second straight year, Reporter's Notebook was named as the Best Investigative Program--this time, for its 7th Anniversary Special 'Pilipinas for Sale?'.
Local television's only wildlife documentary program Born To Be Wild was awarded as the Best Environment-Oriented Program for its 'Water Snakes and Whale Sharks Finale' episode.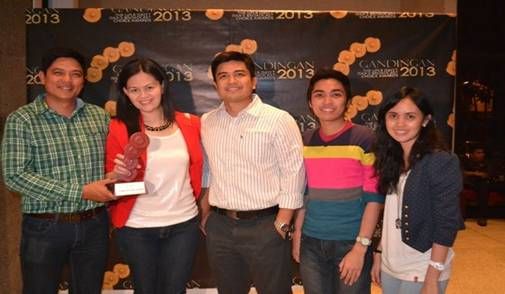 Born to be Wild's Dr. Nielsen Donato (Host) Richelle Joy Figueroa (Executive Producer) Dr. Ferdinand Recio (Host) Karl Perry Laylo (Researcher) and Dianne Faye Magbanua (Researcher)
Celebrating the ever-developing Filipino culture, GMA News TV's I-Juander won as the Best Youth-Oriented Program while hosts Susan Enriquez and Cesar Apolinario were commended as this year's recipients of the Gandingan ng Kabataan award.
GMA's DWLS FM Barangay 97.1 received a special citation as the Best FM Station.
The Gandingan Awards is organized annually by the UP Community Broadcasters' Society of the University of the Philippines-Los Baños. Press release and photos from GMA Network, Inc.