Filtered By: Cbb
Community Bulletin Board
PNoy attends inauguration of new DLSU building
President Benigno Aquino III joined De La Salle University and its benefactors during the inauguration of its newest building, the Henry Sy, Sr. Hall. He led the unveiling of the Cory Aquino Democratic Space Marker–a sprawling park located at the ground floor of the building.
President Aquino said "My mother during her life, seldom took pleasure from things. But this patch of green and the ideals it stands for will make her undoubtedly proud."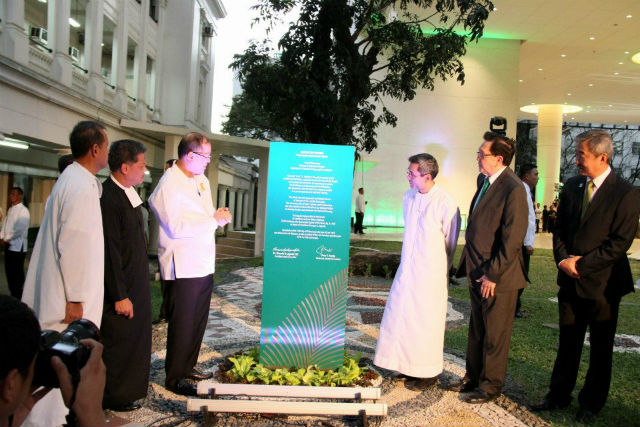 (L-R) Education Secretary and former DLSU President and Chancellor Br. Armin Luistro FSC, President Benigno Aquino III, DLSU President and Chancellor Br. Ricardo Laguda FSC, DLSU Board of Trustees Chair Mr. Jose Pardo, and SM Prime Holdings, Inc. President Mr. Hans Sy. Photo by Greg Guinto
A major project of DLSU during its centennial year in 2011, the new building's main feature is the Learning Commons—a central hub that will house one million books, electronic databases, and special collections. More than a repository of books and reference materials, the Learning Commons is a place for transformative learning and collaborative, multidisciplinary research.
Named in honor of the Philippine retail magnate, the Henry Sy, Sr. Hall is a 14-storey modern and eco-friendly building which houses various academic service units, study areas, learning spaces, and select offices. It is also the first academic structure that will be rated by BERDE (Building for Ecologically Responsive Design Excellence).
"It is my distinct privilege to be here to witness the inauguration of the Henry Sy, Sr. Hall, a fitting occasion to honor a man who has inspired not just our family, but millions more who saw how dreaming, learning and working hard with prudence and integrity, can empower anyone to rise from poverty and deprivation," said SM Prime President Hans Sy during his remarks.
The inauguration and the unveiling were held on February 13, 2013 at De La Salle University. Press release and photo from De La Salle University