Community Bulletin Board
BRAND TALK
Jollibee Group Coin Banks Share Joy of Education with Indigent Youth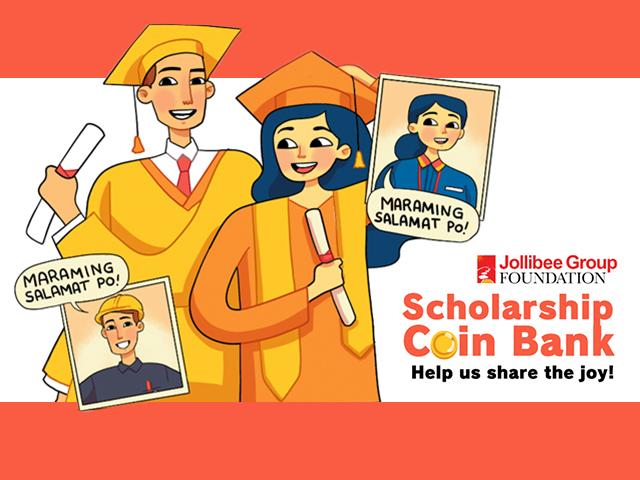 MANILA, Philippines – Jollibee Group Foundation (JGF)—the social development arm of the Jollibee Group— recently launched the "Scholarship Coin Bank" found in all Jollibee, Greenwich, Chowking, Mang Inasal, Red Ribbon, Burger King, Panda Express, and Yoshinoya restaurants across the country. The proceeds of the campaign will benefit youth scholars of the Foundation taking up Quick Service Restaurant Operations (QSRO) and Agriculture courses.
JGF has been implementing the Access, Curriculum, and Employability (ACE) Scholarship Program in partnership with technical-vocational training institutions to provide indigent youth with the opportunity to stay in school and eventually help their families break out of extreme poverty.
The QSRO scholarship track fills the gap for professionalized personnel training in the food service industry, while agri-related scholarships align with JGF's advocacy of engaging more youth in agriculture. Its agro-entrepreneurship scholarship trains young farmers in business and leadership so that they can become the next generation of farmer entrepreneurs.
"Through our coin banks, the public can now actively support more youth who dream of completing their education, accessing employment opportunities, and providing a better life for themselves and their family," said Jollibee Group Foundation Executive Director Gisela Tiongson.
Stories of hope
Jorgielou Rabaria, 21, is one of the scholars currently enrolled under the program's QSRO course at Anihan Technical School in Laguna.
"As a student who came from a less privileged family, being a JGF scholar is a great help to reduce my parents' financial burden. It also motivates me to strive more in my studies," Rabaria said in vernacular.
In 2020, at the height of the pandemic, Rabaria had to stop schooling due to health and financial reasons. "I did not want to let our financial burden hinder me from pursuing my dreams. I used to tell myself that if an opportunity comes that would allow me to continue with my studies, I wouldn't waste it," she continued.
Now in good health, Rabaria is about to complete the QSRO course—a one-year technical-vocational course that involves intensive training to prepare students for a job in the food industry. She is currently doing her internship in a hotel in Muntinlupa City.
Meanwhile, agro-entrepreneurship scholar Christina Gamilde, a young farmer whose family owns a small piggery, said in Filipino, "by taking the agro-entrepreneurship course, I learned how to upgrade our business so I can take the lead in managing it."
"Learning agro-entrepreneurship has been a big help. I can now see the earnings from our piggery, and this encourages me to further grow our business. I hope we don't lose faith in agriculture," Gamilde added.
How to donate
In the past, JGF has been engaging the company's customers in supporting school feeding and disaster response initiatives through the coin banks placed in Jollibee Group restaurants across the country.
When the pandemic began, these coin banks were also made available online via www.jollibeefoundation.org so customers can donate via GCash, Maya, and GrabRewards, and do bank account transfers from anywhere around the country and the world.
"We are very grateful to everyone who has donated through our coin banks over the years. Now, donations to these coin banks will also help build the next generation of dreamers who wish to follow a career in the food industry or agriculture," Tiongson added.
Aside from donating through the physical coin banks in the stores of Jollibee Group brands, there are four other ways interested donors may donate.
The public may send donations through online bank transfer to the Foundation's Metrobank (Account number: 473-7-473-01406-4, SWIFT Code: MBTCPHMM) and RCBC (1253-10519-0) accounts.
Interested donors may also send money through GCash and Maya apps using the QR Code provided.
Another way to donate is by using GrabRewards points. In the Grab app, go to the Donate with Points section, look for Jollibee Group Foundation, select the amount of points to donate, and click Redeem (DSWD-SB-SP-00035-2022).
Jollibee Group Foundation's Scholarship Coin Bank gives the public a way to support indigent youth with the opportunity to complete their education and eventually help their families break out of extreme poverty.
Sponsored by Jollibee Group.
Brand Talk partners with the advertisers of GMA Network to create content valuable to its audience.