Filtered By: Cbb
Community Bulletin Board
Upsilon Sigma Phi Alumni Association awards 18 members with UNO Award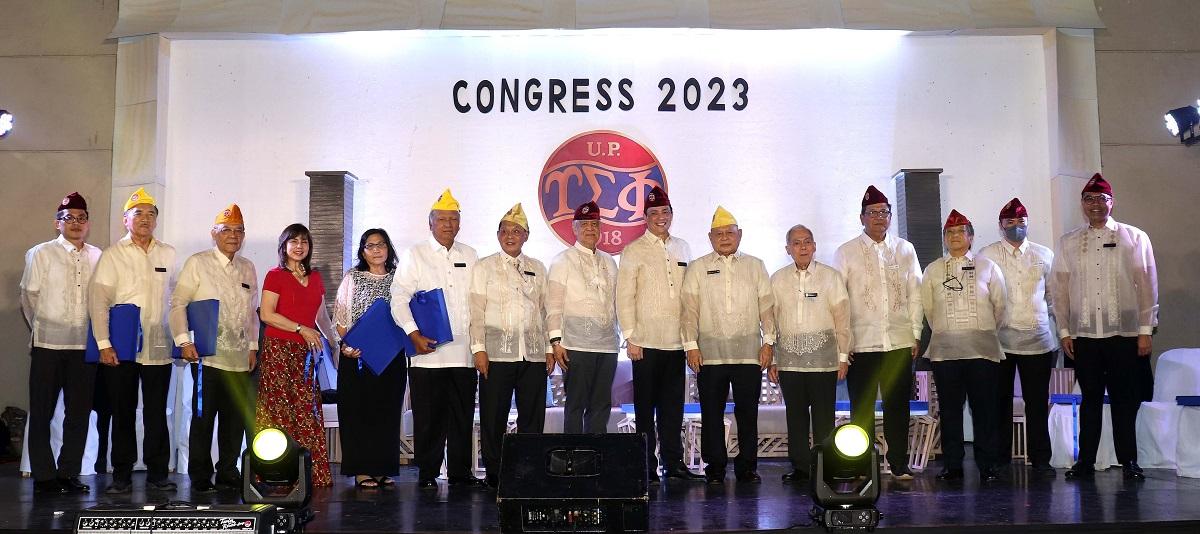 Manila, Philippines — The Upsilon Sigma Phi Alumni Association (USPAA) recently held its 19th Congress at the University of the Philippines (UP) Diliman's Bahay ng Alumni on February 18, 2023, and bestowed one of its highest honors, the Upsilonian Noble and Outstanding (UNO) Award, to eighteen fellows. The UNO Award is given to members who have exemplified the fraternity's imperatives and values throughout their lifetime.
This year's awardees come from diverse fields, including legal and business luminaries, distinguished medical practitioners, journalists, and community development leaders. The UNO Awards board of judges, composed of previous UNO awardees and fellows with unquestionable probity and keen discernment, is led by Ambassador Jesus "Jess" I. Yabes '66. The awardees include Querube C. Makalintal '30, Chief Justice of the Philippines and Speaker of the Interim Batasang Pambansa; Renato "Katoks" D. Tayag Sr. '36, writer of a series of influential social history pieces; Jose "Peping" C. Campos Jr. '41, Associate Justice of the Supreme Court; and Alejandro "Alex" M. Fernandez '49, President of Tarlac State University who helped shape the development of education and political science in the country.
Also awarded the UNO are Ismael "Mel" A. Mathay Jr. '50, Mayor of Quezon City known for his advocacy of environmental protection and sustainable development; Eduardo "Eddie" I. Lee '53, publisher of "Atin Ito", the longest-running Filipino newspaper in Toronto, Canada; Manuel "Jun" Crudo Jr. '56, distinguished lawyer of the Government Service Insurance System; and Leovillo "Bill" C. Agustin '58, a highly esteemed lawyer whose family was recognized by UP Alumni Association with the Multi-Generational UP Alumni Family Award.
Completing the list of UNO awardees include Carlo "Caloy" G. Magno '58, a notable figure in the Philippine publishing industry; Abdias "Bong" V. Aquino '64, a highly accomplished neurologist; Antonio "Tony" M. Cailao '66, a banker with an impressive track record in both local and international financial institutions; Senen Mateo "Bing" L. Matoto Jr. '66, a business leader and financial expert; Jose "Jo" C. Rabago '72, an expert in information technology; Ramon "Mon" F. Allado '73, a highly accomplished civil engineer; Luis Rey I. Velasco '74, Chancellor of UP Los Baños and researcher in the field of agriculture and entomology; Wilfredo "Mixi" R. Macan '75, of the Department of Foreign Affairs responsible for the repatriation of OFWs during the Syrian crisis; Raul "Bobby" R. Hocson '77, a healthcare advocate in the US; and Jaime Victor "Jet" B. Ledda '81, a distinguished Ambassador who has made significant contributions to the Philippine Foreign Service.
USPAA President Jose Edgardo "Ed" G. Sunico '86 highlighted the importance of the UNO Awards, stating, "The UNO Awards celebrates the legacy of our fraternity's illustrious members who have demonstrated the highest standards of character and achievement. By recognizing their outstanding contributions, we inspire present and future Upsilonians to uphold the values that have defined us for a century."
The Upsilon Sigma Phi is recognized as the oldest Greek-letter fraternity in Asia and the oldest student organization of UP. Members are instilled with the values of brotherhood, integrity, excellence, leadership, and service. The fraternity celebrated its 104th anniversary in 2022, having been founded by fourteen idealistic UP students in 1918.