Filtered By: Cbb
Community Bulletin Board
UMPIL to hold 49th National Writers' Congress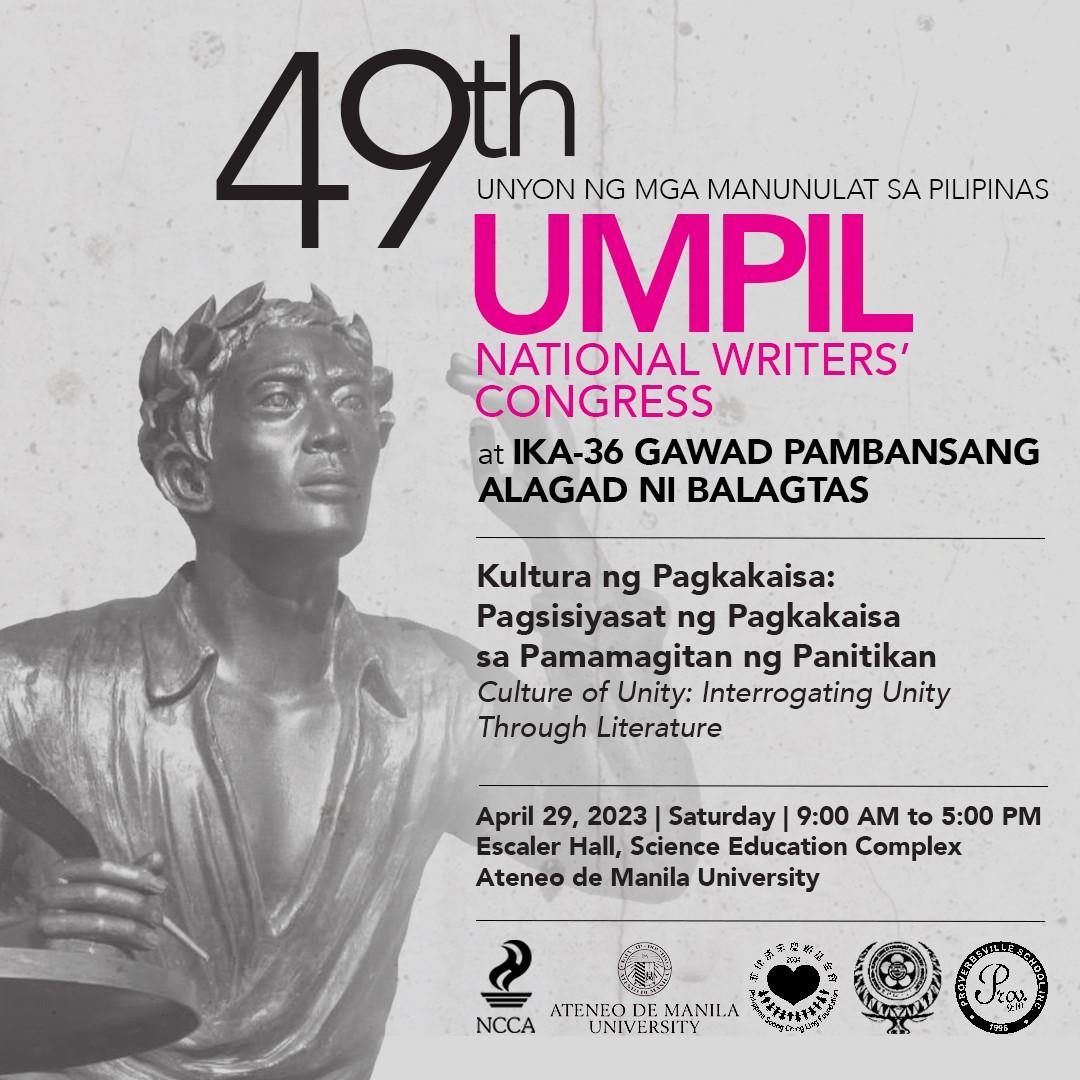 The Unyon ng mga Manunulat sa Pilipinas (UMPIL) or the Writers Union of the Philippines, the largest group of creative writers in the country, will hold its 49th National Writers' Congress on April 29, Saturday, from 9:00 AM to 5:00 PM at the Escaler Hall, Science Education Complex, Ateneo de Manila University along Katipunan Avenue in Quezon City. The Congress is part of the celebration of the National Literature Month with the theme, "Culture of Unity: Interrogating Unity Through Literature."
The keynote lecture of the Congress will be delivered by multi-awarded poet and University of the Philippines Visayas Tacloban College Professor Emeritus Merlie Alunan of Tacloban City. She will discourse on the theme of the "culture of unity" examined using Philippine literature.
The first part of the Congress will feature the UMPILAN Writers' Forum. The first forum is "Pagkakaisa at Katotohanan" featuring Kara David, Mona Magno-Velus, and Christian Esguerra, and to be moderated by Joey Tabula. The second forum is "Pagkakaisa at Kinabukasan" featuring Ida Del Mundo, Edgar Calabia Samar, and Manix Abrera, and to be moderated by Aldrin Pentero.
The highlight of the Congress is the awarding ceremonies of the 2023 Gawad Pambansang Alagad ni Balagtas, a lifetime achievement award for Filipino writers; the 2023 Gawad Paz Marquez Benitez, a lifetime achievement award for teachers of Philippine literature; and the 2023 Gawad Pedro Bukaneg, an award given to a cultural group with significant contribution in promoting Philippine literature and culture. The 2023 Gawad Pambansang Alagad ni Balagtas awardees are GINA APOSTOL (Fiction in English), VICENTE BANDILLO (Poetry in Cebuano), CLODUALDO DEL MUNDO, JR. (Screenplay), D.M. REYES (Poetry in English), ROMEO ROULLO (Poetry and Fiction in Hiligaynon), HOWIE SEVERINO (Documentary), and NICANOR G. TIONGSON (Criticism and Drama). The 2023 Gawad Paz Marquez Benitez awardee is JULIETA MALLARI of the University of the Philippines, Pampanga. The 2023 Gawad Pedro Bukaneg will be given to ARTISTA RITA, a theater group in Pampanga.
The 49th National Writers' Congress is supported by the National Commission for Culture and the Arts, the School of Humanities of the Ateneo de Manila University, Federation of Filipino-Chinese Chambers of Commerce and Industry, Inc., and the Philippine Soong Ching Ling Foundation. The Gawad Balagtas trophies are designed and donated by artist Manuel D. Baldemor.
All UMPIL members and would-be members are invited to attend. The Congress is also open to literature teachers, students, and lovers of literature. For those who are attending, please register using the Google form provided. This is the link: https://forms.gle/AXRnkJMPxJ5SZrPo6. Make sure to register to be allowed entry into the Ateneo.
Press release from UMPIL