Filtered By: Hashtag
Hashtag
'Ang Pinaka' sikat na viral photos ng 2011
In an episode aired January 29, 2012, Ang Pinaka gave a retrospective look at some of the most memorable photos that swept social networking sites.
Veteran journalist and GMA News Online editor Howie Severino, RockEd Philippines Gang Badoy-Capati, and photographer/art director Poi Beltran joined host Rovilson Fernandez as guest panelists.
Here's a countdown of the top photos that may have made it to you and your friends' Email inboxes, Facebook walls or Twitter feeds:
10. PLANKING PHOTOGRAPHS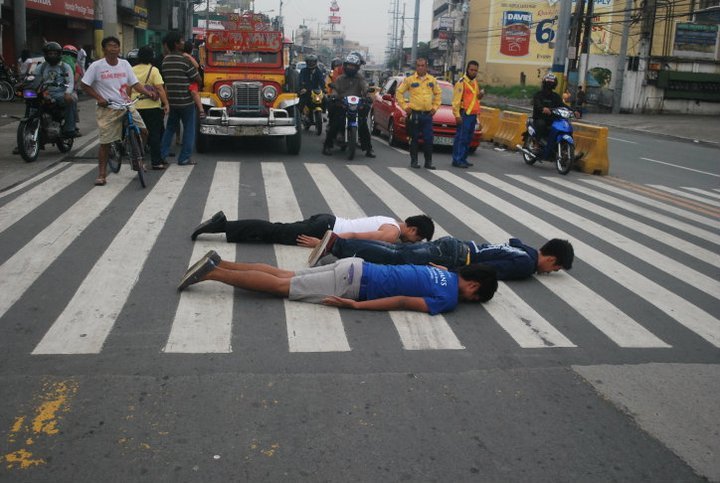 WHAT MADE IT VIRAL: Planking is the act of lying flat and completely stiff on one's stomach, with arms on the side, mimicking a wooden plank. It is done in the most unusual or most public location possible —and, of course, photographed for posterity.
It is no denying that Planking hit mainstream in the Philippines in 2011. Other public stunts like Owling and Batting also emerged, but failed to match Planking's popularity.
"It's a creative form of protest, that's why it became viral," Severino says.
WHAT'S BAD ABOUT IT: It caught the attention of a lawmaker who took the time to push for an Anti-Planking Bill. The said lawmaker later became the object of ridicule when a number of mass planking protests happened left and right immediately after he proposed the bill.
WHAT'S GOOD ABOUT IT: Some saw it as a serious sport: there are, after all, mechanics and rules to follow to qualify your stunt as Planking. Meanwile, others say that doing it gives them confidence because the stunt has to be done in a public place.
Good for them, right?
9. PRESIDENT AQUINO'S AWKWARD PHOTO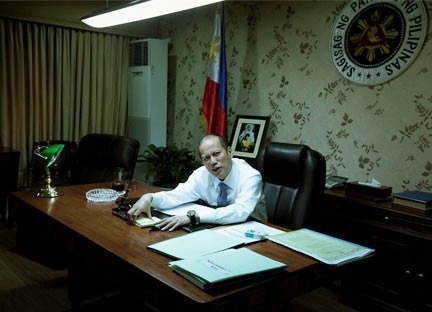 WHAT MADE IT VIRAL: This unflattering photo of President Aquino released by Malacañang Palace drew a lot of negative comments online because of the awkward tilt of the President's head, the ashtray and cigarettes, and even the shabby chic wallpaper.
"Kalalaking tao, bakit may flowers sa likod?", asks Gang Badoy.
WHAT'S BAD ABOUT IT: Some found the interior unfit for a bachelor head-of-state. Highlighted also is the lack of office equipment on his desk that could have made him look "busy", and the presence of an ashtray full of cigarette butts that does not exactly promote a "healthy" image.
WHAT'S GOOD ABOUT IT: It's a photo of The President's work chamber!
We can tell a lot about a man's work space. It can briefly showcase the way you work, what you are working on and your personality.
This photo paints a thousand words. "10,000 opinion na iba-iba pero isa lang yung litrato", Gang Badoy says referring to the comments the photo gained online.
What's not good about exercising your right to share your opinion?
8. FILIPINO GENERAL TAKING A PIGGY BACK RIDE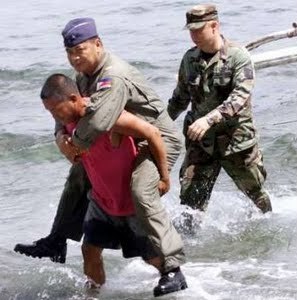 WHAT MADE IT VIRAL: The photo shows a Filipino general being carried to shore on piggy-back just so he wouldn't get wet when he stepped off a banca. An American officer, on the other hand, just waded in the water without any help.
WHAT'S BAD ABOUT IT: That Filipino general, and that he looks heavier than the person carrying him.
WHAT'S GOOD ABOUT IT: Our army officials learned from this, hopefully, and the mere fact that it gained a lot of negative feedback online from Filipino netizens tells that there's still a big percentage of 'astig' Pinoy pride out there and that the attitude of 'that general' can not be tolerated.
Nevertheless, we should never jump to conclusions right away. Although it was proven that there was no reason for this man to be carried and that he was sanctioned, what we Filipinos need to keep doing is look out for each other.
7. BATANGAS SIGN ON TAAL VOLCANO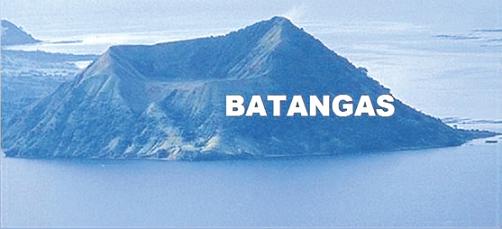 WHAT MADE IT VIRAL: The idea to erect a towering, 14-meter-tall 'Batangas' sign on the Taal Volcano similar to the iconic 'Hollywood' sign in Los Angeles, California.
"Na-interview ko mismo si Batangas Governor Vilma Santos at inamin naman niya na pinag-usapan iyang idea na iyan at siya nga mismo, gusto niyang gawin pero kailangan pa nga ng aral," says Severino.
WHAT'S BAD ABOUT IT: It's a copycat idea. Netizens produced hundreds of photos of Taal Volcano with various texts mocking idea, clearly stating the fear that Taal will get a bad 'facelift' if the idea pushes through.
"Well, wala pa akong nakakausap or kilala na nagsabi na magandang idea iyan," Severino pointed out.
WHAT'S GOOD ABOUT IT: There's no 'Batangas' sign on Taal Volcano... yet.
The volcano, a tourist spot, became the center of attention. Some Filipinos united to create their online protests against the idea and promote the preservation of the volcano's beauty.
What's positive here is that they realized that there's something wrong with their proposal and that it didn't push through because the negative feedback went viral, says Beltran.
6. SCHOOL GIRL SAVES THE PHILIPPINE FLAG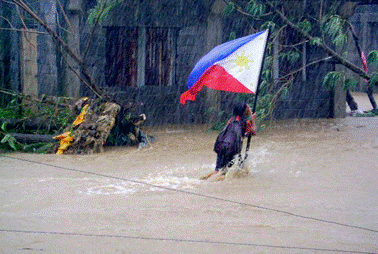 WHAT MADE IT VIRAL: Sixth Grader Janela Lelis, at the height of Typhoon Juaning in Malinao, Albay, saved the Philippine flag from the raging floodwater.
WHAT'S BAD ABOUT IT: Rumors surface to try and rain on the parade of Lelis, saying she was just instructed by her big brother to take the flag away because it was a nuisance to them as they were evacuating the flood.
WHAT'S GOOD ABOUT IT: Lelis may have influenced and reminded not only a lot of children but also many adults as well of the importance of the Philippine flag and what it stands for. "Nakilala 'yang bata na iyan dahi sa kaniyang ginawa. Naging role model rin 'yan. Hindi lang para sa kabataan kung hindi para sa lahat ng Pilipino na mahalin ang ating bansa at ang simbolo nito," says Severino.
She was awarded a recognition by the National Historical Commission for her 'Selfless act of courage' reflecting love of country.
"It shows na kahit may ganitong pangyayari, lumalabas yung pagiging nationalistic natin ... na kahit nasa kalamidad tayo, inililigtas natin yung what's left of us, which is being our Filipino. The flag symbolizes us as a nation diba?," adds Beltran.
5. CROCODILE LOLONG
WHAT MADE IT VIRAL: Last September, a 21-foot-long Philippine saltwater crocodile was captured in the Agusan marsh. It was nicknamed 'Lolong' and is now acknowledged as the world's biggest reptile in captivity. The Guiness World Records representative put it very nicely when he was validating Lolong's length, "It's like I'm measuring a dinosaur." Something this big simply cannot go unnoticed.
It helped that the photo was taken with a man alongside the 21-foot beast. It really gave the people a sense of how humongous Lolong is, Gang pointed out.
WHAT'S BAD ABOUT IT: About the photo... is there any?
WHAT'S GOOD ABOUT IT: Severino says it's a source of pride. The fact that we have a crocodile this size showcases our country's biodiversity. It created an instant tourist attraction.
4. FLOATING DPWH OFFICIALS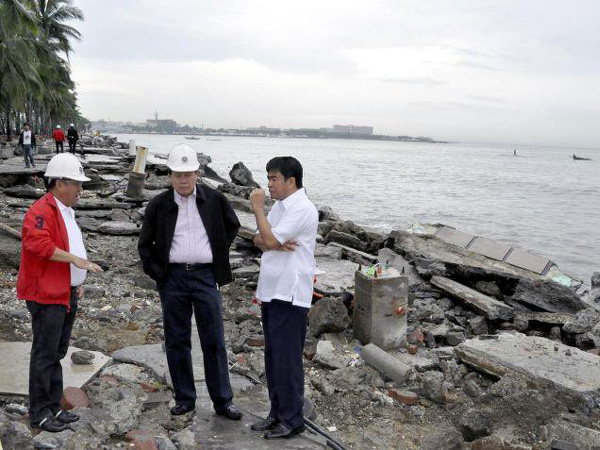 WHAT MADE IT VIRAL: After the onslaught of typhoon Pedring, some officials of the Department of Public Works and Highways (DPWH) conducted a field inspection of Roxas Boulevard. Their picture was photo edited, making them appear to be 'floating' over the ruined breakwater. It was up on the DPWH's Facebook page for a few minutes and was easily grabbed by Facebook users. Not long after, the trio of officials was seen photoshopped in different scenarios with known personalites, famous paintings, and popular images.
WHAT'S BAD ABOUT IT: The photo was reportedly a 'work in progress' pending approval for public release. It made the starring officials easy targets as poster boys of an apparently negligent and nonchalant government agency.
WHAT'S GOOD ABOUT IT: The photographs that circulated around the web showed off the Pinoys' undeniable sense of humor and sharp photo-editing skills.
3. DAD WEEPING OVER DEAD CHILD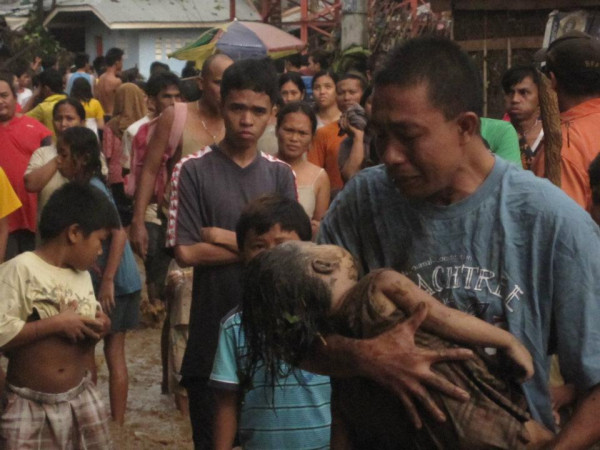 WHAT MADE IT VIRAL: This photo of a father weeping over his dead child reflected the devastation brought on by typhoon Sendong. The image was so compelling that it brought tears to most of us who can only shake our heads and pray to goodness that this does not happen again.
WHAT'S BAD ABOUT IT: It drew some flak, with people saying that it violated the victims' privacy —that of the child's as well as the father's. Some believe the photo was too sensitive to be published.
WHAT'S GOOD ABOUT IT: The photo was used in a print advertisement seeking help and donations for the victims of the disaster. The image was practically a cry for help. It was very effective, based on the donations collected by the Kapuso Foundation. Is it not hard to have second thoughts about donating right after laying eyes on this photo?
2. VICTIM SHOOTS ASSASSIN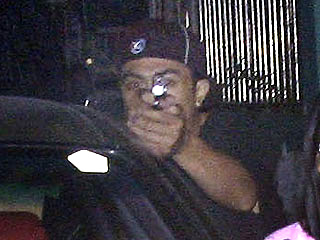 WHAT MADE IT VIRAL: The story behind the photo is the key to it's virality. In a very rare instance, the victim was able to capture the image of his assailant at the very moment before he was killed.
WHAT'S BAD ABOUT IT: We all know what happened after the photo was taken: the victim's relatives posing for the photo had no idea that as he clicked on the camera, the gun man also hit the trigger taking their loved one's life, instantly.
WHAT'S GOOD ABOUT IT: It was the most crucial piece of evidence that led to the capture of the assassin. It is rare and sad, but at the same time fascinating... and they say it only happens in the movies.
1. GLORIA ARROYO MUG SHOTS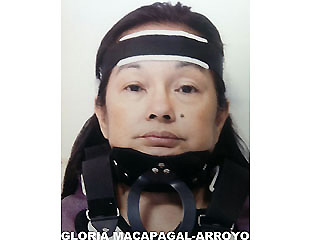 WHAT MADE IT VIRAL: These are supposed mug shots of former President Gloria Macapagal-Arroyo wearing a neck brace after the police formally put her under arrest for electoral sabotage. The poll fraud case against the now Pampaga Representative had been a hot topic in 2011 and many were eager to see proof that she was indeed photographed like a felon.
WHAT'S BAD ABOUT IT: "When the mug shot of the accused is taken, could it be a violation of her personal right to privacy if this is published? The answer is yes," Sen. Miriam Santiago told reporters in an interview.
WHAT'S GOOD ABOUT IT: "Parang naging simbolo na baka palapit na ang ating lipunan sa isang lipunan na kung saan 'nobody is above the law' - kahit ang dating pangulo at maaaring ang kasalukuyang pangulo," says Severino. — TJD, GMA News
Ang Pinaka, an infotainment show, airs Sundays, 6:20PM on GMA News TV Channel 11.