Filtered By: Hashtag
Hashtag
Widespread social media blackout vs Cybercrime Law
In support of the movement to repeal the recently passed Anti-Cybercrime Act, Filipino netizens on Tuesday turned their Facebook and Twitter profile pictures to black. The movement started at daybreak and quickly gained momentum over the day until social media were awash with blacked-out status updates and profile pics.
In addition to using images of protest, netizens also posted comments with black blocks to simulate the possible censorship the Anti-Cybercrime Act might soon impose among bloggers and even the most casual users of social media.
On Twitter, words were blacked out to render incomplete phrases and sentences, eventually turning everything into a fill-in-the-blank meme: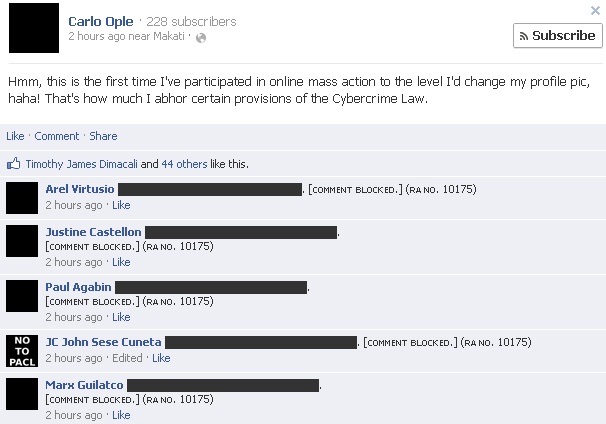 We will not be ████. Never again. — Carlos H. Conde (@carloshconde) October 2, 2012


Guys, heads up lang, the password to my PayPal account is ████████████████████████.[ᴄᴏᴍᴍᴇɴᴛ ʙʟᴏᴄᴋᴇᴅ.] (ʀᴀ ɴᴏ. 10175). — Mark De Joya (@MDJSuperstar) October 2, 2012


So Sen. █████ voted for the Cybercrime Law. Takot siguro ma leak ang █████ with █████ last █████ (ʀᴀ ɴᴏ. 10175) — Zarah Hernaez (@zeeheehee) October 2, 2012


Dear ██████, our taxes are paying you to read every bill you sign. — Sherwin Sowy (@ssowy) October 2, 2012


Active protest against the bill also got the hashtag #NoToCybercrimeLaw trending by Tuesday afternoon.
It seems like the government will do anything just to make sure that it's citizens would not be too smart to fight back. #NOTOCYBERCRIMELAW — jerome allen lorico (@acidgrin3) October 1, 2012


You don't get to destroy the internet just because you can't handle criticism - Junk Republic Act 10175 #NoToCyberCrimeLaw — Cheska Sy(@deadmansCHES) October 2, 2012


As the government's implementing body, the Department of Justice is tasked to draft the implementing rules and regulations (IRR) of R.A. 10175, Justice Secretary Leila de Lima said on Monday.
"We have our law now and it is our duty to execute the law, unless otherwise declared unconstitutional by the Supreme Court or unless repealed by the crafters of the law, the Congress," she said.
Although the DOJ may "clarify certain ambiguous provisions in the law," De Lima clarified that the "IRR cannot go beyond or against the provisions of the law."
"The DOJ recommended the deletion of [the provisions for] cyberdefamation, cyberthreats and internet libel," de Lima said. — TJD, GMA News