Filtered By: Hashtag
Hashtag
Hope amid despair: Pinoys help Japanese Yolanda survivor get in touch with family
The crumpled note bore barely more than a few personal details and an address, hastily scribbled in broken English and Japanese. But to a family far away, it meant the world.
Twenty-four-year-old Takahiro Nakanishi was just one of many to escape the Yolanda disaster. Although safe and sound, he and his fellow survivors had another problem on their hands: getting the word out to their families outside of the disaster zone.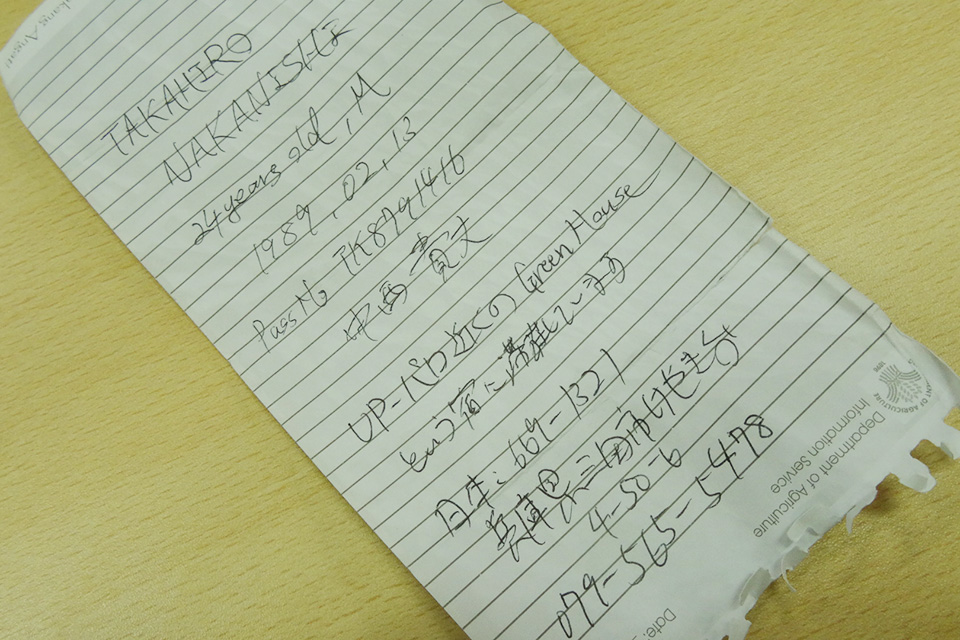 With mobile communications still down and power out in many parts of the Visayas, survivors like Nakanishi have resorted to the throwback method of the handwritten note to convey life-and-death messages.
GMA News Online has been posting similar notes written on torn cardboard, paper plates, and scrap paper informing loved ones that they are alive like Mr. Nakanishi.
Many of these handwritten missives bear sorrow, such as news of parents and children who perished during one of the strongest storms in human memory.
But Nakanishi's brief note is a small glimmer of hope in these bleak times.
Within an hour of
posting on social media
, at least two Pinoy netizens in Japan said they already talked to Nakanishi's kin.
"Tinawagan ko yong number na nakasulat dyan ang sumagot nanay niya,"
commented Ivy Uema
. "Anak nya yung nasa Pilipinas training student daw ng fisheries."
"So many Filipinos contacted his (family's) number here in Japan," Erie Cañete told GMA News Online. "His family is really thankful, I told them that he's safe in the place he wrote."
Cañete was looking for details about her relatives in Tacloban—her mother, Benedicta Cañete, and sister, Laila labaclado—when she saw the note on Facebook.
"I just want to (tell) his family not to (be) worried," she added.
Despite this brief relief, there are many others still unaccounted for.
Super Typhoon Yolanda hit Visayas on Thursday, with thousands feared dead and survivors coping in the aftermath
as rescuers struggle to aid them
.
— TJD, GMA News