Filtered By: Hashtag
Hashtag
Jeepney driver goes viral after offering free rides: 'Para sa walang-wala, TY lang OK na'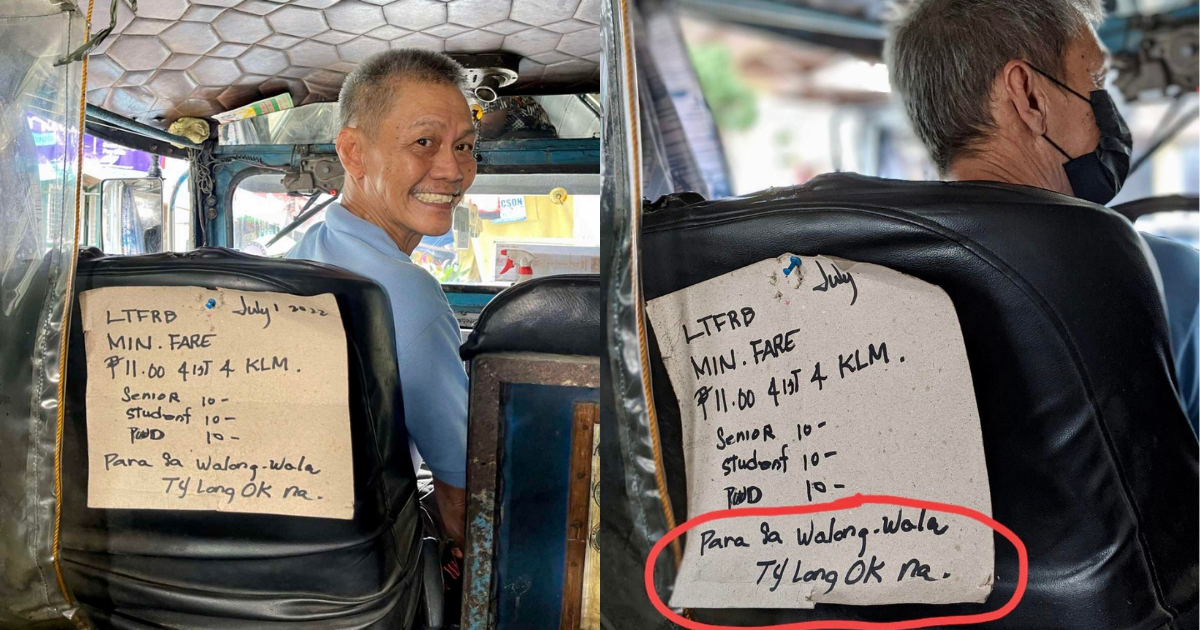 A 61-year-old jeepney driver has gone viral after offering free rides to needy passengers amid the rising prices of gasoline and basic commodities.
Tatay Michael, who has been driving a jeep since the 90s, won the hearts of many online after a netizen posted a photo of his fare sign, which further read: "Para sa walang-wala, TY (thank you) lang OK na."
In an episode of "Kapuso Mo, Jessica Soho," Tatay Michael shared what prompted him to extend such kindness despite his family's own needs.
"Ang talagang dahilan ko nung ginawa ko 'yun kasi 'yung tariff namin sa dyip na misplace ko," he said.
("The real reason behind what I did is because I misplaced our tariff for the jeepney.")
Tatay Michael had to write out his own fare guide, but he thought of doing something more for his fellowmen, well aware of the current economic situation.
He said he was also reminded of the difficult times when he was a student, so he wanted to help even a little to others who are struggling every day.
"Tutal mahirap pa rin ang buhay ngayon. Marami din ang medyo nag-1-2-3, walang pamasahe." Okay lang sa akin 'yun basta lagi lang mag tha-thank you," he said.
("Life is still hard now. There's quite a number of those who do not pay before getting off because they don't have the fare. That is OK with me as long as they say 'thank you.'")
Tatay Michael's day begins at 6 a.m., ferrying passengers to Sangandaan. He takes advantage of the busy mornings before starting to offer free rides once he reaches Divisoria.
A regular passenger, Lolo Arnulfo, is thankful to save a few coins when he rides Tatay Michael's jeep.
"Dinadalhan ko ng pagkain 'yung anak ko. Dahil nakakalibre ako malaking bagay na 'yun. Kahit papaano nakaka-menos ka," he said.
("I bring some food for my child. It's a huge help that I can ride for free.")
Tatay Michael ends his work day at 1 p.m. as he is suffering from various ailments due to his age. He has some back pain and hip pain, his hearing is no longer as it was, and his eyesight in his left eye is getting worse.
Nonetheless, he takes care in driving smoothly and safely for his passengers. He earns around P700 a day, P200 of which goes to his boundary, P300 for gas, and the remaining P200 is his takehome pay.
"Hindi sapat 'yung kinikita ko para sa gastusin namin. Mahirap sa panahon ngayon, mahirap, dahil 'yung mga bilihin ngayon matataas na rin. Pagkain namin. 'Yung electric bill namin, tubig," he said.
("My income is not enough for our expenses. The prices of basic commodities are very high these days." )
Tatay Michael supports his wife, Nanay Francia, who suffered from a stroke. When her blood sugar gets low and she feels dizzy, he gives her some softdrinks as first aid.
They make sacrifices so they can afford to buy her medicine, but Tatay Michael does not regret giving free rides to his passengers. His wife is also proud of him for what he does.
"Natutuwa ako sa kanya nakakatulong siya sa kapwa niya. 'Yun ang gusto niya e, makatulong," Nanay Francia said.
("I'm happy that he is able to help others. That's his wish, to help others.")
Tatay Michael also feels blessed enough to be able to send their two children to school with his income as a jeepney driver. Both are now working and helping out their family.
To further help, KMJS gave some financial assistance and medicines for Tatay Michael and Nanay Francia. The couple was also visited by a doctor from the Manila City Health Office and staff from the City Social Welfare and Development office to assess their needs.
"Naiyak ako sa kaligayahan, 'yung sinabi kong 'thank you' bumalik sa akin milyon na, 'thank you,'" Tatay Michael said.
("I'm crying from joy, when I said 'thank you,' a million 'thank yous' returned to me.")
—MGP, GMA News