Filtered By: Lifestyle
Lifestyle
See how Pinoys invaded US comics in the docu 'Illustrated By'
You'd be hard-pressed to find a Filipino who doesn't know Superman, Batman, the X-Men and Spider-Man. After all, these superheroes are popular even beyond the comics world they inhabit. They're everywhere—on television, in movies, and merchandise from action figures to underwear.
These comic book characters have definitely influenced Pinoys, but few are aware that the influence goes both ways.
Thinking it would be fascinating for audiences to discover just how great an impact Filipinos had on the comics industry, comics fan and aspiring filmmaker Levi "Pepper" Marcelo was inspired to create a documentary on Pinoys whose works were published in American comics.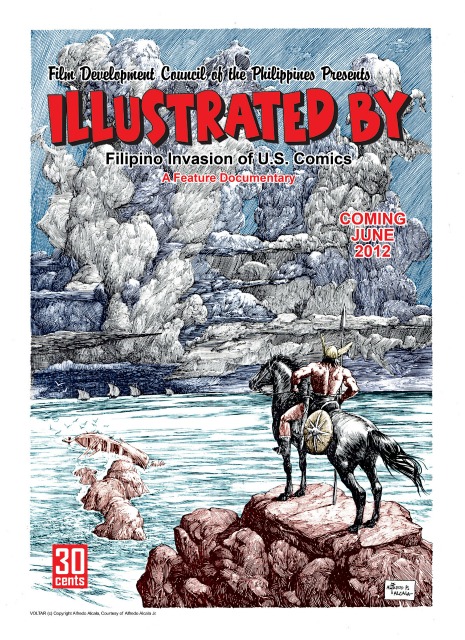 "Superman, Batman, the X-Men, Spider-Man—almost everyone is at least familiar with them, but not many know that Filipinos have drawn the exploits of these and other characters going on several decades now. I think exploring this topic would be a source of great pride for all Filipinos," says Marcelo.
It all began in 2005, when Marcelo was working for an OFW newspaper, where he was assigned to write an article on Pinoy comic book artists who were published by big companies like Marvel and DC. "For me, a Pinoy breaking through to work in American comics is the equivalent of a local filmmaker directing a big budget Hollywood film," says Marcelo, who was excited by the opportunity.
He got to speak with star artists Leinil Yu and Gerry Alanguilan, and was particularly inspired by Alanguilan's enthusiasm and respect toward the previous generation of artists that originally broke through in the early 70's.
"I thought the phenomena of Filipinos being a constant presence in US comics, from the 70's continuing up to today, would make for a fascinating and eye-opening subject for a documentary," says Marcelo, who got to work on his project when it was selected in the Film Development Council of the Philippines' Sineng Pambansa competition.
With Alanguilan as co-producer, Marcelo put the film together, featuring artists who have been published abroad, preferably for major companies. He notes that Alanguilan's
Philippine Comics Art Museum website
has been an integral resource in educating the public on the accomplishments of Filipino comics artists.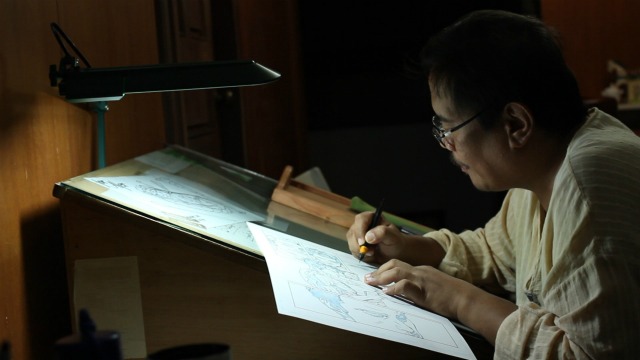 Gerry Alanguilan inking a future issue of Spider-Man.
The Pinoy comics scene from the 70s onward
In his documentary called "Illustrated By," Marcelo follows the evolution of the Pinoy comics scene, from the boom in the 70's to the creation process of comic books today. He focuses on 12 artists, all of whom currently reside in Metro Manila and nearby provinces. Marcelo says he would have wanted to include more artists, like Alex Niño and Whilce Portacio, however the project's scope was limited by budget and time constraints.
He interviews legendary comics artists about their lives and experiences working abroad, showcases their artwork, briefly explores the significance of comics in Pinoy culture and history, as well as an in-depth demonstration of the construction and process of creating a modern comic book utilizing the latest techniques and technology.
Marcelo shares that he would often be star-struck in the presence of the artists, and worries about missing out on important information or resource persons to interview. On the other hand, working on "Illustrated By" has given him the wonderful opportunity of getting to see the artists work on sketches and actual, soon-to-be-published pages, as well as listening to them explain their craft.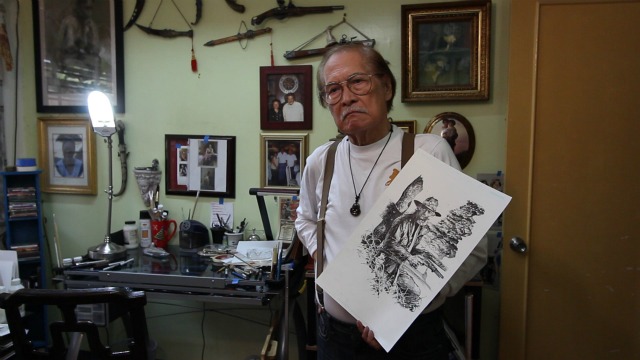 Tony DeZuniga posing with a sketch of his most popular creation creation, Jonah Hex.
"Many of them are somewhat private and would rather have their art speak for themselves, so I greatly appreciate them taking the time to be involved, as well as for their openness, especially in letting my crew invade their homes and work spaces," says Marcelo.
The film is currently still in production, but as of now Marcelo lists artists behind comics like "Superman", "Spider-Man", "Star Wars", "Hulk", and "Conan".
"Illustrated By" will feature:
Tony DeZuniga ("Jonah Hex", "Black Orchid"),
Abe Ocampo ("House of Mystery", "Ghost"),
Jun Lofamia ("Vampirella", "Black Dynamite"),
Alfredo Alcala Jr. (father drew "Swamp Thing", "Conan"),
Gerry Alanguilan ("Superman", "Spider-Man"),
Harvey Tolibao ("Star Wars", "Green Arrow"),
Carlo Pagulayan ("Hulk", "Elektra"),
Wilson Tortosa ("Battle of the Planets"),
Gilbert Monsanto ("Bayan Knights"),
Boboy Yonzon ("100 Years of Philippine Komiks and Cartoons"),
Budjette Tan ("Trese"), and
Dennis Villegas ("Kenkoy Komiks" collection).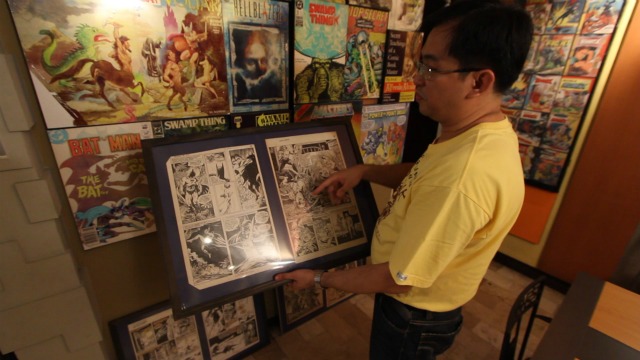 Alfredo Alcala Jr showcasing the works of his famous dad.
"We hope to add a few more names in the next couple of weeks or so, ranging from veteran and modern artists, to informed fans and commentators," he says.
Marcelo initially envisioned it as a one-man DIY project, but after being chosen in the Sineng Pambansa competition, the documentary will be premiered in Davao City in June. There will also be screenings in FDCP cinematheques and other venues all over the country. –KG, GMA News
Photos courtesy of Pepper Marcelo