Filtered By: Lifestyle
Lifestyle
PHL retains top Earth Hour spot for the fourth year
The Philippines is still the number one country in terms of Earth Hour participation, with 1,671 cities, towns, provinces and municipalities joining the global switch-off on March 31, 2012.
Last Saturday, several areas all over
Luzon, Visayas and Mindanao went dark
as Filipinos switched off their lights for one hour to show their support for the worldwide stand against climate change.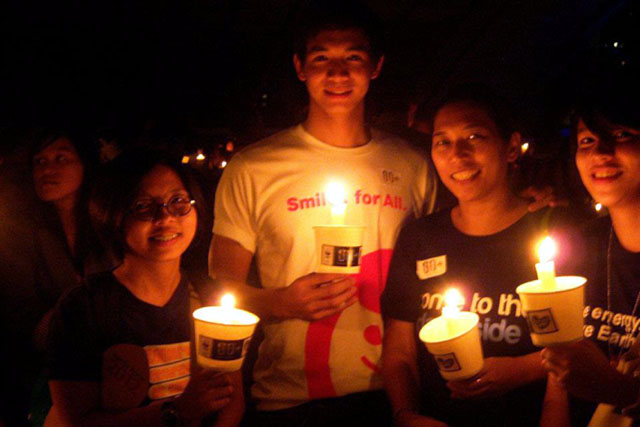 National athlete and Kapuso hunk Chris Tiu meets Word Wide Fund for Nature (WWF) volunteers Hannah Capili, Eva Parreño-Antonio, and Zerah Capili at the Earth Hour switch off program in Makati Saturday night.
The record-breaking figure is ten more than last year's 1,661 Filipino towns, cities, provinces and municipalities. According to Earth Hour organizer World Wildlife Fund Philippines, rough estimates show that at least 362 megawatts per hour were saved during this year's 60-minute blackout.
While a larger drop was recorded last year, WWF-Philippines Vice-Chair and CEO Jose Ma. Lorenzo Tan said the smaller drop may be due to power shortages across Visayas and Mindanao. This year's Earth Hour had simultaneous switch-off ceremonies at 8:30 p.m. in Makati, Cebu City and SM City Davao.
Tan said that the focus should not be on how much power was saved, or who topped Earth Hour. "What matters is that we try to go beyond the hour," he said in a WWF press release.
"More than the numbers though, Earth Hour espouses the importance of our actions beyond the hour," emphasized Earth Hour National Director Atty. Gia Ibay in a press release.
"This year's switch-off merely signifies the start of a yearlong pledge to minimize our ecological impacts and to do our bit for a more sustainable planet. These sustainable-living pledges can take many forms, from upgrading to energy-efficient appliances to choosing to bike to work every day. Pledges really depend on the individuals—who can personally assess what changes they can adopt to reduce their consumption of electricity and water," she said.
Earth Hour every month?
The annual event may become a monthly practice in the Philippines, if Senator Lito Lapid's bill is passed into law.
Senate Bill 3159 seeks to direct the Departments of Education, Environment and Natural Resources, Interior and Local Government and the Philippine Information Agency, in coordination with non-governmental organizations, to conduct a nationwide information campaign on the need to conserve energy and encourage the public to turn off their non-essential lights for one hour every last Saturday of the month from 8:30 p.m. to 9:30 p.m.
"This proposed measure seeks to raise awareness on climate change by requiring everyone to turn off their non-essential lights for one hour every last Saturday of the month...during which the demand for energy consumption shall be limited, therefore optimistically reducing the production of greenhouse gases," Lapid said in his explanatory note.
Earth Hour, an hour-long event which started in Australia in 2007, was envisioned to allow ordinary people to take action on climate change, if only through the simple gesture of turning off lights for an hour, and thus deliver a global message on the need for climate change solutions.
With 5,251 cities, Earth Hour has grown to be the largest annually-recurring environmental event on Earth. –KG, GMA News