Filtered By: Lifestyle
Lifestyle
Hard metal, soft lines in Daniel dela Cruz's sculpture
Metal sculptor Daniel dela Cruz believes the saying that when one door closes, another opens.
The belief comes with age and experience, the 45-year-old product designer and entrepreneur turned artist shares during a press lunch on May 2, where he discussed his upcoming exhibit.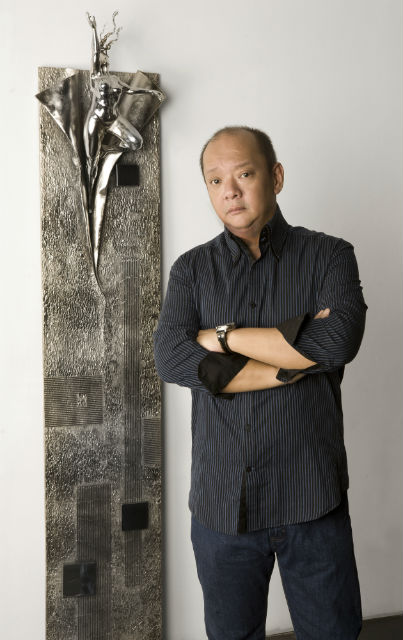 Metal sculptor Daniel dela Cruz Photo courtesy of the artist
The exhibit "Doorway to Decision" is his 10th one-man exhibit, and will be held at Pinto Art Museum in Antipolo City. That the exhibit title fits well with the venue's name, which is Tagalog for door, is a "stroke of luck," says dela Cruz.
He explains that while he was putting the exhibit together, he chanced upon Robson Grant's poem "Door to Decision." "So that led to 'doorway to decision' that led to putting down my thoughts into this artist's statement. And when I realized it's pinto I thought, 'It's perfect,'" says dela Cruz.
While the perfect fit wasn't intentional, a lot of his art is. Dela Cruz puts a lot of effort into each of his pieces, because he feels he owes it to his collectors. From the concept to the execution to where the art is displayed, the late bloomer explains just how complex the process is.
When it comes to conceptualizing, dela Cruz says he tries to focus on a theme for each exhibit. "I try not to just put things together and throw it into the mix and see how it works. Each piece is well thought of. Each piece is meant to convey a message to reinforce the ideas I want to get through to the people," he says.
He also shares that he would rather not immortalize the sadder things, but highlight the better things in life.
"One of the things that I would like to do in terms of my art, as much as possible, is … inspire other people to believe that there are better things to do, there are right things to do rather than portray art with angst," he says.
He goes on to explain a few of his pieces, many of which are about trials, but are also about having a positive outlook.
"It's really our struggle with ourselves, between good and evil. Making the good choice or the bad choice," he says of "Our War Within."
"In order to achieve anything, one has to master one's self before he can achieve anything else. One of the hardest things to do is to sometimes force yourself to get up in the morning, just to work when you're not feeling like it. So it's really just self-discipline, it's perseverance, it's positive outlooks in life," he says about "He That is Master of Himself."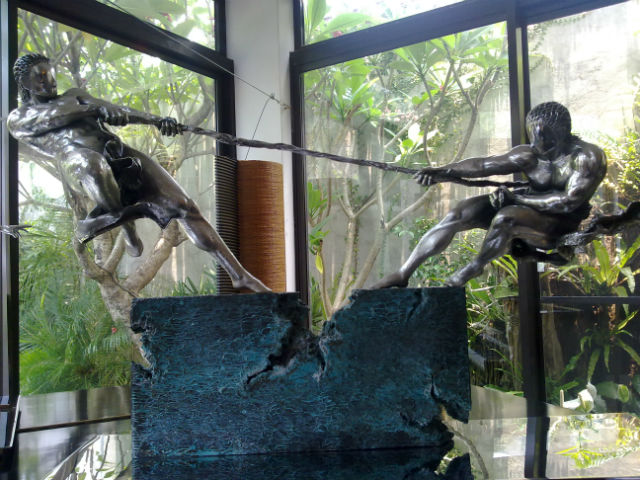 "Our War Within" is about the struggle with ourselves. Carmela Lapeña
Hard metal, soft lines
"Doorway to Decision" features many women, dela Cruz's favorite theme, as well as one piece with the lace detail that was frequently used in his earlier work. When one says metal, what comes to mind is cold, hard and sharp. But dela Cruz's pieces are soft and warm, and flow gracefully like liquid.
He explains that the strength of the metal allows him to do delicate things like people on tiptoe or leaping out—which he says would not be possible in any other medium. Apart from being his biggest exhibit yet, "Doorway to Decision" also features a few other new things.
Because of the venue's size, the exhibit is also larger. This is something that both excited and challenged dela Cruz. "The main challenge was how to do pieces that were big enough for the venue. I'm a little bit worried actually that they might not be," he admits. On the other hand, he loves gardens, and at least five of the exhibit pieces are intended for outdoor display.
"One of the things I want to develop is for people to be aware that one can display art outdoors. It doesn't always have to be indoors," he says.
Another new thing is having pieces with figures balanced on steel cables. "This is the first time I've explored balancing people on the steel cables... Each piece is anywhere from 15 to 20 kilos–very heavy. The steel cables I used are the ones used to hold up Meralco posts," he shares.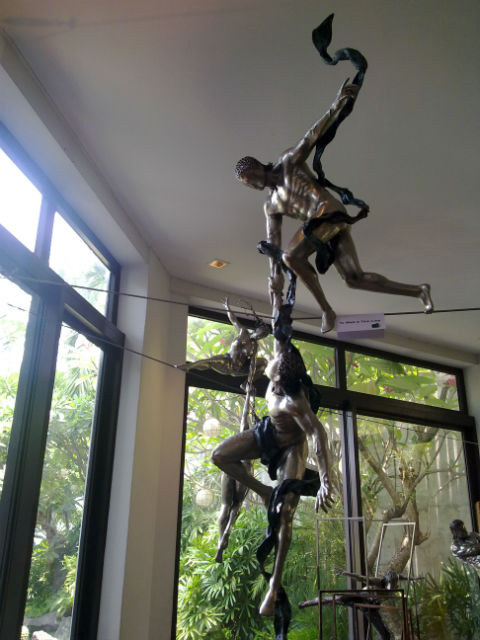 Dela Cruz balances figures on steel cables. Carmela Lapeña
This is also one of the first shows where the men are quite dominant in terms of numbers, dela Cruz says. "Before, if there would be a male, he would just be an accessory to the woman... With the women, as long as you get the curves and the flow right, they look beautiful, they look graceful. The men, if you don't do the cuts, if you don't do details, they just look wrong," he says.
On the use of metal, dela Cruz says he finds it very noble. "It's something that will last forever. It's something that's going to outlive me," he says. Using multiple metalworking techniques, he creates pieces with detail that isn't normally possible.
He explains that with copper, there is a polished finish, as well as the dark and brown shades underneath, and even green shades. "It's treated with acids to age it and give it that antique look. From there, it's quite a challenge of being able to achieve finishes using just metal. It's quite complex. Some people don't actually believe that it's not paint," he says.
Dela Cruz, a philosophy graduate and a successful industrial designer, says one advantage of coming into art late and having worked before is having a disciplined approach to art.
"It's not a mood thing; it's not something whether I'm inspired or not. It's just something I keep on doing. And if you notice, themes are very common. I guess at 45 years old one has gone through a lot of trials, a lot of tests, and one is very grateful to have survived all of those and one learns from that; one remembers," he says.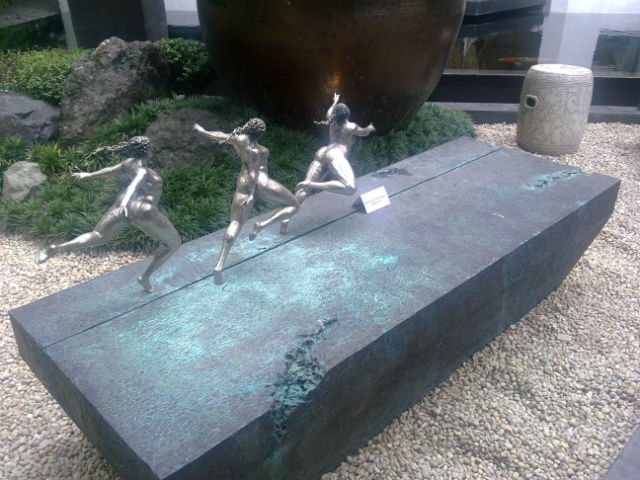 Art doesn't have to be indoors. Carmela Lapeña
Dela Cruz says he continuously tries to challenge himself, asking questions like how else can he develop art, and how else can people display art. Some of his pieces are meant to hang from a ceiling, and others light up in the evening. Still, he believes his pieces appeal to collectors because they are able to identify with them.
"A lot of us, in the course of time, will experience all the same things, in different manners, in different ways. But in the end, life is life. It's easy for me to relate my experiences to people who have gone through the same thing," he says. –KG, GMA News
"Doorway to Decision" opens on May 20 and runs until June 17 at the Pinto Art Museum, 1 Sierra Madre, Grand Heights, Antipolo City. For inquiries, contact (02) 697-1015.