Filtered By: Lifestyle
Lifestyle
Paoay sand dunes come alive with music and art at 'Himala sa Buhangin'
It was a fiesta like no other. Last May 10, more than 5,000 people from around Ilocos Norte gathered amid the picturesque Paoay Sand Dunes in Paoay, Ilocos Norte, to take part in "Himala sa Buhangin!," a festival dedicated to the celebration of music and the arts.
The festival is held in honor of La Virgen Milagrosa, the patroness of the province of Ilocos Norte. The sand dunes was where Nora Aunor's iconic movie "Himala" was shot. But instead of repeating Aunor's famous words, "Walang himala" (there are no miracles), everyone was encouraged to say the opposite, "May himala!"
Taking a cue from Burning Man, an arts festival set in the Nevada Desert, the fiesta featured abaca and bamboo
sculptures by artists Leeroy New
and the Gerilya Artists Collective, the biggest of which, New's "Chrysalis," represented the galleon that brought the statue of La Virgen Milagrosa to Ilocos Norte.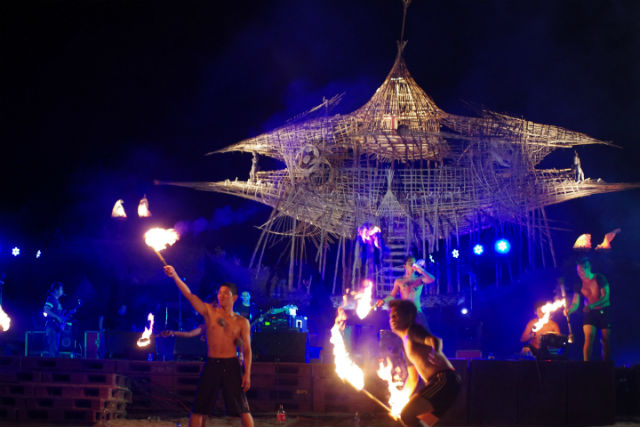 Fire dancers signal the burning of art installations during the "Himala sa Buhangin" music and arts fest organized by the province of Ilocos Norte at the sand dunes of Paoay last May 10. The burning served as a bonfire during the event which is a part of the provincial fiesta held in honor La Virgen Milagrosa, the patroness of Ilocos Norte. A larger structure that looks like a ship, made by artist Leeroy New out of bamboo and abaca, is kept intact for tourists to use as a lookout point for the sand dunes. Alaric A. Yanos
Festival goers lounged in tents set up in front of a stage under the biggest sculpture.
Instead of the usual speeches, the mayors of different Ilocos Norte towns treated the people to a belly dancing contest, a refreshing way of getting local government heads involved in the festivites.
There were musical performances by Wolfgang and Up Dharma Down, as well as by local band Better Than Noise and other Manila-based acts Powerpuff Corn, Hidden Nikki, and Sleepwalk Circus.
The dunes offered other entertainment as well, with Zorb rides, sandcastle building, and 4x4 leisure driving as some of the activities offered on the day of the event.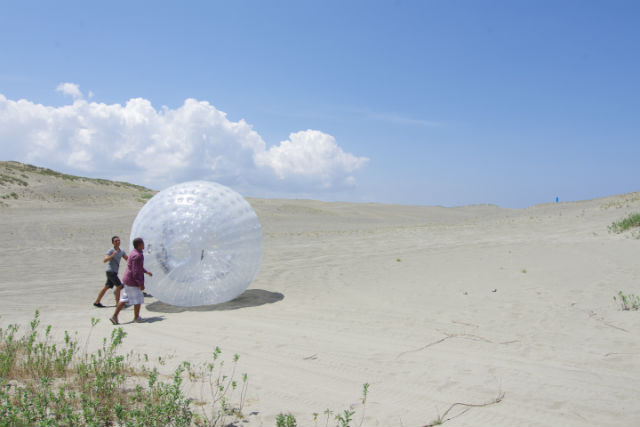 A zorb ball, the latest attraction in the sand dunes of Paoay, Ilocos Norte, is rolled back into higher ground for the next rider to use. Alaric A. Yanos
The highlight of the festival was the burning of three of New's installations, each a beautiful blaze that reached toward the dark desert sky.
Himala sa Buhangin was organized in line with Gov. Imee Marcos' "Paoay Kumakaway" tourism campaign and aims to promote Paoay, and Ilocos Norte, as a prime tourist destination in the Philippines. –KG, GMA News