Filtered By: Lifestyle
Lifestyle
Still doing your work in coffee shops? Try coworking
It is quite a common sight to see individuals working on their laptops in coffee shops and other similar establishments. Apart from working at home or the office, people have discovered the so-called "third place," which has become popular with freelancers and such individuals. Thus, the birth of coworking spaces.
Coworking is supposedly one of the decade's major trends. It has grown considerably since it started in 2005, and according to the 2nd Global Coworking Survey conducted by Deskmag, more than one in three coworking spaces plan to expand by this year.
Just last 2011, one such coworking space opened in the heart of Makati's Central Business District.
co.lab Makati provides freelancers and start-up entrepreneurs an alternative working space.
Nikka Sarthou
"
co.lab
is a coworking space, which is basically a shared office for entrepreneurs, start-up entrepreneurs, independent professionals, freelancers, creative people, social entrepreneurs—people who typically work from home," says Francesca Zimmer-Santos, co.lab's co-founder and collaborator, along with Danella Yujuico Yaptinchay who is also the managing director of Full Suite, Inc. "co.lab is proudly Filipino. It turns out that there was a need for a space outside of working from home or working in cafés."
Coworking spaces serve as an alternative to those who are tired of the isolation at home or those who work in cafés. They offer a more productive environment with fewer distractions, spaces where you can really get your work done.
co.lab is not the only coworking space in the metro. Another popular place is A Space Manila. However, different coworking spaces have different kinds of facilities and services.
"Coworking is a movement that is still in its infancy globally but the community in the Philippines is growing," shares Santos. "The number of people who come to cowork each day varies but the space is shared among the members of the community for a sustainable operation."
Discovering the benefits of coworking
Unlike public coffee shops, the whole area of co.lab is conducive for productivity. You have access to shared resources, social capital, and facilities. "If you're at home, you would have to create an area where you can be productive. Here, we've already done that for you," shares Santos. "You'll have access to shared resources—not just books and magazines and things, but knowledge resources. We try to have everything that people would regularly need to do their work—Wi-Fi and office supplies."
co.lab Makati offers different smaller spaces to cater to everyone's needs. Their Homeroom and Living Room are both coworking spaces. The Engine Room, on the other hand, is more appropriate for boardroom-style meetings, and co.lab can provide the necessary audio-visual equipment for such gatherings. There are also other rooms for sublease to small and medium enterprises. The place also has its own pantry that has a regularly supply of light snacks and drinks for its guests.
Certain rooms are even open to events such as writing workshops and the like. Anyone is welcome to host a workshop, the cost of which varies depending on the size of the group and the required facilities. It can range from P5,000 to P50,000, depending on the needs.
co.lab also hosts its own networking activities. Every month, it organizes a Jelly, a monthly meet-up that allows the public to experience coworking firsthand and for free. There is also the Spark series that offers informative and inspirational talks on different topics.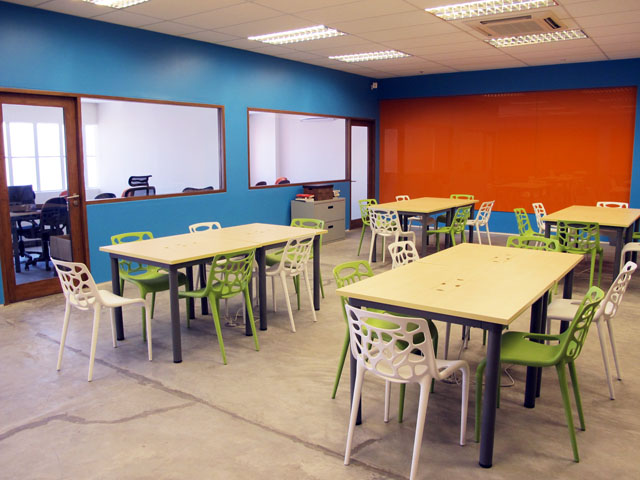 Coworkers have access to shared resources, social capital, and facilities. Nikka Sarthou
Being with like-minded individuals
Aside from the actual space, coworking independent professionals appreciate going to a place where one can engage with like-minded individuals. Freelancers, for instance, would have a chance to interact with other people from the industry.
"Coworking represents relief from social isolation," reveals Santos. Instead of simply working alone at home, you can choose to go to a coworking space to do your work, and at the same time, cowork with others.
Those who visit co.lab Makati range from creatives to marketing people, as well as writers and graphic designers. A regular at co.lab, Anna Oposa, a freelance writer and marine conservationist, prefers working there instead of the usual coffee shops. "There's a greater chance of meeting like-minded people, and there are understood unspoken rules that you can 'bother' people. There's overflowing coffee and snacks, too." She believes it is more advantageous to work there because of the opportunity to meet people from various fields that normally wouldn't be in the same room.
Another coworker, Chely Esguerra, an advocacy communications specialist, reveals that she goes to co.lab to get real work done. "The environment has the right balance of professionalism and creativity. When there's dire need for focus and supplied inspiration, co.lab more than meets the requirement." She confesses though that she only goes there whenever she can maximize the entire workday for practical reasons. "co.lab's folks are mostly creatives. Being there reminds me to cross the bridge from 'Hey, I have an idea!' to 'I'm making my ideas happen.'"
co.lab even has resident coworkers who go there regularly and avail of their monthly packages. They have also welcomed foreign coworkers from France, Austria, and Germany.
The good thing about coworking in co.lab Makati is that you get to meet people from all over, and have that chance to bounce ideas and share your insights with others. According to Margaux Cortez, community manager of co.lab Makati, "It's a way to meet really neat people globally. You'll never know how you guys can work together."
Coworking elsewhere in the world
The proliferation of people working in the creative industry has boosted the growth of coworking spaces all over the world. "Our IT industry is growing, our creatives are growing, and these are industries that really need coworking spaces," states Cortez.
In November 2011, co.lab opened another coworking space in Pasig City—co.lab Xchange. It has a different look but the offerings are basically the same. The guests are somewhat similar as well.
Most people go to such places because they want to work—you invest money and time to work, and you get to instill that value in yourself. Coworking also exposes you to other values such as collaboration, community, openness, sustainability, and accessibility.
According to Santos, "Coworking is more than an office with desks, tables and chairs. It is about connecting with others, engaging in human interaction, and learning to share. Not just sharing a space, but also knowledge, resources and ideas." One can be a full-time coworker in co.lab for at least P4,500 a month, which includes access to either the Makati or Pasig branch.
Coworking spaces do not just simply provide workspaces, but offer an opportunity for growth both professionally and personally, as you interact with others. With the possibility of meeting new people and teaming up with them, who knows, you might just forge new business relationships. –KG, GMA News