Filtered By: Lifestyle
Lifestyle
Pasay medical museum shows how epidemics shaped history
Hospital del Santo Nombre de Jesus, built by Miguel Lopez de Legaspi in Cebu in 1565, was the first hospital constructed in the Philippines. Three centuries later, on May 26, 1871, the University of Santo Tomas Faculty of Medicine and Pharmacy was founded.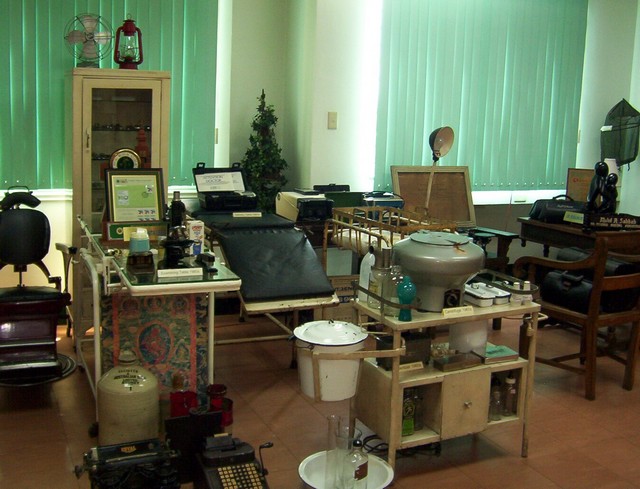 The Co Tec Tai Medical Museum has various collections of rare photographs, health artifacts, memorabilia, mementos, medical books and instruments, and paintings.
In 1905, the cholera epidemic that hit the country three years earlier, ended; total tally of death: 200,222. In 1911, beri-beri outbreak was confirmed to be caused by continuous eating of polished rice as a staple food.
In 1917, mortality of tuberculosis increased. An estimated 400,000 people were afflicted and 26,400 died annually. Population at that time was 5.1 million. In 1970, family planning was made an official policy of the administration under Ferdinand E. Marcos.
These are just some of the facts you absorb while touring the Co Tec Tai Medical Museum located on the fourth floor of the Sonlie Building, 2652 Taft Avenue, Pasay City (between Edsa Rotunda and Libertad Street).
Perhaps the first and only medical museum in the country, it has various collections of rare photographs, health artifacts, memorabilia, mementos, medical books and instruments, and paintings.
One of the things that captivated me during the recent visit were the two paintings by Thomas Daquioag. One was titled "Barrio Doctors," where physicians are depicted helping needy barrio folks. The other is "Panata Ko… Bayan Ko," a reminder of their oath: to save lives.
Touring the museum is like stepping back in time – starting from the Spanish era (when three great epidemics hit the country: cholera, smallpox and beri-beri) to the present (the photograph of Health Secretary Enrique Ona being interviewed by broadcaster Joe Taruc at the DZRH radio station).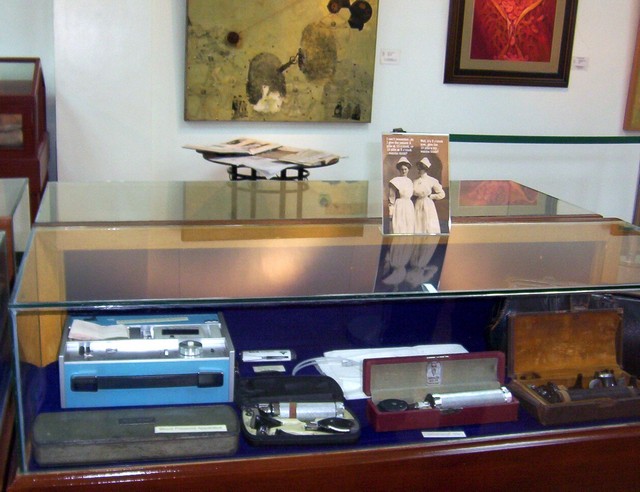 Historic photographs are arranged according to the time they were taken.
There are lots of historic photographs. Each photo is arranged according to the time it was taken: epidemic years (1891-1909), American health initiatives (1910-1919), training Filipino leaders in research and public health (1920-1929), passing the torch (1930-1939), the war years (1940-1949), the golden age (1950-1959), medical progress (1960-1969), and the Martial law years (1970-1979).
Since the medical museum opened in 2006, it has slowly but steadily attracted the public. Researchers, medical enthusiasts, medical students, health workers and nursing schools from different parts of the country came to view the rare exhibit. Aside from free entrance, visitors are given a free lecture alongside the museum tour.
The medical museum is named in honor of Mr. Ong Yong – better known as Co Tec Tai in the Chinese community. He was born in Jinjiang, China but came to the Philippines in 1922. He had been very active in charity work and was president of several civic organizations. Mr. Ong Yong died in 2009 after a lingering illness.
"My father gallantly fought alongside the guerrillas in World War II," said daughter Julie Ong-Alonzo. "When the war was over, he did small businesses until he built his fortune in later years."
The medical museum, however, is the brainchild of her brother, Dr. Willie T. Ong. A cardiologist at Manila Doctors Hospital and Makati Medical Center, Willie graduated from De La Salle University College of Medicine in 1992 and completed his training in Adult Cardiology at the U.P.-Philippine General Hospital (PGH) in 1999.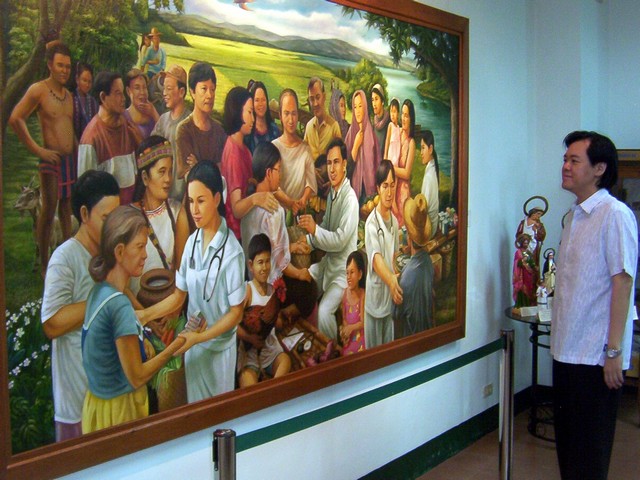 Dr. Willie Ong started the search for artifacts from the Philippines' lost medical history. Here, he stands next to a painting depicting barrio doctors.
As a cardiology trainee at PGH, Dr. Ong realized that the country lacked books and articles on Filipino role models in medicine. His quest led him to one discovery: all the documents were lost forever – during the wars, fires, and other calamities. As such, he found that the Philippines had no medical history to speak of.
So, Dr. Ong started his personal crusade – along with his wife, Dr. Anna Liza R. Ong – to search for the lost materials of Philippine medical history. Aside from the Philippines, they went to three other countries: United States, Spain, and Japan.
"It has been a long and exciting road," Dr. Ong admitted. "Through the museum, all the good works and noble projects of our countrymen in the health sector can be safely stored and remembered."
As visitors who come to the museum look at photographs of the past, they may hear them speak and tell their stories. "It is our fervent hope to continue to tell and retell their stories for the younger generations to learn from," Dr. Ong concluded. – KG/HS, GMA News