Filtered By: Lifestyle
Lifestyle
On the question of a theater audience
I've been going to see productions in half-filled theaters most of the year, a sad thing by default, only made sadder when it's an all-original, all-new, and all-Pinoy production like "Stageshow." You can imagine how wonderful it's been to find that the end of the year has meant a discussion about the veritable search for a local theater audience, one that has had the more daring among us actually pointing a finger at possible culprits for the dismaying state of affairs. In an article in the Philippine Daily Inquirer, Rody Vera asked, "Where have our audiences gone?" and goes back to the tried and tested (and still true!) answer that is colonial mentality; Exie Abola looked into "The case of the disappearing audience" and asked in an article in The Philippine Star whether or not our local theater companies actually work at engaging an audience and spend good money on marketing.
So before the hits (and misses) of 2012, given that
this is kind of that already
, my two pesos' worth on the question of audience. I give you two words, one production: "Camp Rock."
The audience is here
Yes, they're in the Repertory Philippines' December 2012 production of the international musical that starred Demi Lovato and the Jonas Brothers. And yes, it is easy to dismiss the local version of "Camp Rock" (of anything for that matter) as mere mimicry and rightfully question its being a foreign production.
But you should have seen the audience it brought in on its last day. Kids and teenagers, across social classes, filled Greenbelt 1's Onstage to the rafters. There was some good ol' shrieking from the kilig that had everything to do with the sheer talent of those teenagers rocking it onstage. There was fantastic choreography and great singing, and really good comedic timing, too.
And it bears repeating: there was an audience.
It didn't even have famous TV actors and actresses, it didn't need to sell a love team. All it had were Morisette Amon and Marky Stroem in the lead roles of Mitchie and Shane, neither of them famous by popular culture standards, neither a creation of television or the movies. Oh but they, along with that cast of teenagers in every color and size, along with Jef Flores as Jason and Nacho Tambunting as Nate, had that audience eating out of their hands. I tell you, these four leads will give the Jonas Brothers and Lovato a run for their money.
As I stepped out of the theater, I realized that my sense of a cross section of social classes screaming in glee throughout the production might have been correct. A group of teenage boys were wondering, "Pare, gusto ko 'yung isa, 'yung hindi 'yung bida. Ano bang pangalan nu'n?" The teenage girls' squealing inside the theater, jostling for photos and autographs after, were unlike the usual Repertory Philippines' more… demure well-behaved audience.
Here is where it seems that Exie might be right: the goal is to get audiences into the theater, and then it will do its magic. There is of course one major problem with that.
What if it's horrid?
What if they enter, say, a play as badly staged as "The Forsaken House" from early 2012? Or "Rizal X" from 2011? Or "Underarm Monologues" from the middle of last year?
We would lose that audience altogether, and it will take so much more to convince them to go see a local production again. There are some of us, of course, who are willing and can afford to give local theater and productions a chance to do better. But that will mean sitting through the worst of the lot, too. This can also only inadvertently justify the enterprise of putting down the local, an activity that too many of us indulge in to begin with.
Yet it can only be true that Pinoy theater does not always give us magic.
Especially since in this country, the theater-going public's notion of magic is layered with the fact of colonial mentality, that culprit that Rody points a finger at, that one that is the easiest fallback for any support or lack thereof for our local cultural products. Yet it is more complex than it has ever been, layered as it is with the question of who exactly has the power to purchase theater tickets in this country, and who exactly we're talking to when we say that it's a matter of taste.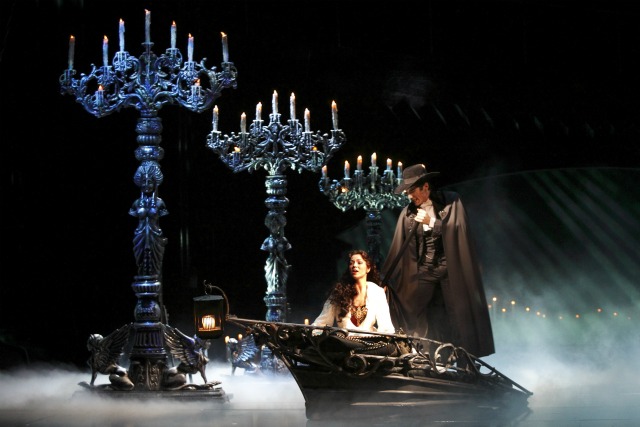 'Phantom of the Opera' played to a full house at the Cultural Center of the Philippines in 2012. Press photo
Case in point: the monster that was "Phantom of the Opera" and its Manila audience.
Not simply colonial mentality
Here is where I disagree with Rody's assessment of the audience, where he invokes "the masses" as theater patrons trained to have "shallow taste."
I don't know that they are the audience to begin with of our local theater, certainly not the ones that happen at the Cultural Center of the Philippines, and definitely not what goes on at RCBC, or Onstage. The masses are not consuming theater, and neither are we making theater for them if our ticket prices are any indication—that includes PETA, even when Eugene Domingo's in the lead of "Bona."
Probably the first thing we need to do as we talk about a theater audience is admit to the fact that we do not make theater for the masses. And the masses are not who we're talking about when we blame an audience for colonial mentality. It seems important to point out this disparity: those who watch "Enteng Kabisote" year in year out, they are not the audience of local theater as we speak of it here.
As such what does need an amount of unpacking is the question of whether or not those theater patrons, those who are willing to spend good money on "Phantom of the Opera," would spend it on local productions. And while we're following this line of questioning: would those who watch the local versions of foreign productions, the ones that Repertory and Atlantis Productions do, would they go watch a play at CCP?
The theater-going audience is diverse and divided, too, yes? And we tend to be dismissive of productions that are like "Camp Rock" as we insist that seeing the all-original all-Pinoy productions are more important. I say, if you have an audience for Repertory, the goal has to be to engage them enough to get them to go to watch plays in CCP, too. If we look at the sold-out shows that Atlantis Productions and 9Works Theatrical have, the goal has to be to ask that same audience to give PETA a chance, too.
In 2012, "Phantom of the Opera" proved that there is this particular Pinoy audience that will spend good money on a foreign production. That we want that same audience for our local productions goes without saying. The question really is whether or not we should start with that.
Not that audience
Maybe we have our eye on the wrong audience.
The success of "Phantom" in Manila is not mere or simple proof of colonial mentality in our audiences after all; more than that, it proves the folly of globalization, and the falsity of its premise of a level playing field. What "Phantom" had over productions, be it original Pinoy or local versions of foreign texts, is previous knowledge and hype about it. It's also what "King And I" and "Sound of Music," both staged by Resorts World Manila, have over more contemporary productions, foreign and local, both. The audiences for these productions are default—we are secondary markets for productions that have already profited elsewhere.
This is a Pinoy audience that is predisposed to spend on things foreign to begin with, and relate to the globalized culture that is First World, more than they would local cultures. We do not know how to get this audience to go to our local productions, and they might not be the ones we should be worrying about at this point.
Because we do have that audience that goes to Atlantis Productions' "God of Carnage" and "Rock of Ages," as we do have that audience that goes to PETA's "Bona" and CCP's "Walang Sugat." Those audiences are different, but they are our existing theater audiences. The goal, it seems to me, is to get these existing audiences to interchange, flex their spectatorship muscles, and get that audience that will spend on Atlantis Productions' tickets to go to CCP, and those who will go the latter to try out some Repertory, and so on and so forth.
I'd like to think it's the one way to actually begin to grow an audience—we start with the audience we do have. And if we get that audience to start talking about theater, to start watching more of it, to go see the ones that might not be in the language they're used to, or the genre that they know; and if theater companies compromise with us by lowering ticket prices and having productions on a longer run as Exie says, then we might be on the right track. That phantom audience notwithstanding. —KG, GMA News