Filtered By: Lifestyle
Lifestyle
I will lift up mine eyes: Project Kisame captures the church ceilings of Bohol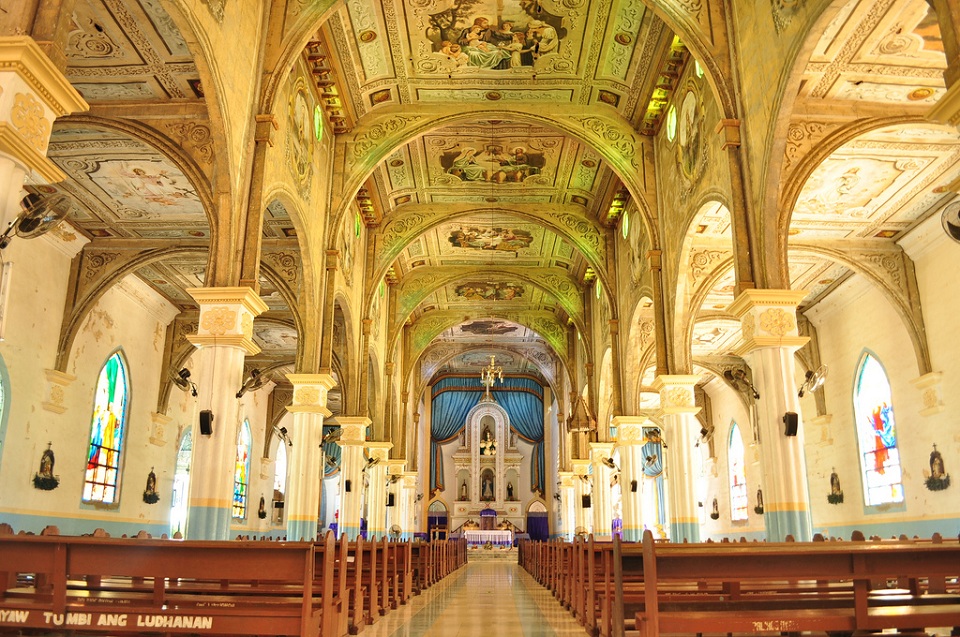 Project Kisame documents the ceilings and interiors of the country's heritage churches. This is the interior of Nuestra Señora de la Santissimo Rosario Parish Church in Lila, Bohol. All photos courtesy of Project Kisame/Joel Aldor
When Joel Aldor first visited Bohol's churches in 2011, he naturally turned his eyes upwards. "Namangha ako sa mga pinta sa kisame sa [mga] simbahan," he said.
Aldor is part of Project Kisame, an effort by heritage conservationists to document
the extensive ceiling art of the country's heritage churches.
Since 2008, he has documented more than 400 churches nationwide, and more than 60 examples of ecclesiastical ceiling art.
In Bohol, the old church in Loon quickly became his favorite. "That was the church that 'adopted' me my very first night in Bohol," he said in an interview on GMA's News to Go on Thursday.
He said that Project Kisame has been trying to get funding from the government to do a comprehensive documentation of the paintings, and had been planning to do more documentation in Visayas next year.
But on the morning of Oct. 15, everything changed. A magnitude 7.2 earthquake shook Bohol and the rest of Central Visayas—and the old church that had taken him in was reduced to rubble.
When the news about the Bohol earthquake began trickling in, said Aldor, he got really worried. And when he saw the first picture of the destroyed San Pedro Church in Loboc—designated a cultural national treasure—"Doon talaga ako nalumo," he said.
He got more depressed about the situation as
more news and pictures started coming in
, he said.
But he and his fellow heritage conservationists are already springing into action, bent on the immediate task of assessing the extent of the damage to determine their next course of action.
On its Facebook page,
Project Kisame is asking for volunteers to help
with the documentation of the province's damaged heritage structures.
Aldor also offered a glimmer of good news: since many of the churches in Bohol and neighboring Cebu have been declared national cultural treasures by mandate of the government per Republic Act 10066 or the National Cultural Heritage Act, "they will be given priority funding for any restoration work," he said.
Another bit of good news is that the needed data for repairing most of these churches is already there.
"The good thing is that in the previous years several agencies and architects already did a complete architectural survey of these paintings—it's actually required to document them before they're declared national cultural treasures," he said.
He acknowledged, however, with regard to his personal favorite heritage church in Loon, Bohol there is nothing left to repair;
it was pulverized in the quake.
Task Force Heritage and #ProjectBohol
Task Force Heritage—a group composed of the National Commission on Culture and the Arts (NCCA), the National Museum, the Catholic Bishops' Conference of the Philippines' (CBCP) Permanent Committee on Cultural Heritage, and other heritage advocates—will be in Bohol with representatives from the dioceses of Tagbilaran and Talibon for the purpose of traveling around the province in the next few days to take photo documentation of the damage. Aldor wil be part of the group.
Aldor also stressed that the conservationists do not plan on just documenting churches that have been declared sites of national cultural importance. Also important, he said, are the sites "na hindi alam ng mga tao because they're still part of the over-all cultural heritage of Bohol. So we're going to the far-flung areas...we don't know what other churches have been destroyed as well [in] the towns that are not shown yet [in the] media, so we're going to go around and take pictures and map them."
The project will not just focus on churches either, but also on other old structures that form part of Bohol's cultural heritage, including
fortifications, ancestral houses, and bridges.
"We want to document everything," said Aldor.
#ProjectBohol will provide live updates of what the conservationists find at these sites.
"The big problem right now with most of us is kulang tayo sa pagpapahalaga ng Philippine heritage, so importante talaga na ma-dokumenta natin ang lahat na makasaysayang lugar habang nandiyan pa sila, so that if ever may mangyaring masama sa mga heritage sites na ito meron tayong basehan if ever may plano tayong i-restore," said Aldor.
And now that something bad has happened, he and his fellow conservationists are hoping that the work they have already done is enough to bring back the glory of these heritage sites.
— Barbara Marchadesch/VC, GMA News