Filtered By: Lifestyle
Lifestyle
Art review: Elmer Borlongan and the art of the daily grind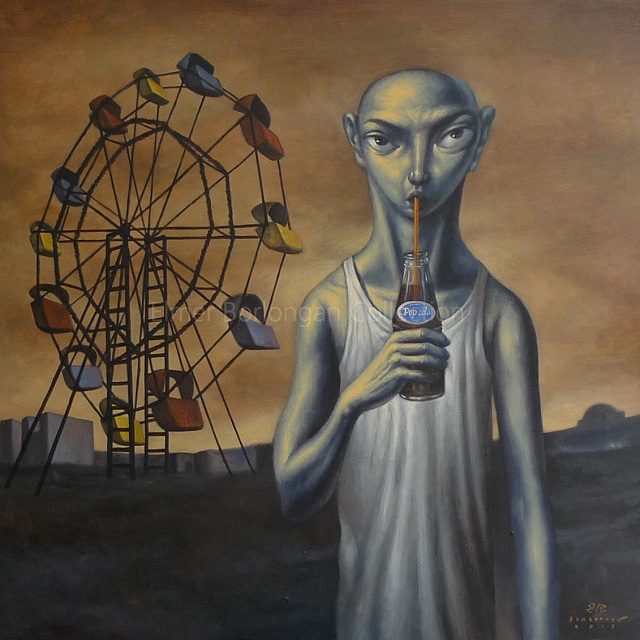 'Pop Cola Kid' (2013) Images courtesy of Ayala Museum
Ask Elmer Borlongan about his art, and he will gladly tell you it's a full-time job.
"Nadisiplina ko na ang sarili ko na magpinta araw-araw. Doon ako sa aking studio, mula eight to five, may konting break lang, konting nap, tapos pinta ulit," says Borlongan, known as Emong to his family, friends, and colleagues in the art community.
He is methodical in practice: first, a live sketch, or a subject photographed, before painting on a canvas. He sticks to a schedule, not only for his preference for working in natural light, but because it is a privilege rarely afforded to artists, who often have to take on commercial assignments in order to pursue their passion projects.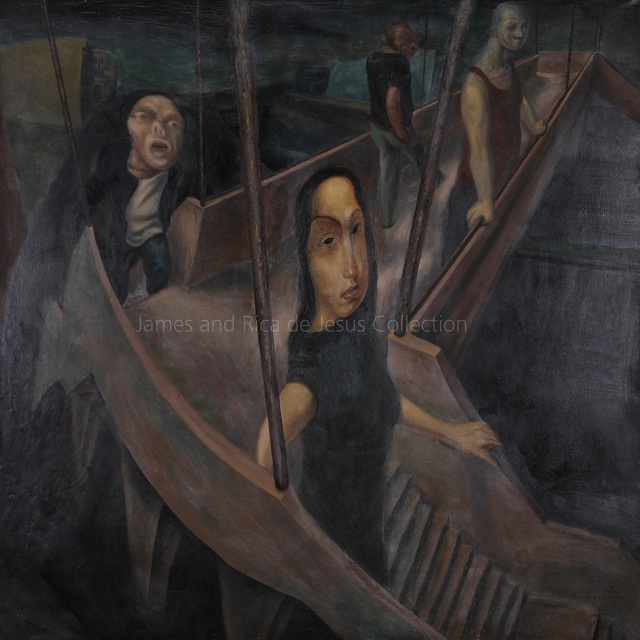 'Night Shift' (1992)
Truth be told, Borlongan is in a pretty good place these days—with awards to his name, paintings in prominent art collections here and abroad, and a house in the country—but it has been over two decades since his first foray into the art world, and he has long paid his dues. "In City and Country: Elmer Borlongan, 1992-2012," currently on display at the Ayala Museum, is the first major exhibition of his life's work.
"In City and Country" gathers 40 definitive Borlongan paintings. Some from his personal collection, though quite a number of pieces are on loan from a formidable list of Filipino art collectors and patrons. But the first painting viewers come across, the one hanging beside the exhibit's introductory statement, is not a typical Borlongan. He is not fond of self-portraits, having painted only two such works, but here he presents himself as a young boy, with a toy camera. For even as a child, he was intent on capturing the world as he viewed it.
Borlongan was raised in Metro Manila, and learned painting here—first, as a participant in a children's workshop taught by Fernando Sena, and later as a student of the College of Fine Arts of University of the Philippines at Diliman—so much of his early work is peopled by city folk going about their business. "All my paintings are [of things] I have seen. There is no overt symbolism in any of my work, but there is always a story to be told."
Many of these vignettes were witnessed in transit, as he went about his daily routine: freelancing as an illustrator for publications, conducting painting workshops for street children and prison inmates, making the rounds of exhibits and art events.
Despite the summary nature of his observations, Borlongan's paintings tease out the hidden emotional depths of his subjects: the fear and determination propelling a female office worker home, after pulling a late-night shift; the anxious optimism of bettors in line for lottery tickets, the blessed sleep of a carinderia owner after an honest day's toil.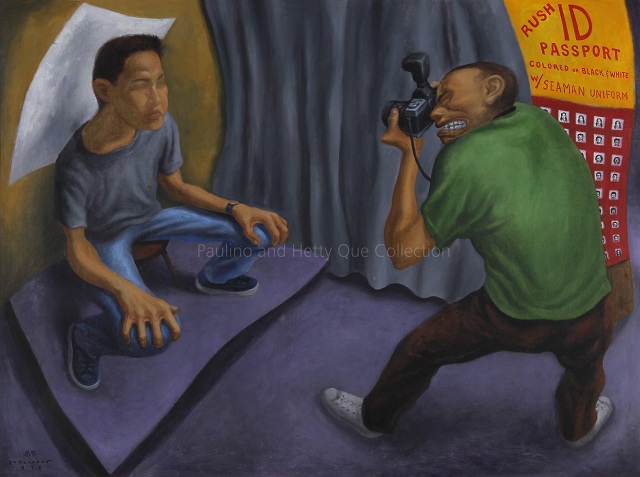 'ID Photo' (1995)
Precise shades of human expression rendered in the slightly distorted forms that is his trademark: the more disconcerting the distortions, the more resonant the emotions portrayed. Experts laud this as a prime example of the neo-figurative movement in Philippine art, a revival of formalism succeeding a period of abstract expressionism, but with a touch of social realism.
In 1998, Borlongan embarked on two life-changing journeys: marriage to fellow artist Plet Bolipata, and relocation to the Bolipata hometown of San Antonio, Zambales. His wife's support gave him the motivation to plunge into painting full-time, and the change of address allowed him the headspace to work on refining his method, exploring partnerships, and pursuing new subject matter.
There is no definitive theme to the paintings created in Borlongan's Zambales studio, except, perhaps, a diversity absent from the city pieces included in this exhibit. His paintings of broken, defiant fisherfolk bear more similarity to the urban hoi polloi of previous years, than to the stillness and introspective solitude of "Pop Cola Kid", the most recent artwork on display.
In other corners, you'll find attestations of critical acclaim, pieces from his CCP Thirteen Moderns exhibit and an artistic residency in Ibaraki, Japan.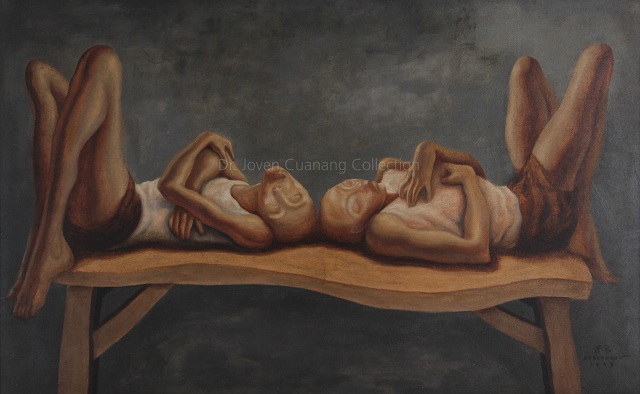 'Hating Kapatid' (1993)
Hidden among these is another gem, his other self-portait, his contribution to a Metropolitan Museum of Manila exhibit entitled "Ako", a collection of artists' self portraits. This time, the camera is trained on him, his face obscured, the location in sharp focus: a photo booth for 1x1 ID pictures, such as those required for the application forms and official documents needed for employment. A portrait of the artist as worker.
"Noon, nag-usap kami ni Dr. [Joven] Cuanang at nasabi ko sa kanya, 'Manong, ang swerte ko.' Sabi niya sa akin, 'Hindi yan swerte, Emong, that's hard work.' Oo nga nman, tignan mo, hanggang ngayon I'm still hardworking." Emong Borlongan shared this anecdote at the artist's tour of "In City and Country", and again on opening night, perhaps as a reminder to himself, and to all of us, that his best work is yet to come.
— BM, GMA News
"In City and Country: Elmer Borlongan, 1992-2012" runs at the Ayala Museum until April 9, 2014.