Filtered By: Lifestyle
Lifestyle
Is FlipTop the modern-day Balagtasan?
Filipino rap battle league FlipTop has acquired many fans, mostly from the youth sector. Its
Youtube account
already has over 1.2 million subscribers.
With almost 400 uploaded videos—the most popular being the Loonie/Abra versus Shehyee/Smugglaz tag team bout in the Dos Por Dos Tournament held at the FlipTop bastion, B-Side at The Collective in Makati City, with over 17 million views—it has surpassed the leagues in the United States that sired the format.
FlipTop and rap battle
The phenomenon of FlipTop has grown as the number of Internet users in the Philippines has. It is popular in every part of the country that the Internet can reach, and where there is a culture of "collectivism" such as inside a computer shop.
In freestyle rap, hurling the insult back at your opponent is called a "flip".
The group FlipTop held the very first Filipino Rap Battle League in the country on February 6, 2010 at Quantum Café in Makati where rappers (also known as MCs) Fuego, Protégé, Datu, and Cameltoe battled onstage.
FlipTop is an events and artist managing organization led by Alaric Riam Yuson, more popularly known as Anygma.
Anygma gave honor to our nation when the Tectonics battle rap was held at Katips Bar and Grillery in Quezon City in December 2010. Dirtbag Dan led the MCs from Grind Time Now, a US-based group that set the international standards of rap battle.
All the three battles that day were won by Filipino MCs. And on that day, FlipTop gained worldwide recognition.
A growing phenomenon
At present, FlipTop has thriving divisions in the NCR, CALABARZON, Central Luzon, the Visayas, and Mindanao, where battle events are held at least once a year.
FlipTop has gained traction not just in social networking sites like Youtube, Facebook, and Twitter. Independent inter-barangay and inter-collegiate tournaments—among students and out of school youth—have sprung up. FlipTop has even become a subject in classes on popular culture and a topic of theses.
The celebration of Linggo ng Wika has never been the same, after universities and secondary schools in different parts of the country included FlipTop in their roster of competitions related to the celebration of our native language.
As such, some academics have called Fliptop the modern Balagtasan—to the dismay of some battle rappers.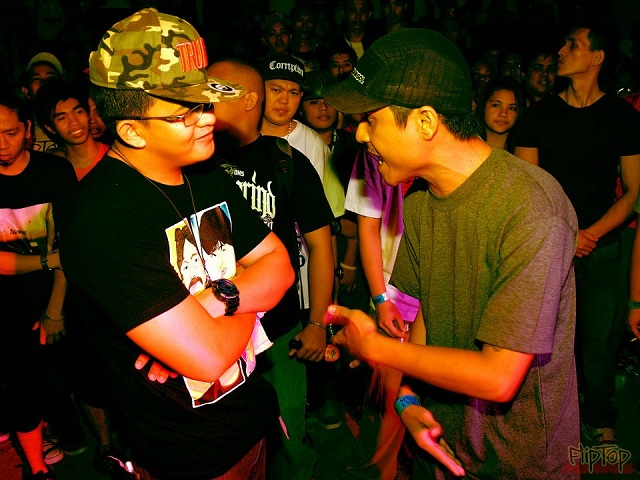 Photos courtesy of the FlipTop Battle League Facebook
Balagtas and the Balagtasan
Most of us are familiar with Francisco Balagtas because his metrical romance "Florante at Laura."
Balagtas was so popular and well-respected that even Jose Rizal and Emilio Jacinto quoted him in their writings. The commemoration of his birth anniversary every April 2 has been a practice even before the early years of American occupation.
According to poet and literary critic Virgilio Almario, it was in the afternoon of March 28, 1924, at a meeting set in preparation for Balagtas Day, that the Balagtasan was born.
Some attendees proposed an alternative for that year's celebration, something fresh and exciting. And so Balagtasan was created, a variation of duplo, a native form of verbal joust played at funeral wakes.
The first Balagtasan was staged on April 2, 1924. Three pairs performed, but the crowd favorites were Jose Corazon de Jesus and Florentino Collantes. De Jesus, whose nom de plume was Huseng Batute, was already a popular poet even before the event. Amado V. Hernandez was also among those who participated.
The bout between Huseng Batute and Collantes had a repeat on October 18, 1925, where the declamation was "freestyle"—spontaneous or free-flowing. It was where Huseng Batute earned the title Hari ng Balagtasan.
Versions of the Balagtasan also sprang up in different provinces, like the Bukanegan in Ilocos (named after Ilocano epic poet Pedro Bukaneg) and Crisotan in Pampanga (named after the Pampango poet-dramatist Juan Crisostomo Soto).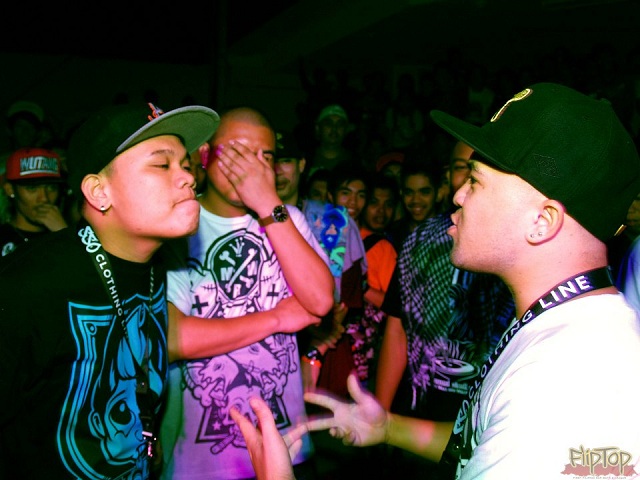 Battle rap and the slave trade
The long history of hip hop and alternative rap can be traced back to West Africa, in a group called griots, according to BBC news correspondent Lawrence Pollard.
Griots were used in the Mali Empire (1245-1468) as professional storytellers and praise-singers. They can be compared to chanters of folk epics in our country whose practice started even before colonial times.
The griots' tradition was spread by the African people who were captured and brought to the US as slaves.
During the slave trade in the US, slaves were also placed on auction blocks and slave owners would hurl insults at the one in the "hot seat," making disparaging remarks about the slaves so they wouldn't get sold.
With this history, battle rap followers will be able to see the nationalist potentials of the competition. In staging the slave trade, MCs warn us about the nasty history of colonialism.
It could also be the reason academics connect it with Balagtasan. Literary critic Bienvenido Lumbera had observed that even Marcelo del Pilar used the duplo and turned it against the colonizers.
Balagtasan, FlipTop, and rap
It is easy for someone who doesn't have any knowledge of hip hop and alternative rap to pick up FlipTop as the modern-day Balagtasan, mainly because of the two elements present: verbal jousts and the seeming rhyme and meter when the rappers, emcees or MCs drop their bars or verses.
Some Filipino MCs assume the title of being a "makata"—not just a "mambeberso" who writes poetry, but someone approaching the rank of poet laureate.
A "makata" knows his rules when it comes to rhyme and meter—at least, the basics of Filipino poetry like the first rank tugmaang karaniwan (general rhyme), rhyme schemes, and caesura. In Filipino poetry, words that end with the same vowel do not necessarily rhyme. Glottal stress matters.
There are liberal rules set in hip hop rap called internal and off-beat rhymes. There is a style called multisyllabic rhyme which Eminem employs. In our country, it is popularly known as "multi" and a lot of MCs are already skilled with it.

The verse lines are called "bars", adapted from "music bar" or the musical duration. For a typical hip hop beat (4/4 time signature), a bar ranges from the first kick drum up to the second snare drum.
Though battle rap is a verbal joust, it is far from being the modern Balagtasan. As Almario had noted, Balagtasan poets are "expected to entertain their audience with bits of humor, with witticisms, with the spice of sarcasm, and moreover, with theatrics like actors in dramatic presentations."
Prominent FlipTop rapper BLKD (pronounced Balakid) said in an interview that "though both feature the nuances of poetry, there is a distinction between their sensitivities. They belong to different historical and cultural channels, and we have to recognize those attributes."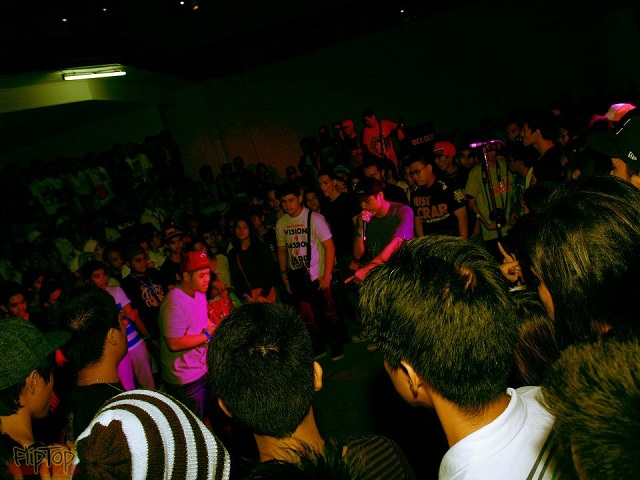 The below-the-belt insults that imply drug use and having sexual relations with the opponent's mother is a long shot from Balagtasan, or even its progenitor, the duplo.
Yet there is a native form of Filipino poetry that closely resembles this attribute: a theatrical form of poetry in the Visayas region called bikal, a verbal game where the opponents (a male and a female, but sometimes pairs of two males versus two females) hurl insults at each other that lasts for an hour or two. It was a traditional game of mudslinging.
A Jesuit missionary named Francisco Ignacio Alcina, who was sent to Cebu, Leyte, and Samar was the first to have recorded this poetic form among the early locals of Samar and Leyte.
BLKD thinks that FlipTop has a significant role in Filipino culture. "Many FlipTop followers watch to be entertained. FlipTop shows them that one can take pleasure in poetry, one can take pleasure in playing with words," he said.
He also noted that battle rap is an art form—that while insulting and poking fun at the opponent is part of the battle, "the audience is aware that the entertainment they gain from it comes from the skill of the emcee of choosing words, weaving lines, and rhyming them."

At the very least, he said, "it influences the youth to study language, music, and stage performance."
Surpassing the fame of Balagtasan, FlipTop is breeding more frontliners and followers, acquiring an esteemed spot in our country's oral literature and as a performance art. — JDS/BM, GMA News