Filtered By: Lifestyle
Lifestyle
Unearthing Lucky Chinatown's food and culture secrets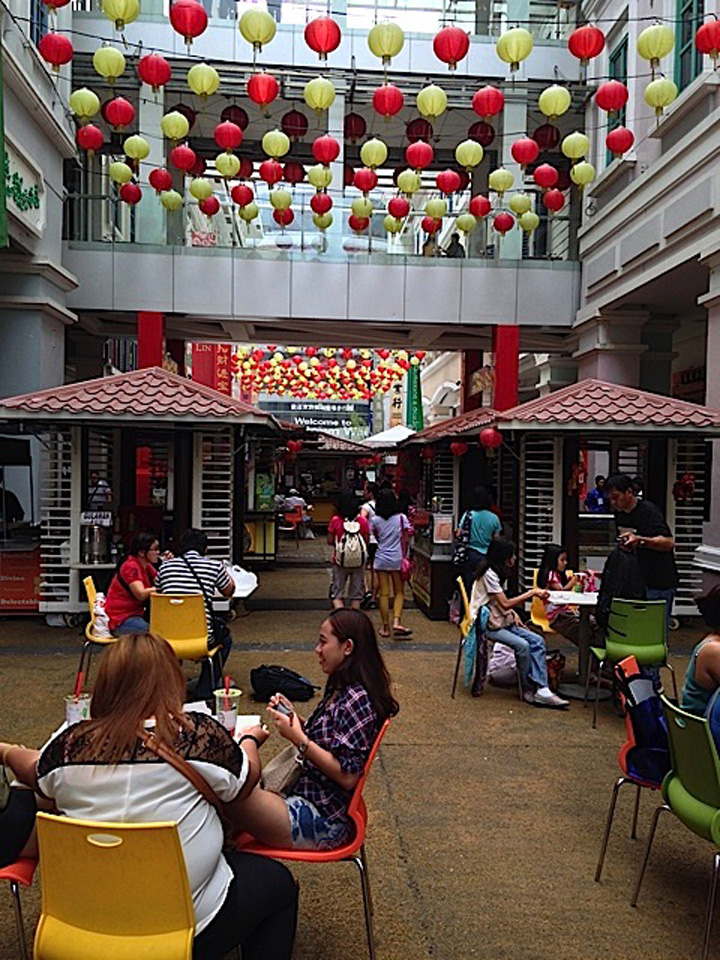 Casual dining at Lucky Chinatown Walk.
The first thing that comes to mind when I hear the word "Chinatown" is food. Growing up, my mom brought home goodies like hopia, tikoy, champoy, fried siopao, pork floss, and more. Indulging in such treats would always bring a smile to my face.
Today, more than ever, Chinatown in Binondo has become known as a food destination where one can gorge on not-so-ordinary delectables.
For those unfamiliar with the place, Chinatown may seem like a labyrinth of retail stores and other establishments. Instead of not knowing where to go and walking in circles, you may opt to join a tour of a specific place like Lucky Chinatown, which is the only upscale mall in the area.
Some of its nooks and crannies hold interesting tidbits about Chinese tradition, and I had the privilege of exploring them through the "Awesome Food & Culture Secrets of Lucky Chinatown" tour, organized by Lucky Chinatown and hosted by RJ Ledesma of Mercato Group and Anton Diaz of the food and travel blog "Our Awesome Planet."
Weekend walking tour
The tour falls on a Saturday, when the weekend food vendors appear on the Lucky Chinatown Walk strip outside the mall. However, the first stop during my tour was at a stall called "Botanical Herbal Hall" located inside Annex A.
The group was introduced to different tea varieties possessed of medicinal benefits such as removing internal heat and clearing toxic materials. The Chinese have been enjoying tea for over 4,000 years and they believe that drinking this beverage could help prevent disease and make you healthier. We sampled the plum tea, pear'c tea, lo'5 tea, but my favorite was the may bloom tea that aids in lipid lowering and strengthening the stomach. The tea doesn't have any artificial ingredients; you can definitely taste its all-natural quality.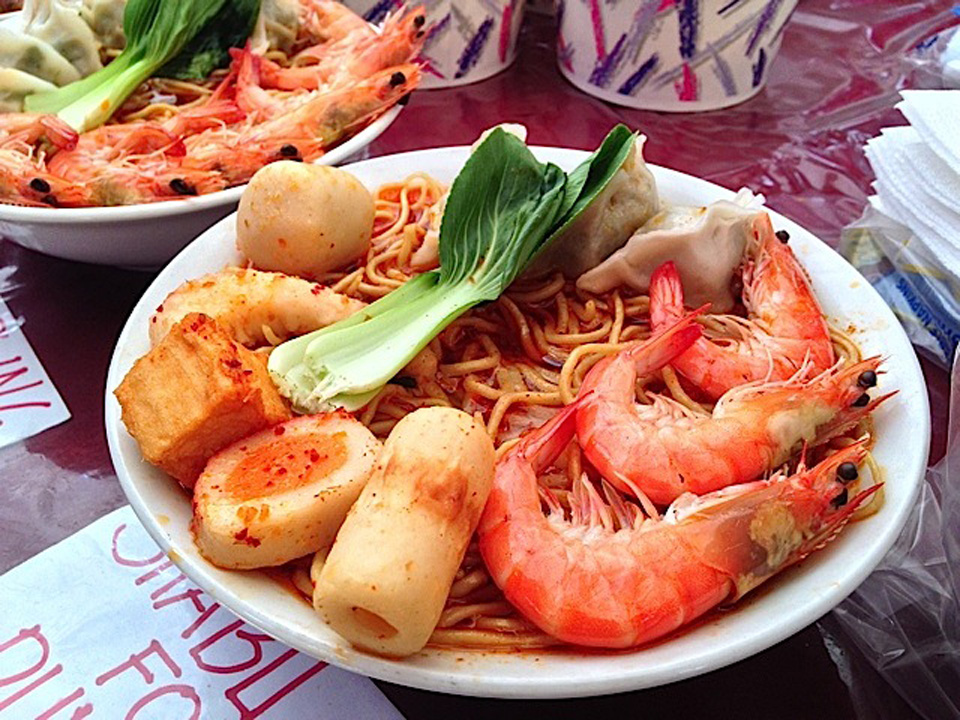 Fu Dao Dumpling specializes in seafood noodles.
The second stop was the Miao De Amituofo Pureland Temple, which was situated along the Lucky Chinatown Walk. It's a small place of worship where devotees can enjoy some peace and quiet and offer their intentions through lit incense. The person in charge explained some Buddhist religious practices and even taught us how to do it correctly.
The next agenda on the tour was to take a look at selected food stalls in the strip. We headed to Fu Dao Dumpling where we witnessed the making of the pastry by hand. These particular dumplings were added to a crimson-colored broth exuding a spicy aroma. We were there during lunchtime and there was a queue for the sate seafood noodles with dumpling shrimp, dumpling noodles, and Taiwan pechay in a sate soup base. You know the food is good when people are willing to wait for it.
Next stop on the strip was Cha Cha Food House, where we saw how pumpkin cakes are cooked: in a large wok filled with coconut oil. The orange treats looked like thin hockey pucks. They had a gummy texture and sweet taste. Aside from the famous cakes made of squash, another must-try is the very tasty wanton noodle soup.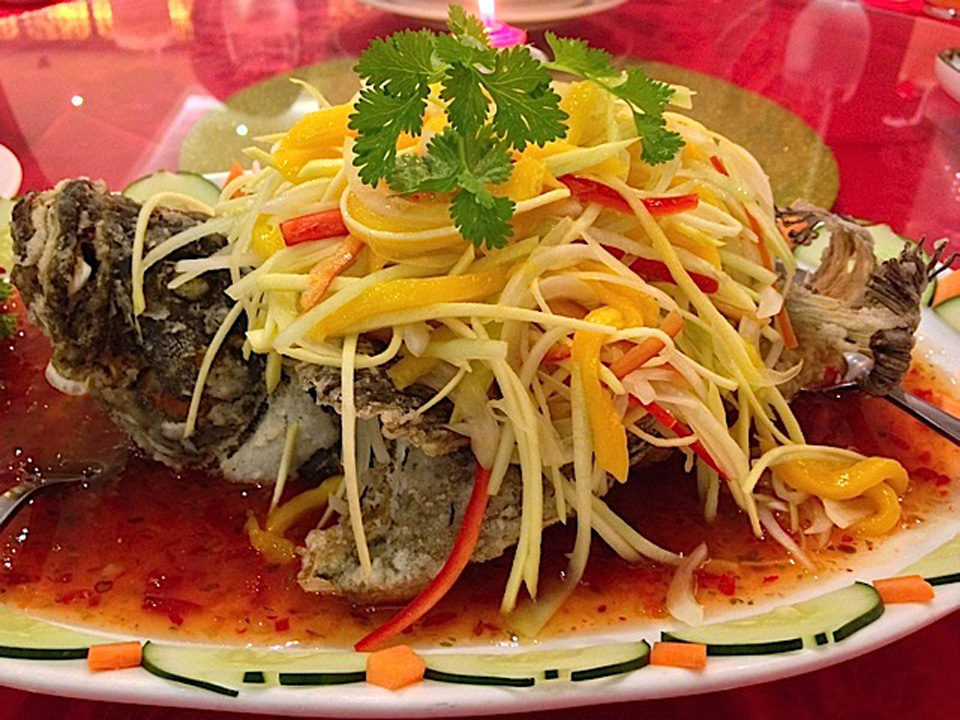 Mango lapu-lapu, a bestseller in Tao Yuan.
As if our stomachs weren't full, we stopped over Mr. Fast Foo, a stall that serves authentic Cantonese cuisine—fast. Vegetarians will be delighted with its fresh lumpia: all-veggie and tofu filling with sugared peanuts, crispy seaweed, cilantro and garlic. Other notable snack options are the maki mi (pork tenderloin noodles in sticky sauce) and cua pao (siopao bread that is sliced and filled with braised pork belly, kiam chay, sugared peanuts and cilantro). Everything was yummy and very filling.
We tried to burn some calories by walking to the nearby Reflexion's Studio, where we discovered more about Chinese traditional wedding practices. Phoenix Dragon was also walkable; it was where a renowned Feng Shui expert discussed some important points about the Year of the Wood Horse.
The next food stop was Rainbow Snow, the first of its kind in the Philippines. The stall serves unique icy treats originating from Taiwan. It's not exactly ice cream or sorbet; it's simply flavored ice that is shaved in snow-like consistency. Try its bestseller, Mango Snow that has fresh ripe mangoes on the side of the plain snow. The latest item on the menu is the Mixed Berry Snow, which combines both blueberry and strawberry flavors. It's a refreshing treat served in minus 20 degrees.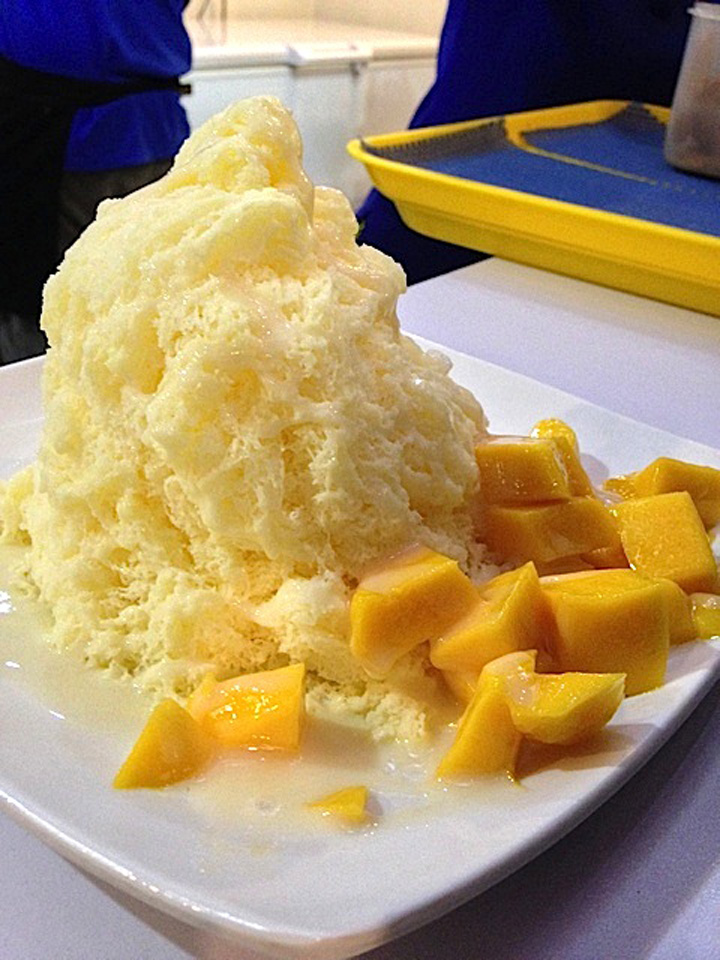 Mango Snow, a must-try at Rainbow Snow.
The second to the last stop on the tour was the Wellness Sanctuary, where we found out more about Chinese medicine. We also got to avail of free treatment, the choices being fish spa, tui na (massage) or acupuncture. I decided to go with the latter, being curious about it for the longest time. The thought of needles piercing my skin sounds scary, but I was able to overcome my fear. I experienced a tolerable jolt at the start. It is said that acupuncture can help relieve ailments, especially when concentrated in certain points. I will definitely try this again.
The tour's final stop was Tao Yuan, a restaurant offering both Singaporean and Hong Kong-style dishes. Despite having a full stomach from all the snack munching earlier, I was still able to appreciate the specialties: Mango Lapu-Lapu, Hainan Chicken with chicken rice, and Pancit Canton. The fish was smothered in a mixture of ripe and green mango sauce that gave it a sweet and sour taste; the delicious birthday noodles had a saucy texture that made it easy to eat; and the Hainan chicken, my favorite Singaporean staple, did not disappoint. We capped off our meal with some cool mango sago for dessert.
I ended the tour with my hunger for Chinese culture and food satiated. —
VC, GMA News
The tour will have a limited run on the following scheduled dates: May 10, 24, 31 and June 7, from 11am to 3pm. Tickets cost P888 each and are available at the Lucky Chinatown Concierge and the Eastwood Mall Concierge. Call +63 2 576-8139 for more information.