Filtered By: Lifestyle
Lifestyle
National artists, fashion designers showcased at Muslim-Christian exhibit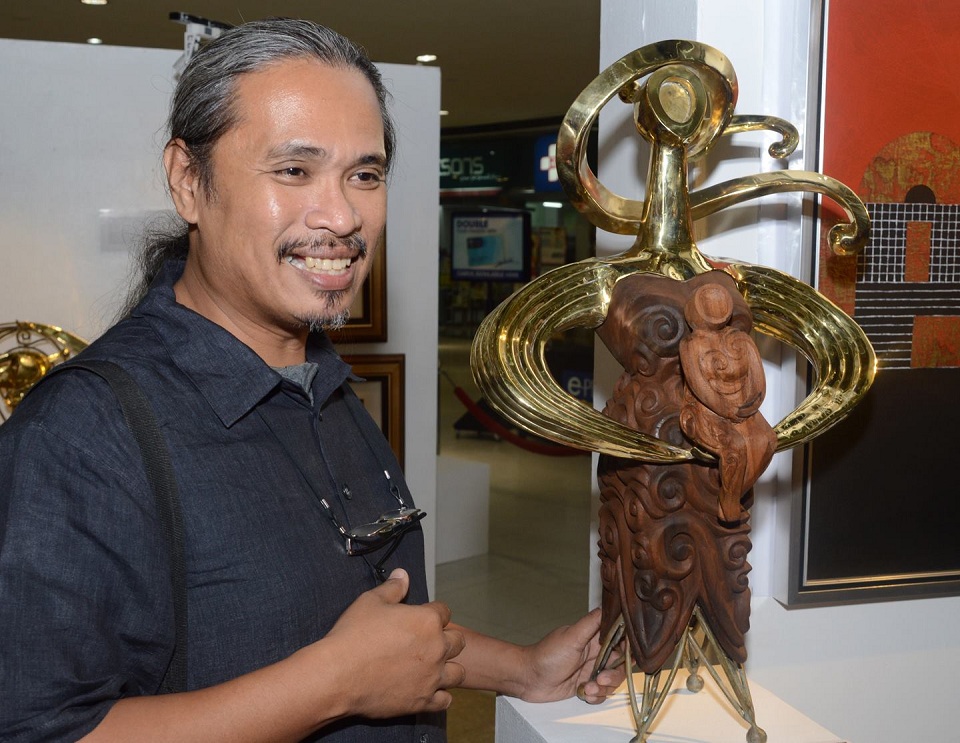 Toym Imao and his 'Mother and Child'. Photos by Riz Pulumbarit
National Artists Abdulmari Imao, Arturo Luz, and Federico Aguilar Alcuaz joined other top artists as well as fashion designers in an exhibit entitled "Unitas: Muslim and Christian Artists as One."
The exhibit, part of the celebration of the Muslim festival Eid'l Fitr (July 28), was on display at the Podium Mall in Ortigas Center, Pasig from July 21 to 27.
Other noted artists who were part of the exhibit were Toym Imao, Rameer Tawasil, Jamila Tamano, Dominic Rubio, Jovan Benito, and Aljo Pingol, as well as fashion designers Len Cabili, Amir Sali Aluk, Patis Tesoro, and Cora Manimbo.
Eid'l Fitr is a worldwide religious holiday marking the end of the Muslim month of fasting, Ramadan. According to the organizers of Unitas, the exhibit's aim is to show that Islamic and Christian cultures can co-exist in an art forum.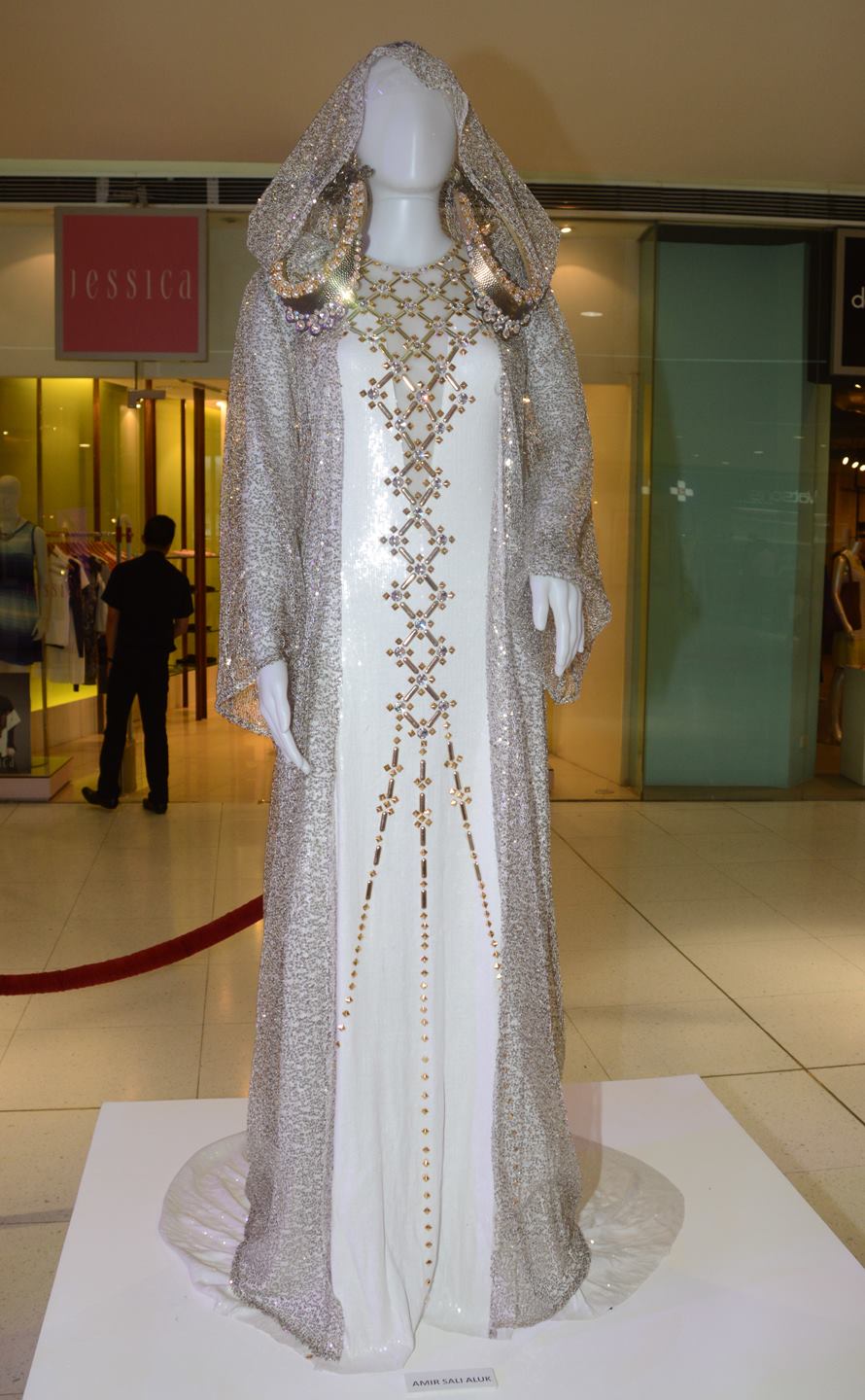 A dress by Amar Sali Aluk
In an interview with GMA News Online, painter and sculptor
Toym Imao
said he participated in the exhibit as he believes a special union between the two faiths is possible.
Toym, the son of National Artist Abdulmari Imao, said, "I grew up in a household of two faiths. My dad was a Muslim. My mom is a devout Roman Catholic.
"I studied in a Roman Catholic school. I basically grew up as a Roman Catholic, but at the same time my art and cultural grounding is very Muslim. I was blessed with that kind of environment," he said.
Toym said the exhibit is very timely "especially in light of what's happening right now in the Middle East, in Israel and Palestine in particular." Over 100,000 people have been displaced so far in conflicts in that region this year.
Toym said the Unitas exhibit demystifies the bigotry and regionalist biases between the two faiths. He said Mindanao is often perceived as a land of conflict, but for him, "it's a land that produces and inspires artworks of this kind. It's a colorful place; it's a culturally rich place."
"For me, joining in this exhibit is a way of being a messenger in sharing this particular message, that this is another aspect of the Muslim culture," he said.
Modern styles and indigenous inspirations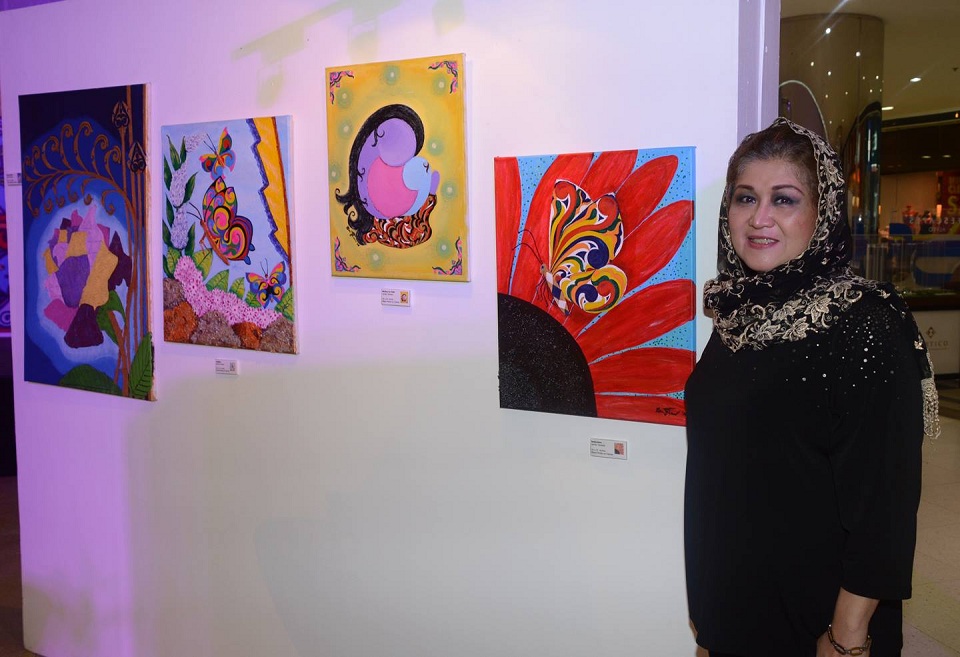 Jamila Tamano and her paintings and her painting
In a separate interview, Muslim artist
Bai Jamila Tamano-Lucman
said she uses the traditional ukir design of the Maranaos as her inspiration but interprets it in a modern way.
Tamano-Lucman, who began painting in 2005, is the daughter of the late Senator Mamintal Tamano and the sister of lawyer Adel Tamano.
Tamano-Lucman, who took up architecture and Philippine Studies in UP Diliman, said Maranaos believe that "everything stems from something and then it grows in a continuous cycle of life."
"I love painting butterflies because they give me a feeling of freedom and jubilation," she said, adding that she does not like dark paintings but prefers those that "will give enjoyment and will add color because the Maranaos love bold colors."
She explained, however, that her art is not a purely Maranao style but more of a fusion of Maranao and contemporary art, especially as she grew up and studied in Metro Manila.
Tamano-Lucman was a former commission of the Presidential Commission for the Urban Poor during the time of President Joseph Estrada. She was also a sectoral representative to the National Commission of Indigenous Peoples.
She was also involved in the Philippine Muslim Women's Association, founded by their mother Hadja Putri Zorayda Yahya Abbas Tamano.
Tamano-Lucman said one of her paintings in the Unitas exhibit is entitled "Minda," showing a woman who is in a cage. She said it represents Mindanao as the region remains largely undeveloped until now.
For her, Unitas is a "chance to show off our culture as Maranaos, as Tausugs and how we have blended with society." Paintings, she added, "show off an artist's culture and philosophy. I really would like to push the Maranao art because I am proud of my culture as a Maranao and as a Muslim."
The art exhibit was organized by the Magbassa Kita Foundation and the Philippine Center for Islam and Democracy, with the support of the Department of Tourism and the MMDA.
— BM, GMA News