Filtered By: Lifestyle
Lifestyle
Independent musicians speak out against OPM bill
House Bill 4218, or the OPM Development Act, is not for everyone.
This was the sentiment of the artists who call themselves the Musicians Against HB 4218 Alliance and who attended the first Independent Musicians' Open Forum on Rights and Welfare at Tiendesitas in Pasig City on January 31.
HB 4218,
a bill authored by Ifugao Rep. Teddy Baguilat,
will institutionalize:
the equity fees that foreign artists performing in the country should pay "as remuneration for the displacement of Filipino performers by foreign performers";
the powers and functions of the National Committee on Music (NCM); and
tax credits that would be given to broadcast stations that play four OPM compositions for every clock hour of a program, which is the core of Executive Order No. 255 (1987).
It is a bill supported by Organisasyon ng Pilipinong Mang-Aawit (OPM), headed by Ogie Alcasid; the Filipino Society of Composers, Authors and Publishers, Inc. (FILSCAP), led by Noel Cabangon; and (with reservations regarding some aspects of the bill) the Asosasyon ng Musikong Pilipino (AMP), headed by Ernani "Jong" Cuenco.
Independent musicians find the provisions problematic.
Where will equity fees go?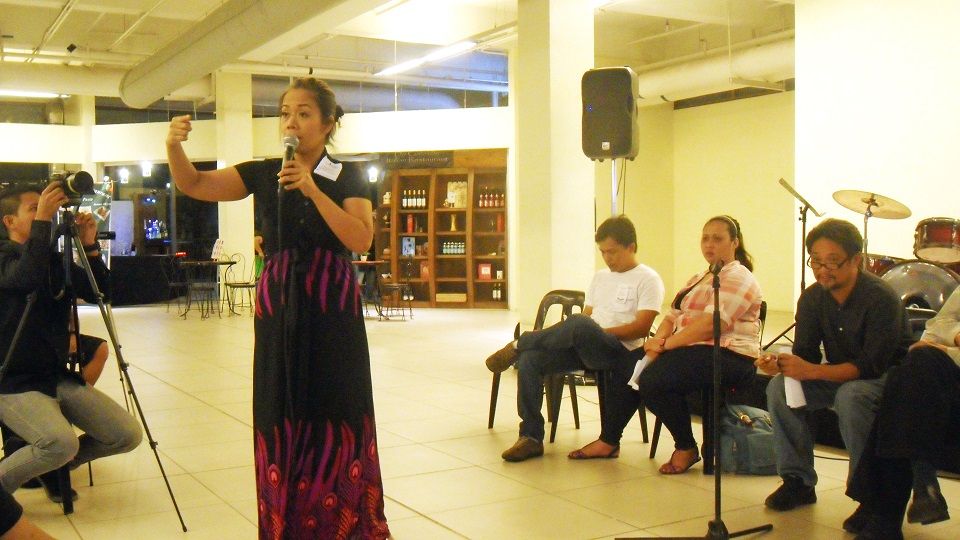 Skarlet Brown, performer and founder of Heart of Music, hosted the first forum on HB 4218 for independent musicians and groups. Len Cristobal
According to the bill, earnings from the fees will be put in an Equity Fund, which will be used to support local artists who are members of any guilds accredited by the National Committee on Music (NCM), a committee operating under the Subcommission on the Arts of the National Commission for Culture and the Arts (NCCA).
The bill includes among the NCM's powers and functions:
determining and collecting Equity Fees,
managing the Equity Fund,
payment of royalties to "Filipino creators and owners of original musical works," and
creating and implementing systems on granting of tax credits to broadcast organizations and the accreditation of guilds.
The NCM's executive council will be composed of one representative from any of the duly-accredited performers' guilds and one representative from the duly-accredited composers' guild, and these representatives will be chosen by the NCCA.
Creating an elite?
The NCM accreditation stipulation appears to be a sticking point for the independent musicians.
They expressed concern that it might create an elite among groups and musicians and place power in the hands of certain organizations.
"Hindi dapat ito maging elite na accreditation," said Nolit Abanilla, president of Indiepinoy.
Alternatribu, a group supporting non-commercial based artists in the Philippines, said that Section 6 (Accreditation of Guilds) of HB 4218 is against the right to self-organization since unions and other organizations "undergo a registration process, not an accreditation process."
AMP's Cuenco disagrees, saying that the bill does not say anything against self-organization. "In fact, if their organization is legally recognized and organized, they can be candidates for accreditation," he said in an email to GMA News Online.
"For example, if there are two more organizations of musicians (duly registered with the SEC, with permits, etc.) aside from AMP, all three of us can apply for accreditation and it is up to the NMC to choose which of the three will represent, in our case, the Filipino musician. And in two years, the same can again try get accreditation, so no one organization stays unless of course it's the only one or is doing its job and is doing it well," he added.
In its position paper, Alternatribu also suggested a link between the equity fees and the accreditation system. "There is an obvious intention to limit the beneficiaries…All registered organizations of the music industry must benefit from this. This is just a simple logical explanation—the [fewer the] beneficiaries, the higher the amount of money they can collect," it said.
In its own statement, Sining Bugkos asserted that the bill does not represent majority of workers in the industry. "There has been no comprehensive consultation with musicians and artists on the bill. That the so-called Pinoy Music Summit proposed HB 4218 with the aim of strengthening the [NMC] is a political agenda of a small group led by Noel Cabangon who wants to institutionalize their authority over the music industry. As expected FILSCAP, OPM and AMP will be included in NMC, thus controlling everything especially its funds," it said.
To that last point, Cuenco said, "That is to be expected because again, and I cannot stress this enough, these organizations [FILSCAP, OPM and AMP] are the organized and recognized groups to date. I say to them [the independent musicians] to organize themselves formally and legally and come forward and be recognized."
Cuenco added, "We at AMP...open our doors for membership, but unfortunately a lot of musicians do not see the need or the importance to be a member. It takes a lot more than just being a member of a Facebook group with thousands of members but without 'legal and formal identity.' Our current efforts at AMP is to encourage more musicians to be members."
However, the formation of a union and the possible restoration of the Philippine Musicians Guild were raised during the forum. "Kailangan natin ng tunay na magsusulong sa mga karapatan ng musikero, yung totoo sa kapwa musikero at sa musiko," said songwriter and former recording artist Len Dante Clarino.
'Yakking like spoiled children'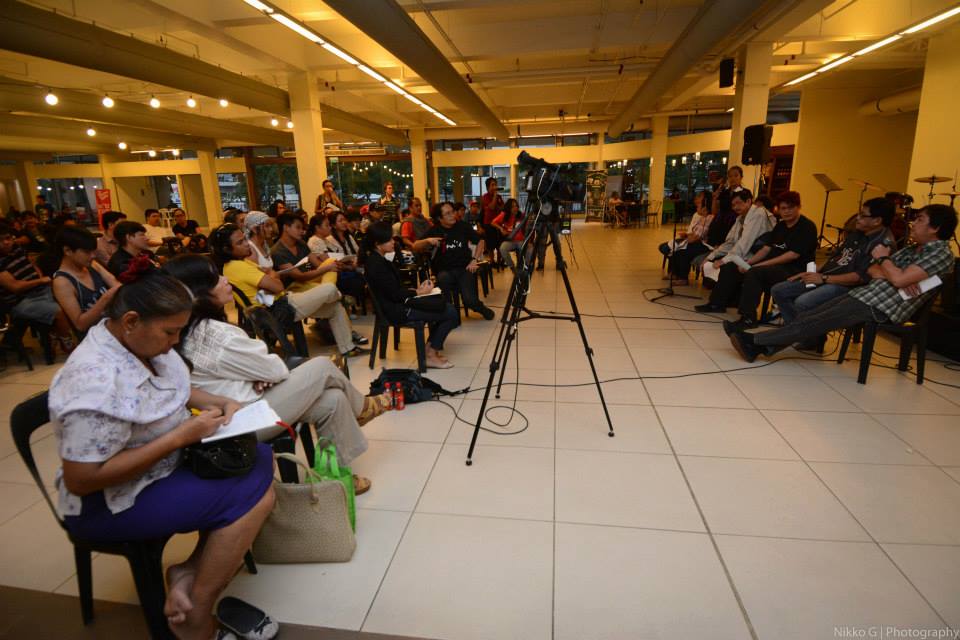 The forum was attended by independent musicians and groups such as Indie Pinoy, Pinoyhiphoppaz Organization, Malayang Ugnayan sa Industriya ng mga Komposer ng Awit (MUSIKA), Musicians For Peace, Concerned Artists of the Philippines (CAP) and Songwriters Philippines. Nikko Garcia/Heart of Music
Baguilat also contested the musicians' claims. "Our intention is to be non-exclusive," he told GMA News Online on Tuesday.
"Of course we proposed a system of accreditation to make sure that the qualified beneficiaries-musicians are assisted. How do you make sure that they are musicians? Kaya nga merong accreditation.
"If they have a better idea, present it to us," he added.
At the independent musicians' forum, Clarino echoed his colleagues' grievance that not all musicians were consulted about the bill. "Hindi ito nabuo sa isang demokratikong proseso. Tinanong ba nila ang mga musikero sa bars at ang mga nakanta abroad?" he said.
In response to the criticism, Baguilat said, "I'm not so acquainted with the dynamics of the music industry particularly between the commercial, indies, the bit players and the celebrities. But I find no reason why they should not join or be accredited. Otherwise, instead of assailing the bill, why don't they propose an alternative or additional provisions instead of yakking like spoiled children.
"Pakay nga ng bill ay pagtanggol ang local artists from overwhelming foreign competition. Pabanat-banat sila without any suggestions, I suggest that they attend our hearing," he added.
The alliance, however, said that independent musicians and groups were not invited to the 2014 Pinoy Music Summit, a gathering of music industry stakeholders, where points about the bill were discussed. According to them, only members of the three groups supporting it (OPM, FILSCAP, and AMP) were present.
Tax credits
Section 9 of the bill states that the amount of the tax credit and the rules surrounding it will be determined by the NCM in consultation with the Bureau of Internal Revenue.
The panelists agree that instead of giving tax credits, those who will violate the four-songs-per-hour rule should be penalized.
In a collective statement posted by singer and forum host Skarlet Brown on Facebook, musicians opposing the bill believe that the root problem is enforcement as the rule is already in act. "What we should propose would be something more substantial. It would be more powerful and effective if this would include other media such as TV, and in store radios such as those for public transport and public places," it said.
They also question the nature of the organization handling the fees: "How can a committee under the purpose of promoting Filipino arts and culture be involved in issues on labor and immigration? The equity fee is a concept which involves employment and unionism. It is not an issue that has to be carried on as a law and implemented by such organization as the NCCA."
— with reports by Elizabeth Marcelo and Trisha Macas/BM, GMA News