Filtered By: Lifestyle
Lifestyle
Art review: 'Tastes just like shrimp': Art Fair PHL 2015
Every year, Art Fair Philippines has something interesting going on that is not necessarily art-related.
At
last year's Art Fair
, visitors to the Link, where parking spaces were converted into exhibition space, got to witness
a ping pong tournament staged using Louie Cordero's tables.
(They were all sold to willing buyers.)
Last weekend, the 2015 edition featured Tad Ermitano's sound art piece which had, at its background, the sound of beetle larvae eating through kaong wood. At the vernissage and up until around Sunday afternoon, visitors got to see a kaong log and a terrarium where these larvae were slowly thriving on water and wood while others got to play with a tablet that translated stylus movements into sound.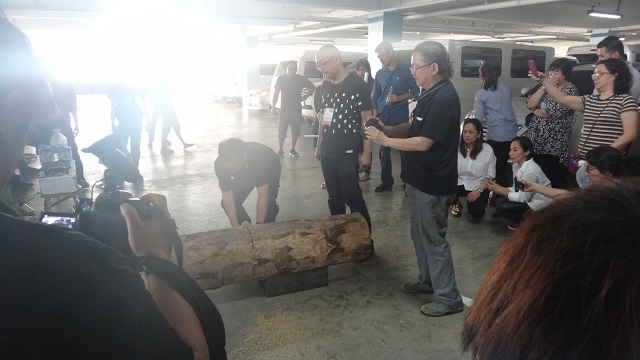 The kaong log is sawn open in the car park. Ren Aguila
At around 4 p.m. on Sunday, the log was removed to the car park and sliced open. In less than an hour, people consumed a few dozen little morsels which your correspondent swears tastes just like shrimp.
Art Fair Philippines touts itself as the go-to place for the best of Philippine contemporary art. There were the usual paintings and sculptures from established and new visual artists, and these are the kind that get snapped up pretty quickly on the afternoon before the vernissage. But if there were signs that new media art was finding a place on the local art landscape, there were three clear ones.
The first was, of course, Ermitano's entomological celebration. Another was Derek Tumala's work at The Drawing Room booth, the first time in the gallery's participation that there were no drawings on display. Still another was Martha Atienza's "Newfoundland," an oceanscape she took while traveling between residencies she earned via the Ateneo Art Awards. While Atienza's work still bore the marks of her fascination with the seagoing life, it was also meditative, which I sense added to its popularity among collectors. Less patient souls would have other things to say.
This was where Geraldine Javier's "freedom wall" had a place. Javier told me that this was a project she was meaning to pursue for some time now and this was her chance to do it. Featuring doll versions of gallery owners and collectors (and even the organizers of the Art Fair), the place allowed visitors to write their responses to the question of what art is. Responses ranged unsurprisingly from the profound to the sarcastic, reflecting a cynical view that I fear has a lot to do with something I will mention shortly.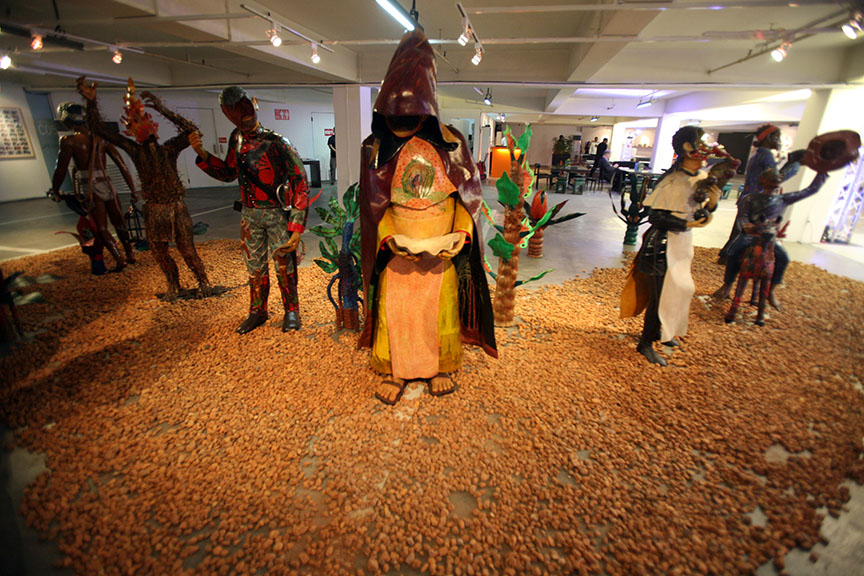 Roberto Feleo's homage to the Basi Rebellion. Danny Pata
It was not just the new media work that broke the procession of high concept paintings and sculptures. Roberto Feleo's homage to the Basi Rebellion dominated a space near the lobby with its figures that played on the origins of a taxable liquid. Kawayan de Guia had a chopped-up Lady Liberty, one which was on display in Baguio and later brought in pieces to Manila, covered with old film stock.
Then, of course, there were the cans. In a stroke of genius which drew both curious crowds and art buyers, Tin-Aw Gallery and a local can manufacturing association collaborated with a hundred or so artists to put together a selection of decorated cans whose content ranged from the political to the very whimsical. My favorite was Lyra Garcellano's series which had a well-developed sense of irony about its setting—comments about the "hip factor" that one would have upon acquiring a certain art work appeared on one of her cans.
The price range of these cans were invariably within the range of the art pieces that appear in an upcoming annual art fair, Art in the Park, which emphasizes affordable and accessible art. However, as one critic I heard over the weekend (not at the Art Fair) noted, if we merely gauge accessibility by its price range, we sometimes miss the point. The sarcasm and humor we saw on Javier's walls came from a very familiar place.
I risk being a luddite by arguing that we used to have the kind of art that valued a certain aesthetic sense of familiarity. Now it would require a special way of seeing that only an educated class could appreciate and that would otherwise exasperate the "casual viewer." Even that educated class might not even have a clear picture of where contemporary visual art fits in the bigger Philippine and global artistic narrative. The situation will change, I am certain.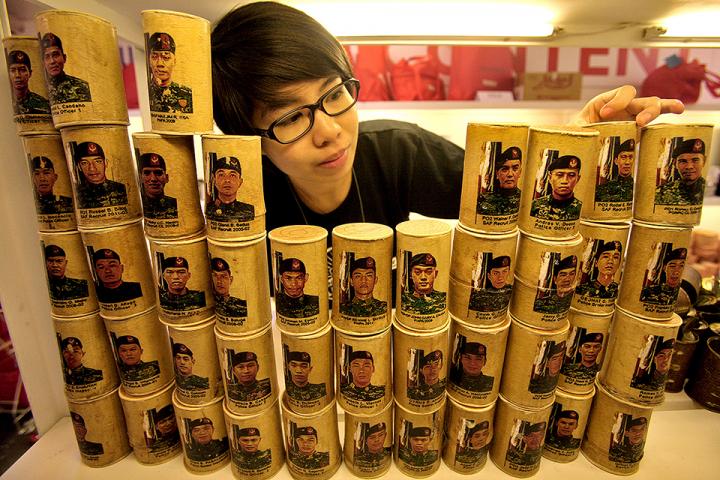 A curator arranges a set of mixed media art done by artist Alwin Reamillo as tribute to the 44 PNP-Special Action Force commandos killed in the January 25 Mamasapano clash. This was part of the Tin-Aw Gallery's 'Content May Vary' exhibit. Danny Pata
On balance, I think shows like the Art Fair push the boundaries of how at least those of us here in Manila view the place of the visual arts in our society. Perhaps one way out is through what an organization hosting a booth not far from Tin-Aw's was doing—placing the visual arts in an integrated context, that of storytelling. Those are welcome efforts.
After all, there are always more subtle ways to make art vivid and memorable and a bigger part of people's lives, as they have with the Art Fair crowd, an increasingly younger one. The next step is how to help them see the bigger picture beyond a weekend in February.
— BM, GMA News
Tin-Aw Gallery will be displaying the cans in its Makati area gallery in an exhibition that opens February 21.