Filtered By: Lifestyle
Lifestyle
Conversations of peace: Celebrating the International Day of Yoga
"Yoga is no longer Indian, but it belongs to the world," Indian Ambassador to the Philippines Lalduhthlana Ralte said proudly as he opened the event to celebrate the first UN International Day of Yoga at Onstage Theater in Greenbelt earlier this month.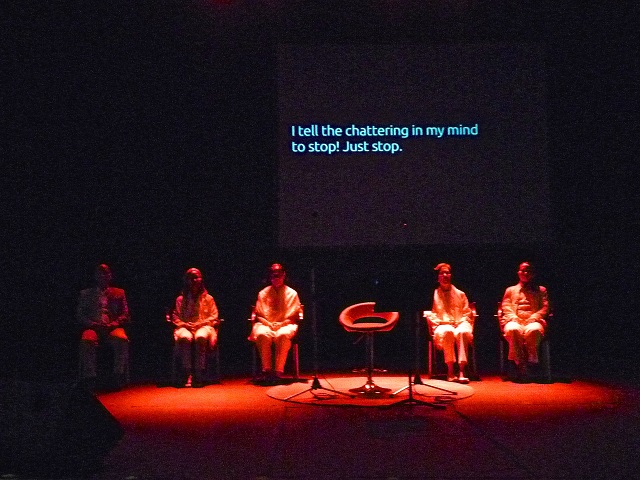 Five yogis conducting Raja yoga meditation onstage Photos courtesy of the Brahma Kumaris
Organized by the Brahma Kumaris, a UN Peace Messenger Awardee, the two-hour program titled "Silent Conversations with the One" was meant to give the public a taste of Raja yoga meditation, a form of yoga taught by the Brahma Kumaris since 1937, when it was founded in Karachi in what is now Pakistan. The Brahma Kumaris has since offered Raja yoga meditation classes as a service to the community in 130 countries worldwide.
"There are many kinds of yoga, and its main purpose is to help lessen the burdens of life, whether physical or mental. Yoga has brought peace to the world. I am very happy it originated from my country," Ralte added.
It will be remembered that December 2014 marked the UN General Assembly's approval of an India-led resolution calling forJune 21 to be declared the International Day of Yoga, three months after Prime Minister Narendra Modi proposed the idea.
King of Yogas
Indeed, amidst the urban bustle of Greenbelt 1, the evening was filled with an atmosphere of peace, an apt way to experience the practical benefits of yoga, particularly Raja yoga meditation. Local Raja yoga teacher and the evening's emcee, Merle Pimentel, calls it the "king of all yogas."
Yoga, she explains, means "union," and Raja means "inner leader or ruler." She shares that Raja yoga is a form of meditation that aims to connect people to their "inner self and its highest, best qualities—like peace, love, benevolence, and self-respect." It is a practical kind of yoga that can be done anywhere by sitting in a relaxed position, while consciously directing the mind to generate positive thoughts and feelings. Raja yoga has been called "supreme union" or "highest connection with one's self and the Supreme Source."
"Everyone can meditate and has a right to experience this ultimate relationship with one's self and the Divine. This can really empower human life," Pimentel said.
Soft instrumental music and inspirational quotes flashed onscreen, as six yogis sat onstage to demonstrate how Raja yoga is done, which is mainly conducted with open eyes as a way of promoting internal awareness and outer alertness.
After this practical demonstration, "The Voice" finalist Tanya Diaz performed a soulful rendition of "One God," a fitting way to introduce the universality of the human aspiration for meaning and oneness in life.
Conversations of peace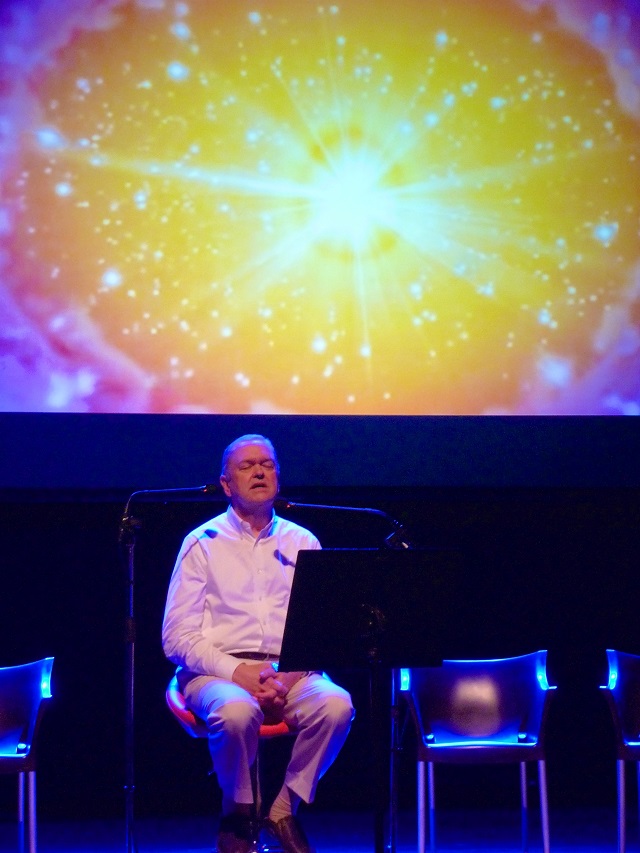 Charlie Hogg leading the audience to a meditation experience.
After the interlude, the main guest speaker for the evening, Sydney-based Raja yoga teacher Charlie Hogg, was introduced. A soft-spoken and cheerful man, Hogg has been a practitioner of Raja yoga meditation for the last 40 years. He is currently the director of the Brahma Kumaris Raja Yoga centers in Asia Pacific.
"The world craves for peace and silence, to have a mind at rest. Silence is a mirror where I can see myself clearly," Hogg said.
He expounded on the secret of establishing a good relationship with the self and with the Divine, which are the key steps in creating good relationships with others. It is also a key teaching in the ancient art and practice of Raja yoga meditation.
"I have been meditating for the past 40 years, and I always enjoy learning about myself. Our mind is a sacred space. You can visualize it as a crystal bowl filled with clean water. We need wisdom to create this sacred space so we can have silent conversations with the self and God, from where we can experience divine love that we cannot experience anywhere else," Hogg said.
Hogg noted that there are three sources of love: from the self, from God, and from others. "While the world makes us busy in creating relationships with others, which are often volatile and temporary, we often forget to forge strong relationships first with the self and God."
He then invited the audience to a series of guided meditations, or "silent conversations," on experiencing one's inner self and the various relationships that may be experienced with the divine, which he sometimes refers to as Supreme Being. He particularly focused on how God may be experienced as a mother, friend and guide—a provider of forgiveness, acceptance and companionship amidst the daily stresses of life.
"As a mother, God's forgiveness and acceptance give me back to my self-value. As friend, God gives me good company and feelings of belonging, As guide, God can help me get back on track when I feel lost," Hogg said.
Inner contentment
The Manila Philharmonic Orchestra quartet played music to accompany Hogg's softly spoken meditations—familiar yet classically rendered tunes like "Fields of Gold" and "What a Wonderful World," making the 30-minute meditation light and accessible even to newcomers in meditation practice.
The audience of 600 were from all walks of life. The beauty of the event, I found, lay in how there was a solemn sense of silence and concentration for the duration of the program, assisting even non-meditators on how yoga can be achieved by simply sitting down and paying attention to the gifts of the moment.
The universality of the notion of God was also highlighted, which people from various spiritual backgrounds may easily open to.
After Hogg's inspiring conversation, Tanya Diaz came back onstage to sing "If We Hold On Together."
Former senator Leticia Ramos-Shahani ended the evening with a brief message of gratitude, as she thanked Hogg, the Ambassador, and the audience for their presence.
Shahani also shared how she learned to practice Raja yoga meditation in 1987, which helped her "survive the rough and tumble world" of Philippine politics in which she served for 12 years.
"I thank my practice of Raja yoga meditation for strengthening the reality of my inner life, and making my connection with God more a practical experience," Shahani said.
Sweets and cards of positive affirmations were then distributed to the audience to cap the evening.
A palpable feeling of contentment was felt in the air, with positive thoughts awakened, including the fact that yoga can be as easy as sitting in silence—simply being present to the gift of being with one's self.
— BM, GMA News
For more information on Raja Yoga meditation, contact the Brahma Kumaris at 890-7960.