Filtered By: Lifestyle
Lifestyle
'Sariwa XI': Love tales lead 2015 Virgin Labfest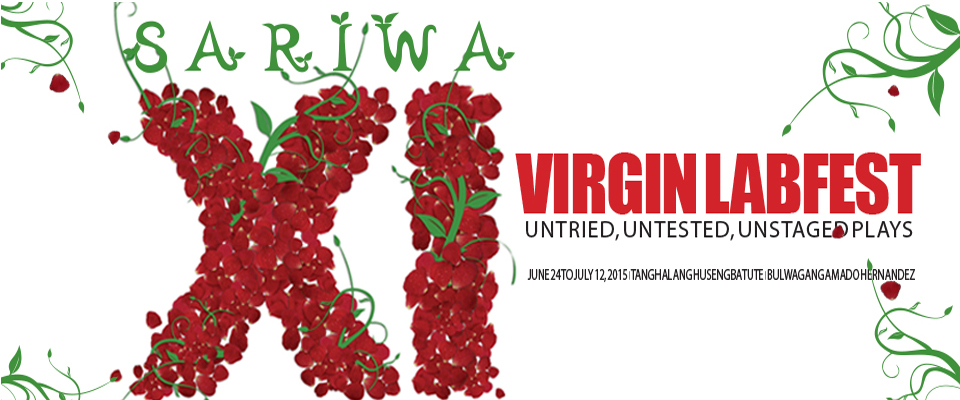 Virgin Labfest XI banner image from the Cultural Center of the Philippines
The 11th edition of Virgin Labfest, a festival of "untried, untested, unpublished, and unstaged one-act plays," is branded provocatively "Sariwa XI."
Many of the 12 "virgin" plays selected out of the 156 entries showcase various versions of love and lust as well as the many mutations of desire, dilemmas, and discomforts here on earth and beyond.
And in between the terra firma and the terrestrium extra of Sariwa XI, there is one play, spanning 60 years, which uses a giant kite so that a lovelorn lady can soar, be among the sparkling stars, to become the focus of attention of the object of her longings, who only fancies the twinkling stars. Will the gods and goddesses grant her wish?
This year, the Virgin Labfest will have a three-week run instead of the usual two. It will be mounted from June 24 to July 12 at the Cultural Center of the Philippines' Tanghalang Huseng Batute and the Bulwagang Amado Hernandez.
The annual Virgin Labfest is a collaborative project of the CCP, Tanghalang Pilipino, and the Writers' Bloc, in cooperation with the National Commission for Culture and the Arts.
Love and despair, social issues and commentary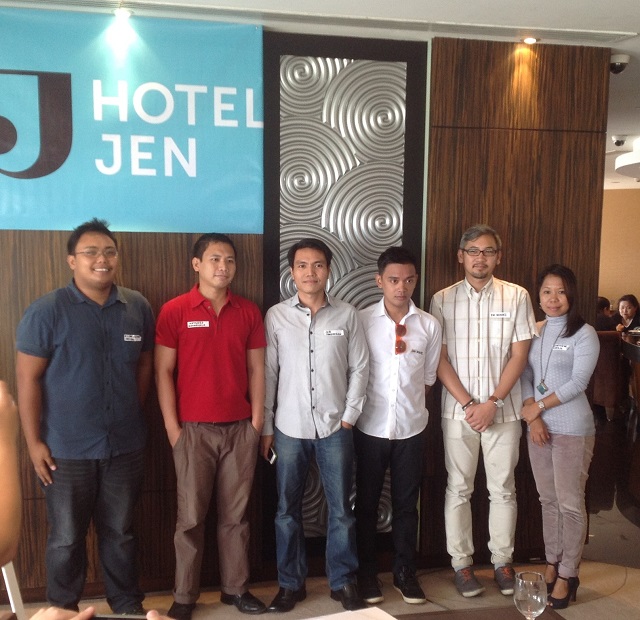 Several of the playwrights featured in Sariwa XI, the 2015 Virgin Labfest
Through the years, the festival has gained a strong following due to the edgy and mentally stimulating plays crafted by veteran and "virgin" playwrights and given a "bare bones" staging.
In an interview, the festival's founding director Rody Vera said his primary consideration in selecting plays is "how the writer shows his or her mastery of the craft of narrating stories."
"The Virgin Labfest screening committee has no control over the quality and number of entries submitted. But I pay attention to, among other things, the potentials of each story for development. There is a room for development of the story during rehearsals," he said.
"They have observed that a number of the selected plays for this year's Virgin Labfest manifest hues of personal experiences on love and despair," added Vera, an award-winning playwright, television scriptwriter, singer, theater actor and theater director.
Aside from the themes of love and its pains, the audience must watch out for the social satires and the "exciting" plays tackling social issues and communal relationships, said Vera.
"One play asks the question: what is the difference between art and pornography? Another deals with an infectious disease unknown to a poor fishing community while another touches on crime and corruption and poverty," he said.
In a separate interview, Tuxqs Rutaquio, 2015 festival director and dramaturg, said that while reading the entries, he noticed "the strong sense of sincerity and honesty among the authors."
"It appears to me that the stories are fueled and inspired by the authors' personal experiences. The stories are personally close to them. The outputs show the immense energy they have invested in crafting their stories," said Rutaquio, who has also his own harvest of awards as a director and production designer.
"It is dominant this year. And we've noticed that the writers have returned to the themes of love in different aspects, levels, forms, and shapes. Love is a recurring theme in many of this year's selection. We did not design it to be so, but we have this selection of plays for this year," he added.
CCP vice president and artistic director Chris Millado said the Virgin Labfest attracts the newest and the youngest voices in Philippine playwriting. "Because of this, it also attracts the most exciting directors."
Millado said the one-act play festival has also lured the participation and involvement of the local theater community: from stage talents across the university and college groups to professional actors and actresses and both the amateur and professional theater companies.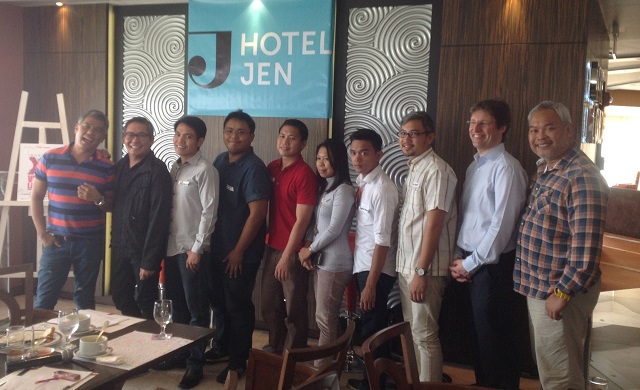 Virgin Labfest organizers and playwrights (from left): festival founding director Rody Vera; 2015 festival director and dramaturg Tuxqs Rutaquio; playwrights Job Pagsibigan, Eljay Castro Deldoc, Maynard Manansala, Genevieve Asenjo, Juan Miguel Severo, Em Mendez; general manager Edward Kollmer; and CCP vice president and artistic director Chris Millado.
"It has become so hip that even established movie talents would like to become part of Virgin Labfest, even if they do not get the same commercial or professional talent fees," said Millado, who won the 2014 Philstage Gawad Buhay award for outstanding stage direction for a play.for Repertory Philippines' "August: Osage County."
The one-act plays for the 2015 Virgin Labfest are:
Maynard Manansala's "Dalawang Gabi" and directed by Jade Castro;
Job Pagsibigan's "When Sam Met Jo," directed by Ian Segarra;
Layeta Bucoy's "Uod, Butete, at si Myrna," directed by George de Jesus;
Herlyn Gail Alegre's "Huling Huli," directed by Lawrence Fajardo;
Genevieve Asenjo and Em Mendez's "Ang Nanay kong Ex-NPA," directed by Rody Vera;
Nicolas Pichay's "Macho Dancers: A Musical," directed by Ralph Peña;
Jerome Ignacio's "Kublihan," directed by Guelan Luarca;
Juan Miguel Severo's "Hintayan ng Langit," directed by Raffy Tejada;
Jose Garcia's "Birtwal," directed by Audie Gemora;
Eljay Castro Deldoc's "Si Maria Isabella at ang Guryon ng mga Tala," directed by Ed Lacson Jr.;
Joe Mari Sanchez's "Talo ang Walang Alam," directed by Issa Lopez; and
Alvin Molina's "An Expected," directed by Roobak Valle.
The festival has a section called "Revisited," which re-stages the most popular plays featured the preceding year's selection. This year, the revisited plays are Raymund Reyes' "Ang Naghihingalo," Kevin Tabora's "Mapagbirong Haplos," and Eljay Castro Deldoc's "Ang Goldfish ni Professor Dimaandal."
The "Staged Readings" section highlights excerpts of one-act plays which are "works in progress." Included in this section this year are: Vicente Groyon's "Ang Tugon ni Conchita," Rossielle Manicad's "The Wedding Planners," and Carlo Vergara's "Mula sa Kulimliman."
Tanghalang Ateneo mounts the last section of the Virgin Labfest: "Fragments," or site-specific performances of excerpts of plays. To be staged this year are Camille Cruz's "Karinyo Brutal," Russell Legaspi's "Elysium Airways," Berna Sastrillo's "Sa Saklaan," Dingdong Novenario's "Ground Zero," and James Harvey Estrada's "Ang Pinakabonggang Pelikulang Obra ng Kapita-pitagang Direktor na si Direk M."
— BM, GMA News
For inquiries, call the CCP Production Management Services Division at 832-1125 locals 1606 to 1607, or visit www.culturalcenter.gov.ph. Tickets are priced at P300, with festival passes at P1,200.